Ever since the release of Fortnite Chapter 2 Season 4, the game has quickly been evolving with new Marvel locations being added. However, the Battle Royale definitely isn't perfect, and there are some nasty Fortnite bugs in need of fixing. Here's what Epic plans to fix in the Fortnite v14.10 update thanks to early patch notes.
Fortnite v14.10 patch notes
The Fortnite v14.10 update is expected to release on 10th September, and there should be some new content coming in as well. 
At the time of writing, we don't know exactly what the content will be. However, the Fortnite v14.10 early patch notes below will show you what bug fixes Epic is planning to deploy.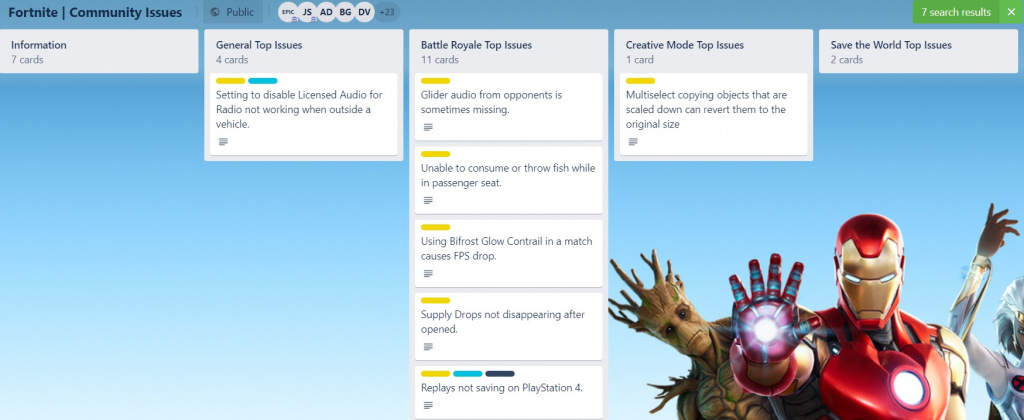 This information comes through the official Trello board, where Epic has listed bug fixes coming in the next Fortnite update.
The early Fortnite v14.10 patch notes are:
Glider Audio from opponents is sometimes missing
Unable to consume or throw fish while in the passenger seat
Using Bifrost Glow Contrail in a match causes FPS to drop
Supply Drops not disappearing after opened
Replays not saving on PlayStation 4
Setting to disable licensed audio for radio not working
There is one other fix Epic lists on the Trello board, for players experiencing the "slow Glider speed after redeploying" bug.
The slow glider speed bug will likely not be fixed in Fortnite v14.10.