After an action-packed debut of Chapter 3 in Fortnite, Season 1 finally wrapped up with a series of themed hotfixes carrying one-week game changes. Some of the fixes brought back unvaulted weapons, others made certain items more plentiful, and the last was a discount week allowing players to spend their gold bars prior to expiring at the start of Season 2.
It seems as though the constant changes were setting the table for Chapter 3 Season 2, as the latest update has completely altered the state of play. In one of the biggest developments since the title was released, Epic Games has removed building from Fortnite, at least for the time being.
With all the changes swirling about, many are looking at ways to traverse the island quicker and see the new lay of the land. A great way to do that is with the new Siege Cannon, follow along for a guide on all the locations as well as how to use them.
How to use Fortnite Siege Cannon

With no building feature currently available for players to protect themselves in Fortnite, some may look for alternative travel routes to avoid popular areas. To help balance things out, Epic Games have added in new Siege Cannons, which allow players to launch themselves through the air and have the option to deploy their gliders and travel even further.
Players won't take fall damage if they do not deploy their gliders, so the Siege Cannon, on paper, has a very similar effect as Launch Pads. Siege Cannons can also be used offensively to fire projectiles (when no player is loaded in the cannon) at nearby opponents.
To use a Siege Cannon in Fortnite, approach the new machine and press the prompted button on the screen to interact (Enter). Players will then be given the option to Fire, Aim (Load Self), or Exit the Siege Cannon.
Once you have loaded yourself into the cannon, point to where you're aiming to travel and launch yourself through the air with the Fire control. In order to travel further through the air, aim the Siege Cannon higher before launching and deploy your glider at the highest point.
Fortnite Siege Cannon locations - Chapter 3 Season 2
Siege Cannons are located throughout the Chapter 3 Season 2 Fortnite map in various IO-controlled locations. In total, six different map locations contain Siege Cannons for players to use, and they are nicely spread around the island for travel purposes.
Here's where to find Siege Cannons in Fortnite Chapter 3 Season 2.
Command Cavern
Coney Crossroads
The Daily Bugle
Tilted Towers
Rocky Reels
Condo Canyon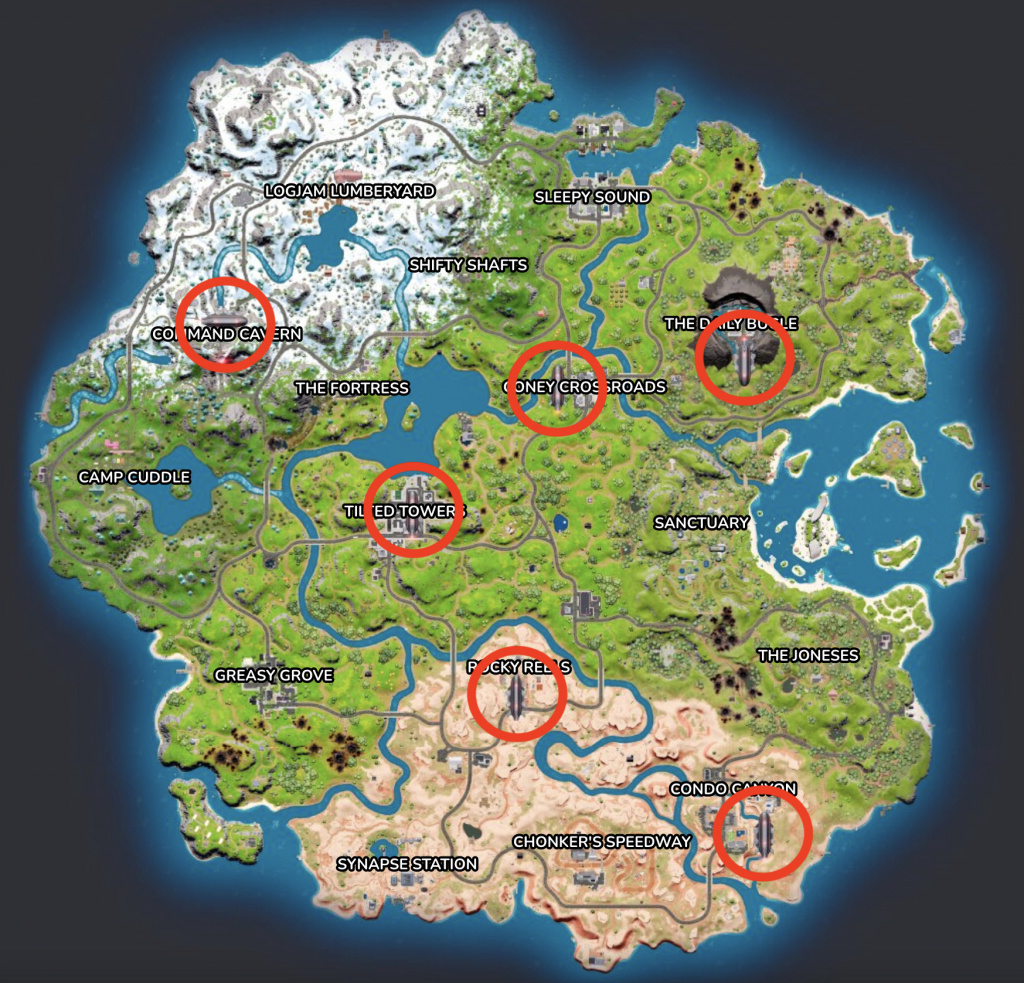 If you found this guide helpful, you'll surely enjoy the rest of our Fortnite coverage. Check out our dedicated Fortnite page for all the best info on game guides, news, updates, and more.
Featured image courtesy of Epic Games.
---
For more Fortnite news be sure to check out our dedicated section, or some of our Guides & Tutorials, just below:
Fortnite Guides - All Fortnite Redeem Codes | When Does Fortnite Chapter 3 Season 5 Start?|All Fortnite Twitch Drop Rewards| How To Make Your Own Fortnite Skin |
Fortnite Events - Fortnite Winterfest 2022 | 
The Best Fortnite Creative Codes - Best Edit Course Codes|Best Prop Hunt Codes|Best Zombie Map Codes
Featured image courtesy of Epic Games.