With the Fortnite v19.30 update, developer Epic Games not only unleashed some new content for the island, such as an Uncharted collab but also introduced a robust Gyro Aiming system for Android, PS4, PS5, Nintendo Switch and PC using a supported PlayStation controller.
This was done in collaboration with input specialist and flick stick creator Julian "Jibb" Smart. Notably, Gyro Aiming is joined by another feature, Flick Stick. Here's what the Flick Stick motion controller feature is all about in Fortnite following the v19.30 update. 
What is Flick Stick in Fortnite?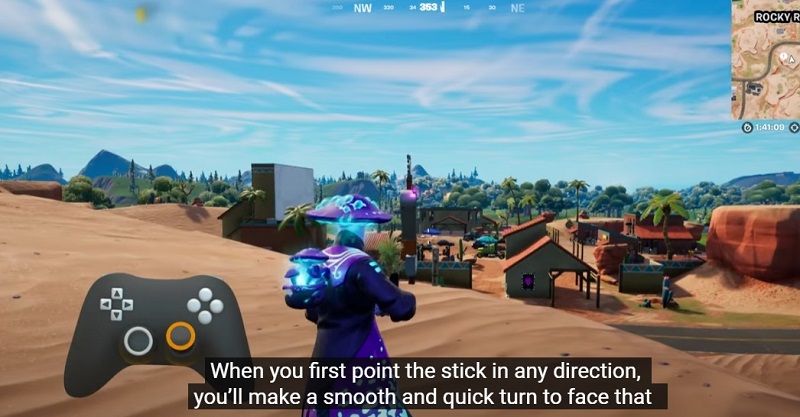 First of all, Flick Stick is generally only recommended for those experienced with Gyro Aiming but we do recommend you test it out. Some players can adapt to this motion control setting quickly, after all.
In essence, Flick Stick in Fortnite is when you point to a specific direction with the right stick on your controller, and the camera quickly flicks to face your character in that direction.
Check out the video from Julian "Jibb" Smart below explaining how both Gyro Aiming and Flick Stick works in Fortnite.
Due to the nature of the Flick Stick feature, players can no longer aim up or down with the right stick, which means Gyro Aiming does need to be enabled.
How to enable Flick Stick in Fortnite
Now that you know what the Flick Stick setting does in Fortnite, if you want, you can enable it quite easily.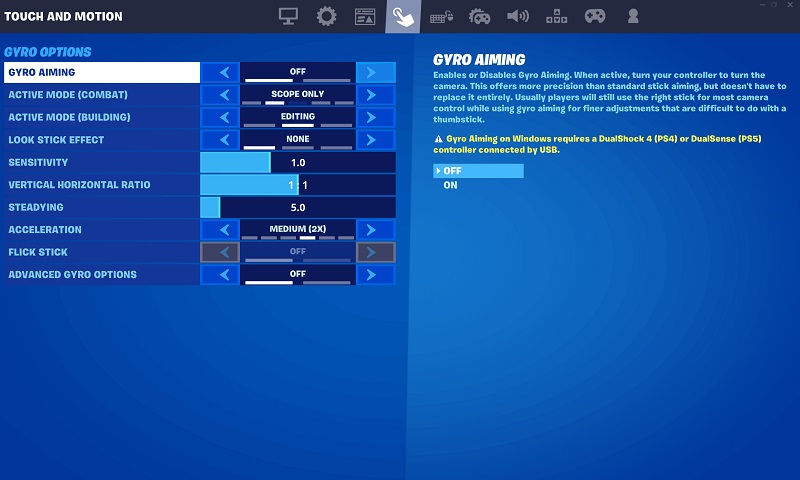 To enable the Flick Stick setting in Fortnite, you first need to enable Gyro Aiming. To find both options, head on over to the settings menu, then the "Touch and Motion" tab and the second-to-last option will be Flick Stick, which you can toggle On or Off. It is Off by default following the Fortnite v19.30 update.
Since Flick Stick takes some time to get used to, we recommend you test it out in Fortnite Creative mode to get used to this new feature. It's not for everyone, but those who can master it could gain an advantage. 
Make sure to check back with our dedicated Fortnite page throughout the entirety of Chapter 3. We'll make sure to update you with all the latest challenges, title updates, and more.
Featured image courtesy of Epic Games.
---
For more Fortnite news be sure to check out our dedicated section, or some of our Guides & Tutorials, just below:
Fortnite Guides - All Fortnite Redeem Codes | When Does Fortnite Chapter 3 Season 5 Start?|All Fortnite Twitch Drop Rewards| How To Make Your Own Fortnite Skin |
Fortnite Events - Fortnite Winterfest 2022 | 
The Best Fortnite Creative Codes - Best Edit Course Codes|Best Prop Hunt Codes|Best Zombie Map Codes
Featured image courtesy of Epic Games.