Genshin Impact's "The Immovable God and the Eternal Euthymia" trailer officially revealed some characters that we previously only knew through leaks, such as Gorou, Thoma, Kujou Sara, Kokomi, Baal, and Yae Miko. With update 2.0 being out for a few weeks, players have already met all these characters. Furthermore, Baal and Yae Miko became two of the most popular characters from the entire world of Inazuma.
miHoYo has already announced the upcoming characters releasing with the Genshin Impact 2.1 update. And these characters are Baal, Kokomi, and Kujou Sara. But, what about Yae Miko? In terms of lore, we already know a lot about her but less about her element, weapon of choice, and banner release date.
There is some information out there though, and we have compiled it all in one handy to reach place.
Yae Miko's element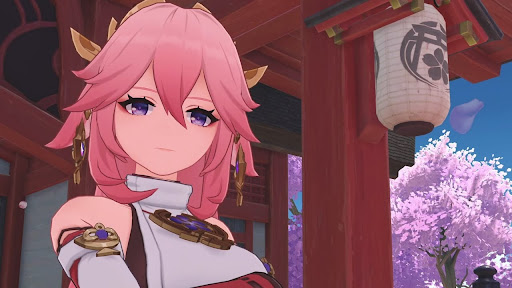 The initial Genshin Impact leaks on Yae Miko suggested that she is an electro user. Thanks to the update 2.0 trailer and Yae Miko's appearance in the game during a quest, it is confirmed that she is indeed an Electro user. 
We are at the beginning of the Inazuma update. And we already have three electro users, namely Baal, Yae Miko, and Kujou Sara, in line to release with version 2.1 update and beyond. If you include the rumoured and leaked characters, then the count will increase even more. 
Yae Miko's weapon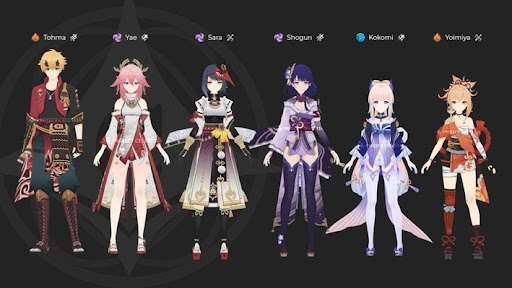 According to data-mined information, Yae Miko is a Catalyst wielder. If this is true, then she will become the second electro catalyst user in the entirety of Genshin Impact, the first being our best climber and exploration expert, Lisa. 
[2.0 Render] Yae Miko — Electro/Catalyst

HQ: https://t.co/7eKB2DNcVe
Song: miHoYo (HoYo-MiX) — Splashing Star.
※ Subject to change.#ProjectCelestiapic.twitter.com/V6LIX0cWAF

— Project Celestia (@projectcelestia) June 24, 2021
Yae Miko's banner release date
Many were speculating that Yae Miko's banner will be released with the Genshin Impact 2.2 update. However, we have a new development in-regards to Yae Miko's banner release date. The insider who leaked Baal's character model has said that Yae Miko will not become playable in the Genshin Impact 2.2 update. 
If we had to speculate, then Genshin Impact's version 2.3 or 2.4 will likely feature Yae Miko's banner. 
Yae Miko's Japanese voice actor
Yae Miko's Japanese VA has already been confirmed by miHoYo. Ayane Sakura, who played the role of Yotsuba Nakano in The Quintessential Quintuplets, Nero, in Black Clover and Ochako Uraraka in My Hero Academia, is going to voice Yae Miko's Japanese version. 
That's it for now; we will add and update new information in this article, as we get new details on Yae Miko. 
Don't forget to follow our Genshin Impact dedicated section packed with guides, updates, news, and more.