Jason "Amaz" Chan is a name well-known to people how are into Hearthstone esports and the Hearthstone community in general.
He was supposed to play Hearthstone Battlegrounds Brawl yesterday but was instead kicked out of the event. Blizzard didn't give any explanation why, but it is believed the reason is an accusation of his misconduct during the Archon Team League finals.
Amaz started his HS career as a popular streamer during the early years of Hearthstone, and because of his excessive and loud emotional reactions, he quickly became one of the most popular Hearthstone streamers in 2014.
He continues to stream Hearthstone to this day, but after 2014, he started focusing more on a business side of things and he had several ventures into esports projects.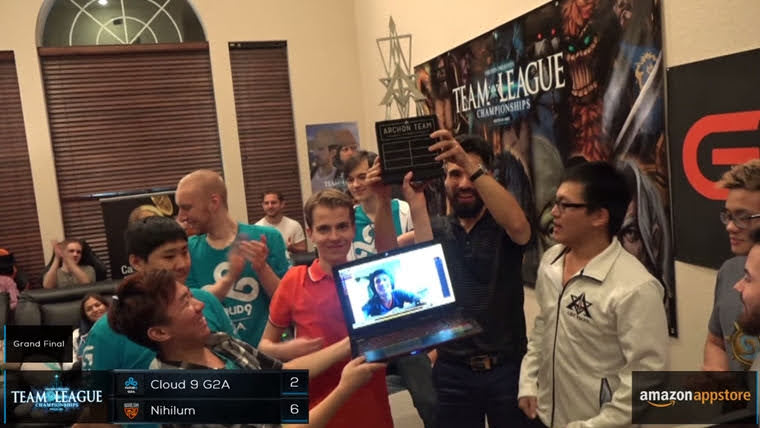 Archon Team League was one of the biggest Hearthstone events at the time (Picture: Team Archon)
For a time, he was a co-owner of one of the biggest and most popular Hearthstone esports organizations, Team Archon, which included such big names as the first Hearthstone world champion Firebat, Purple, Zalae, Amnesiac, and others.
The rivalry between Amaz's Team Archon and Reynad's Tempo Storm was one of the biggest driving forces of the community at the time.
Amaz was also known for organizing various Hearthstone events, tournament, and leagues. By far one of his biggest projects was Archon Team League.
Nine biggest Hearthstone organisations were playing this league over several weeks in 2015, and two of the best teams played live finals at the Team Archon House, and that's exactly the place and time of today's accusations against Amaz and Colin "Vindexus" Kierans.
This was my first professional esports contract. I was 20. Organizers repeatedly told me to get in the hot tub and invite players. When I didn't have a swimsuit, they gave me the company card and sent me to the mall to buy one. "Hospitality" meant paid male entertainment. pic.twitter.com/4hADbRgrgP

— 𝒷𝒶𝑒𝓂𝒶𝓍 (@NurseBaemax) June 22, 2020
A girl that goes by the name Baemax on Twitter posted this photo you can see above. It is a photo of her and prominent Hearthstone players from 2015 Archon Team League finals, many of whom are still very active either as Hearthstone players/streamers or in other esports communities.
She claims that she was hired to be a part of the "Hospitality" team, which she thought was simply a role where you need to make sure that everyone is feeling alright and comfortable,  but she now describes it as "paid male entertainment."
She claims that she was forced by organisers (Amaz and Backspace) to go into the hot tub with players. And when she told them she didn't even have a swimsuit, she explains that they gave her the company card and sent her to the mall to buy one. She was 19-20 years old at the time.
She also added that players from the photo had nothing to do with that and that they were "kind and respectful". It is very clear from the picture that she feels extremely uncomfortable - expression, body language, and her position are a clear indication of that.
There's also another, much stronger accusation of an actual sexual assault during the Archon Team League finals, but that one is not connected with Amaz directly.
It comes from a girl called Cristina Amaya, who now works as an event manager for Team Liquid. She explains that she was working at WellPlayed five years ago, and that she was hired as a hospitality manager for the Archon Team League finals. While she was working hard the whole day to make sure everything goes as planned, she says other people were drinking all around her.
One evening they had a meeting in a hotel room, where their whole team gathered to talk, but she was tired and others were mostly drunk, and she fell asleep at one point. She claims that what happened next is that her boss, Colin "Vindexus" Kierans, who was very drunk, sexually assaulted her while she was sleeping, but she managed to run out from the room when he went to the restroom.
Amaz, who was kicked from Hearthstone Battlegrounds Brawl, has yet to say anything about this, and for now, this is his only Tweet about the whole situation. Blizzard also didn't confirm if Amaz was removed from the tournament because of this accusations or for some other reason.
It is important to note that Amaz was a part of the Hearthstone Battlegrounds Brawl organisation as well, not just a player on the event.
Feeling like life is meaningless atm

— Amaz (@Amaz) June 23, 2020