The Reveal Season for the latest Hearthstone expansion, Scholomance Academy, has started today, and it started in the best possible way, with yet another fantastic video coming from the popular content creator Amazing LP.
If you follow closely seasons of card reveals for new Hearthstone expansions in the last couple of years, you might be familiar with the name Amazing LP.
He became widely popular for his "amazing" Hearthstone animations combined with real-life acting, which he was making for the purpose of card reveals. People were often more excited about his video than for the card he would reveal in that video.
His first card reveal was Luna's Pocket Galaxy from The Boomsday expansion, which was a game between Jaina and Anduin, mixing real-life actors with special effects.
The video was greatly executed, perfectly capturing the humour and the atmosphere of Hearthstone, and fans quickly fell in love with the work of Amazing LP.
Blizzard acknowledged his great work and hired him to produce card reveal videos directly for them. His latest video is called "The First Day" and it is by far the most complex one he has ever made for Hearthstone. 
And one of the longest as well - almost 7 minutes long.
In the video, we saw several cards we already knew about, but also two new cards as well. One is a mage spell called Combustion, and other is a neutral legendary, Headmaster Kel'Thuzad.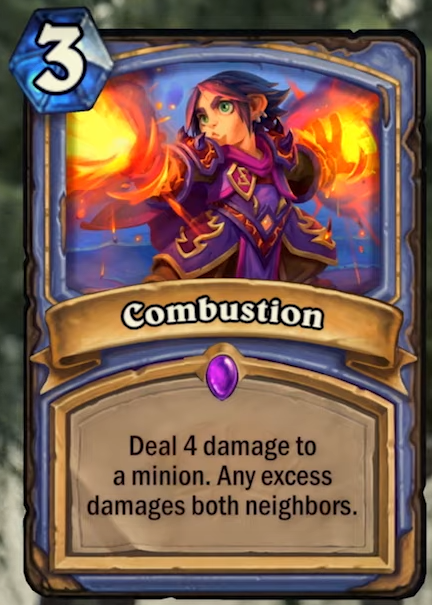 Combustion looks like really high-quality mage removal spell, especially for the early game, It is a perfect card for those situations where you have one midsized minion to remove and two smaller ones.
It works really well with Spell Damage because it essentially triples the damage. The three-mana price is perfect as well, not too expensive, not too cheap. 
All in all, a well-rounded card that will be a great tool for both Highlander Mage and Spell Mage.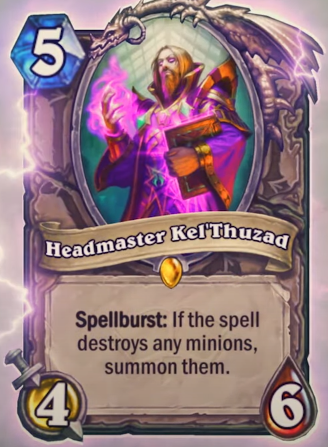 The biggest star of the expansion, the one and only, Kel'Thuzad. But not Kel'Thuzad the Lich, but Kel'Thuzad the Mage in his human form, acting as a Headmaster of Scholomance Academy.
He is a neutral legendary minion, with nice stats for his costs, and an interesting effect featuring a new keyword, Spellburst.
Spellburst is a one-time-only effect when casting a spell. In this case, is summons any minion destroyed by that spell back to your side. 
As shown in the video above, it fits perfectly if you cast Brawl with it, especially if the enemy has a full board of minions, because it will clear his board and give you all destroyed minions.
As we mentioned at the beginning of this article, card reveal season has started, and today, 4 more cards will be revealed, so make sure to follow us for more new cards!
Links to previous Amazing LP Hearthstone videos if you want to check them as well: