The latest game from the brains behind DayZ, sandbox survival game, Icarus, is now out.
After six beta weekends, Icarus v1.0 was released globally on 3rd December and it quickly shot up the Steam charts, reaching 34,000 concurrent players and beating out the likes of Battlefield 2042, if only for a few hours.
Though it hasn't all been plain sailing, the game is a resource hog and you will need a beast of a computer to run it and now a critical issue is affecting players around the world from playing the game -- at least online anyway.
That issue is the "Failed to Login - 044 Error". This error appears when you first launch the game and it will stop you from playing the game online but keeps the offline option open.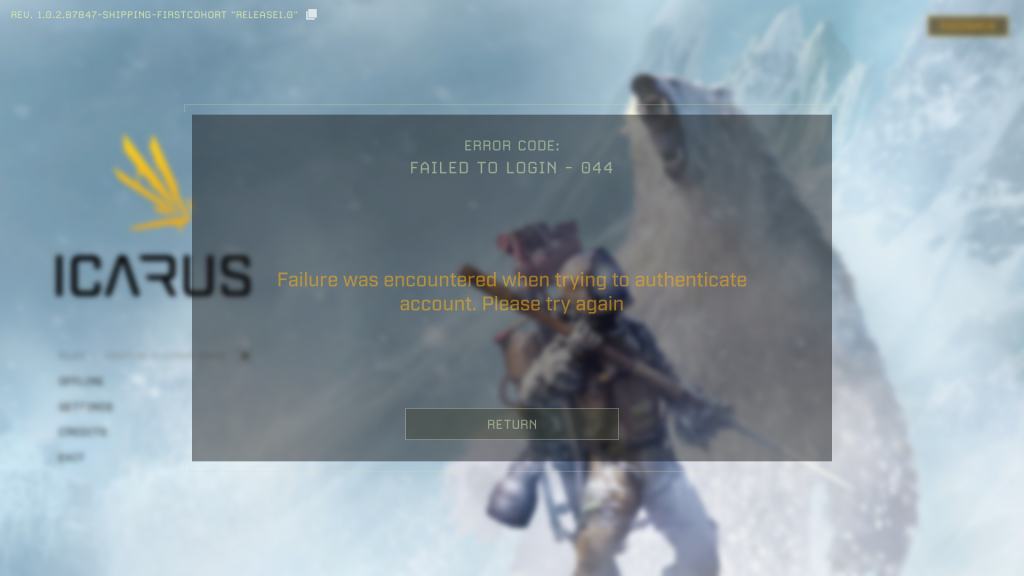 A number of posts have appeared on the game's official subreddit in the last hour about the issue with the one positive takeaway being that this isn't a you problem.
A source of the issue may have become apparent though, Dean Hall, Chief Executive of RocketWerkz, has said on Twitter that an update to a "backend service" was completed around 2.45 am GMT, the issue with players experiencing the "Failed to Login" error began appearing shortly after so it may well be that the two are connected.
Note if you got kicked in @SurviveIcarus , we updated a backend service to remove a broken cert that caused an issue in some areas. It has resulted in people getting kicked - reconnect and your progress is saved!

— Dean Hall (@rocket2guns) December 4, 2021
We will continue to update this page with more information as we get it.
Update:
Dean Hall has made a further tweet that makes it clear that they are well aware of the issue now and are "workin on it (sic)".
Workin on it - sorry folks!

— Dean Hall (@rocket2guns) December 4, 2021
Looks like it's offline mode for now!
Featured image courtesy of RocketWerkz