Legends of Runeterra fans received some big news with the announcement of patch v2.0, as not only we get our first cooperative mode, some of the most overpowered cards in the game are getting nerfed.
The recent K/DA crossover brought five new cards to the world of LoR, with many of them populating the top-tier decks ever since their release. One of them, Pack Your Bags, was too much to bear despite the amount of work players have to put into the strategy to make it viable.
Basically, Pack Your Bags had to be evolved by using the Go Hard card, which costs one mana. Once you play Go Hard three times in a match, Pack Your Bags can deal five damage to all opponent cards plus the Nexus, making it an almost instant win.
While the effects of Pack Your Bags remain untouched, it will now cost five mana, up from the one mana requirement which was a small price for the reward.
Beyond this, the 2.0 patch also brings the new coop mode, United Front, to the game. You can read all about it in our roadmap article.
Take a look at the full patch notes down below.
Legends of Runeterra v2.0 - Patch notes
PACK YOUR BAGS
COST: 1 → 5
When players are able to transform Go Hard, the Pack Your Bags form frequently creates a situation which is unmanageable to play against given its board impact compared to cost. There should be a powerful payoff when players are able to successfully transform Go Hards - but it should give the opposing player more meaningful counterplay options leading up to Pack Your Bags.
New Lab: Co-Op vs. AI - United Front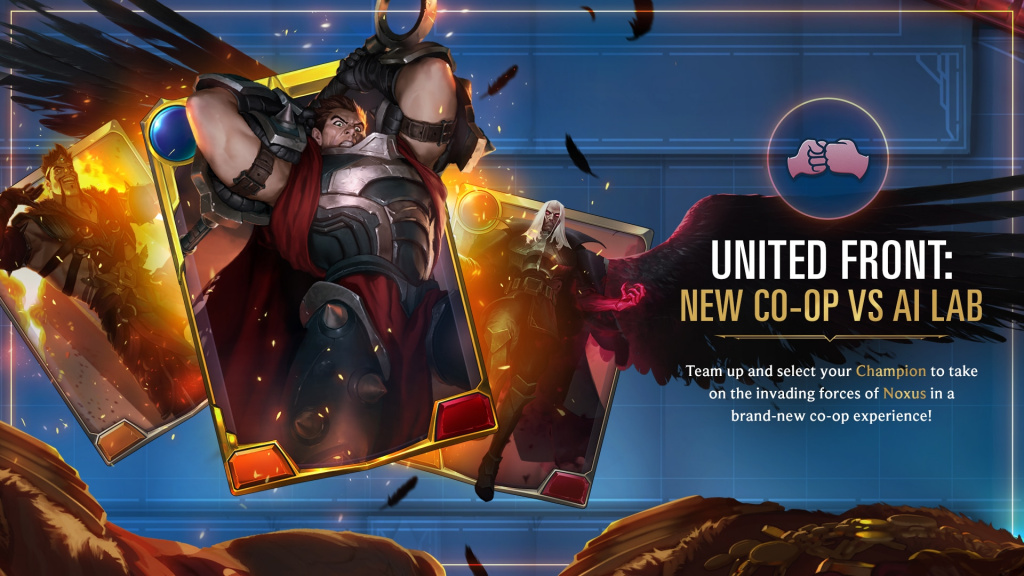 (Picture: Riot Games)
Bugfixes
Fixed issue that would cause an error message to be erroneously displayed when casting Judgment while switching blockers.
Fixed an issue that could occur with Vault of Helia and units with the Last Breath keyword.
Fixed an issue where occasionally level 2 Zoe would not share keywords.
Fixed an issue where Heart of the Fluft would sometimes inherit negative keywords.
Fixed multiple text inconsistencies across cards text and flyout.