The MMO ARPG Lost Ark, from Slimegate and Amazon Game Studio, is immensely popular. With the mammoth influx of players following its launch in the West, there are bound to be some server issues. We've reported on how players are review-bombing the game on Steam due to long queue times and deployment issues at launch. 
There's also a Lost Ark Error 10027 and the "Cannot Connect Due To Heavy Traffic" issue plaguing EU servers. Following the hotfix update on 15th February, the developers are now getting ready to deploy another Lost Ark hotfix update on 16th February to remedy the situation. Here's what we know so far about the latest hotfix update.
Lost Ark 16 February hotfix update patch notes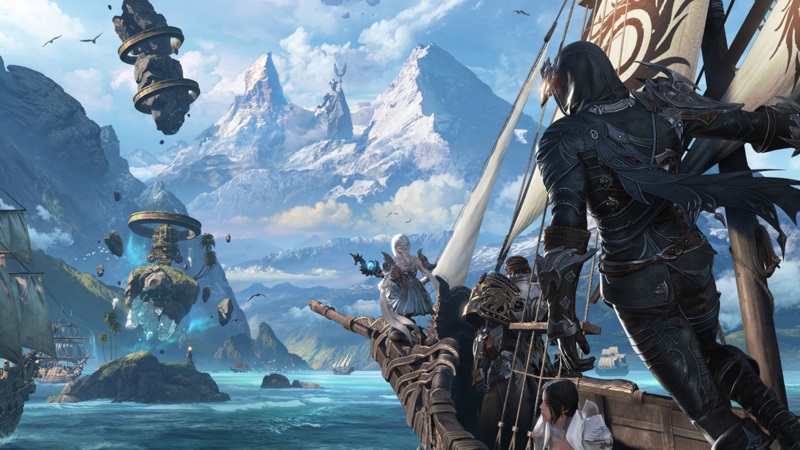 There are no official patch notes for the Lost Ark 16 February hotfix update. We do know, however, that it will be to improve server stability in the EU region.
Via Twitter, the official Lost Ark account noted: "After last night's hotfix we have seen a large influx of server instability issues on the EU region. We have received a new hotfix and will be deploying it tonight."
This update will likely just focus on server instability issues in the EU region.
Lost Ark 16 February server downtime
The developers have outlined the expected Lost Ark server downtime to deploy the hotfix update.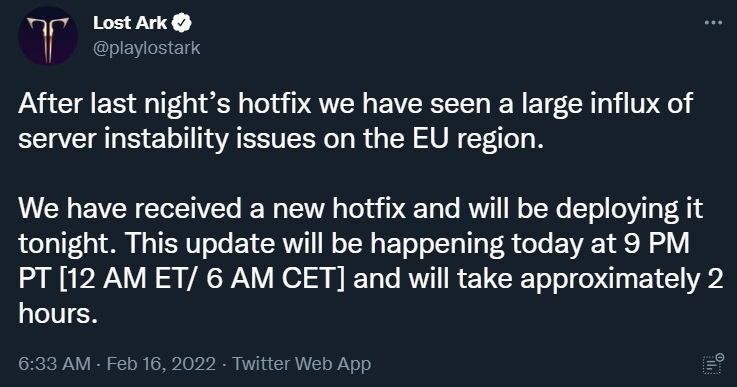 The server downtime is expected to last roughly two hours. According to the developer, it starts at 21:00 PT on 16th February, which is actually on 17th February at 06:00 CET for those in Europe.
So there you have it, the details on the Lost Ark 16 February hotfix update and the expected server downtime. Remember, downtime can last longer if any issues occur. We hope that the server instability issues will be fixed with this update.
If you are running into connection issues and have checked if the Lost Ark servers are down or not, then we suggest contacting Lost Ark support.
Don't forget to check out our dedicated, ever-expanding Lost Ark section for news, guides and much more.
Featured image courtesy of Amazon Game Studios.