Lost Ark's March patch update introduces a plethora of new content, featuring a new storyline, a new PvE mode and a limited-time event for players to complete. In addition to the new content and a host of quality of life improvements, developer Smilegate has included a new skin collection that you can use in-game currency to acquire. Here's what we know about Lost Ark's Omen skin collection, including how to get them and more.
What is the Omen skin collection in Lost Ark?
The Omen skin collection is the latest cosmetic attraction that developer Smilegate has included in the March content update. Not only do these cosmetics change your character's appearance, but they also boost your character's stats if your current outfit isn't provided.
The March Update is packed full of new content and a ton of bug fixes!

📖 Kadan Storyline
🦌 Argos
🏁 Grand Prix

Check out the Patch Notes!
📌 https://t.co/Yws9YUeKil pic.twitter.com/he8kwjifFd

— Lost Ark (@playlostark) March 9, 2022
The Omen skin collection features skins for various classes, including Martial Artist, Mage and Gunner, to name a few. Also included in the Omen skin collection is the Doombringer Mounts, which will have you riding in style when exploring Arkesia.
While the Lost Ark community are most excited about the arrival of the Omen skin collection, some community members aren't too pleased. Some have complained that the cosmetic designs are noticeably different from the South Korean and Russian versions, while others are displeased with spending money (for Royal Crystals) to purchase them.
"Please fire whoever is calling the shots for the skins in this game. Fire them now. We want the Korean skins. This is a KMMO that is known for its FASHION. Give us what we thought we were getting. Stop pushing masculine gender-neutral skins on us," Twitter user Cat Kween wrote.
Another Twitter user wasn't happy about spending money for the Omen skins, writing, "No any regional pricing, gold spammers is collapsing the economy of the store, and you give us Skins to buy? If there is no fix any regional pricing for Royal Crystals, I'm not spending any penny…."
How to get the Omen Skin collection in Lost Ark?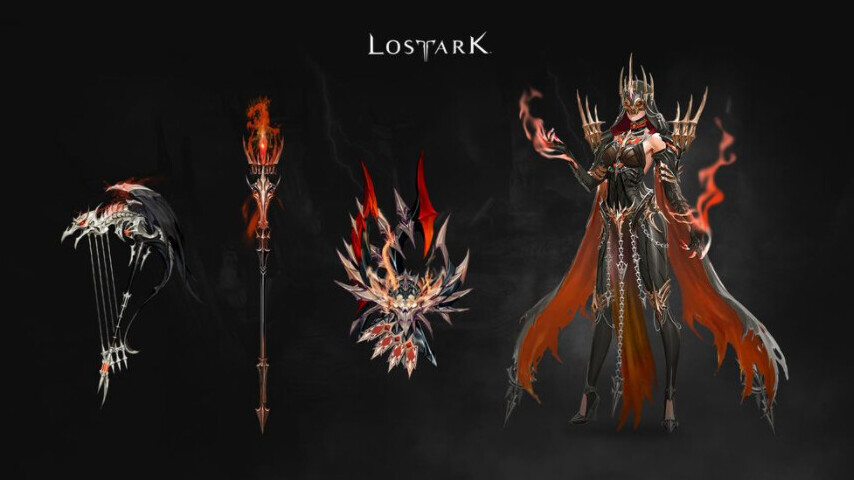 To acquire the cosmetics part of the Omen skin collection, players can purchase them from the in-game store. According to a blog post, the skins will be available for a limited period starting from 10th March 2022.
The developer hasn't confirmed the pricing for the cosmetics featuring in the Omen skin collection; however, we do know that you'll be spending Royal Crystals to obtain them. If you don't have enough Royal Crystals for the desired cosmetic, these can also be purchased via the in-game store.
The developer has noted that these skins will be available until Lost Ark's April content update rollout. However, as for when the April content update will be available, no date and time have been provided as of writing.
Featured image courtesy of Smilegate / Amazon Games.