It is troublesome to keep our excitement bottled as we are only hours away from the worldwide release of Madden 22 and with it, every challenge is thrown our way to keep us away from hoisting the Lombardi.
Fortunately, there are kind football souls in this community and we would love to ease you in this brand new passage of virtual NFL.
As we already did with the 25,000 budgeted roster, we enter the second tier of our list and push our "financial" boundaries a tad in order to see how much can we improve our squad.
Build the best team possible for under 50,000 MUT coins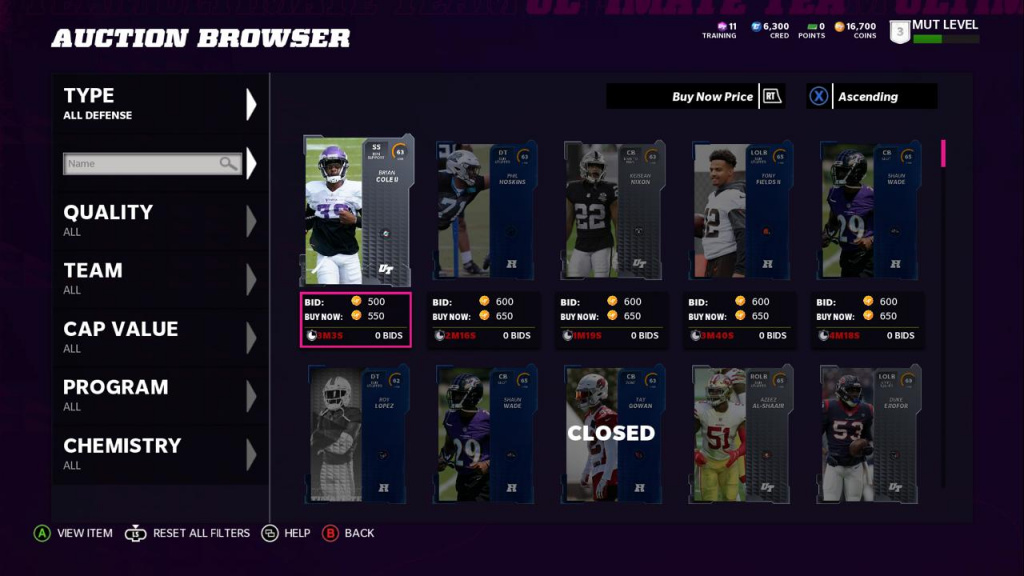 Again, just to recap some of the ground rules of this exercise, all of the entries are players that can be found in the auction house and we will try to keep the budget under 50,000 MUT coins for the whole starting lineup.
We purposefully leave the special teams out as the base items we get are already a good overall rating, also, remember that prices may vary as we utilize the Xbox market as the standard.
Offence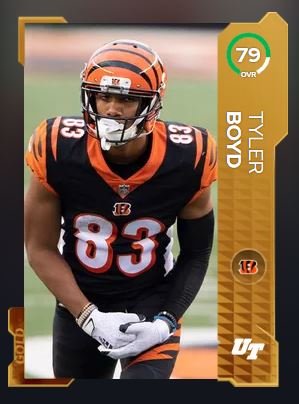 QB Gold 77 OVR Joe Burrow - 2,500 MUT coins
The sophomore quarterback will accompany us on this journey after a great rookie season. Just like with Patrick Mahomes, we get a QB that can both stand in the pocket and deliver a strike or scramble and utilize his 73 SPD attribute.
HB Gold 78 OVR Kerryon Johnson - 2,350 MUT coins
The Eagles' bell cow is probably the most complete running back in the gold tier as he possesses a great mix of speed, acceleration, and elusiveness. Also, he can definitely catch the ball off the backfield, which is always a desired asset.
LT Gold 74 OVR Cameron Erving - 1,800 MUT coins
LG Gold 75 OVR Pat Eflein - 2,250 MUT coins
C Gold 73 OVR Dan Feeney - 1,100 MUT coins
RG Gold 74 OVR Alex Lewis - 1,400 MUT coins
RT Gold 74 OVR Tyler Crosby - 1,400 MUT coins
Here we have the first carryover of this list as the centre, Dan Feeney makes a comeback from the previous outing. We kept the same balanced structure just upgraded the players to possess better attributes which incremented the cost.
TE Gold 73 OVR Mo Alie-Cox - 1,100 MUT coins
The other carryover was our tight end, the former college basketball star Mo Alie-Cox. Here we had the issue that paying more coins wasn't really buying a better item, so the cost-benefit option was Alie-Cox as he can double down as a pass-catching threat and a blocking end.
WR1 Gold 79 OVR Tyler Boyd - 2,900 MUT coins
WR2 Gold 79 OVR Emmanuel Sanders - 2,700 MUT coins
WR3 Gold 78 OVR T.Y. Hilton - 2,500 MUT coins
Here lays probably the best-rated group of this exercise as we were able to obtain specialists at every receiving position. Boyd is the best all-around receiver in the gold tier, Sanders is the best deep threat of this price range and Hilton offers us the best short-to-mid route runner with reliable hands.
Defence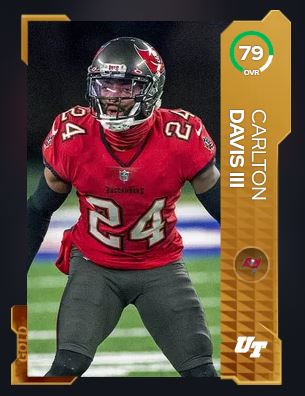 RE Gold 72 OVR Kwity Paye - 1,500 MUT coins
DT1 Gold 77 OVR Javon Hargrave - 3,000 MUT coins
DT2 Gold 76 OVR Maurice Hurst - 2,900 MUT coins
LE Gold  77 OVR Shaq Lawson - 2,400 MUT coins
To start off our defence we got a mean, physical defensive line. Paye is a power rusher with a demonic speed to rush the passer, Lawson will be a great edge setter with coverage skills and the Hargrave-Hurst tandem will stuff runners while bringing the heat on the QB.
LOLB Gold 78 OVR Shaq Thompson - 3,000 MUT coins
MLB Gold 76 OVR Joe Schobert - 2,300 MUT coins
ROLB Gold 75 OVR Cory Littleton - 2,100 MUT coins
The linebacker corps will be led by a trustworthy field general in Schobert while both outside linebackers have great pursuit, tackle and speed attribute to stay around the ball every single snap.
CB1 Gold 79 OVR Darius Williams - 2,700 MUT coins
CB2 Gold 79 OVR Carlton Davis III - 2,900 MUT coins
Oh boy, this is my favourite group. We got two coverage specialists that can definitely manhandle any receiver both in man to man coverage or zone coverage which will be really helpful at this early stage.
FS Gold 78 OVR Duron Harmon - 2,950 MUT coins
SS Gold 76 OVR Jordan Whitehead - 2,200 MUT coins
To close out our list we maintained the formula from the previous list as we got a speedy ball hawk in Duron Harmon while Whitehead can complement both the box or the secondary with his versatility.
LINEUP TOTAL COST - 49,950 MUT coins
We are already witnessing a general enhancement across every position on the field, both offensively and defensively, with some exceptions of course.
This just leaves us anxious to be able to share the next item where we will take it up a notch again to build an elite team for your championship quest (see what I did there).
Whether you replicate our suggestions or cross it over with your favourite players, we are certain that you will have a blast building the best possible team in your chase for the Lombardi.
Make sure to give a look at our dedicated section as we will bring you everything you need to know about every Madden release, news, MUT tips and more.