UPDATE: 
Houston Outlaws have announced their own live event during the same weekend held.
The Battle for Texas continues.

-Community and collegiate exhibition matches
-Intimate live event experience on July 9th
-Exclusive meet and greet
-Proof of vaccination required to attend

Tickets on sale Wednesday at https://t.co/l3Nc6ANtTt

📰: https://t.co/DamU04Ro4T pic.twitter.com/CAoRufVDPv

— Houston Outlaws (@Outlaws) June 14, 2021
Original story:
After teasing the return of Homestands in North America following a successful live event held in China by the Hangzhou Spark, Envy CEO Mike "Hastr0" Rufail confirmed the Dallas Fuel will host a live event this upcoming 9th July at the Esports Arena Arlington.
The May Melee winners and June Joust runner-ups will play regional rivals Houston Outlaws in what's dubbed by the community as the Battle of Texas, however, the Outlaws won't be present at the venue as they'll be playing from their hometown.
According to official information provided by the Dallas Fuel, the ESA will cap at 50% capacity, roughly around 1,200 seats with tickets costing $15. 
Fans will have the opportunity to arrive early at the venue and take pictures on-stage as well as watch two other Overwatch League matches that will be played online (Washington Justice vs London Spitfire, and Los Angeles Gladiators vs Toronto Defiant), before the main event kicks-off at 5:00pm CT (11:00pm BST).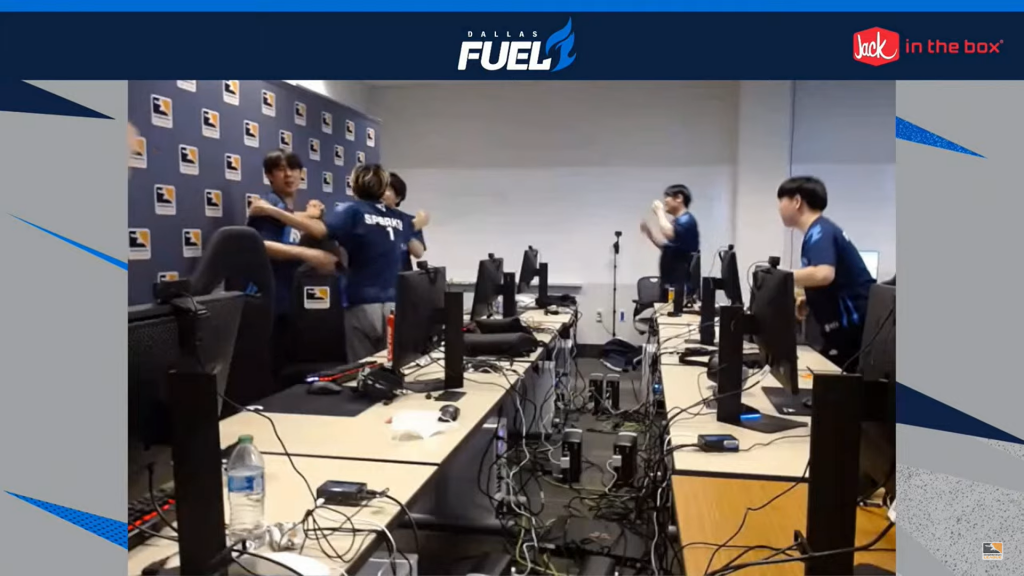 Fuel celebrating their May Melee win (Picture: Overwatch League)
The Fuel has already played Houston three times during the OWL 2021 Season, losing their first match during the inaugural day 3-2 and beating Outlaws 3-0 during both May Melee and June Joust qualifiers.