The Overwatch League has decided to issue refunds for Jay "Sinatraa" Won's Zarya MVP skin amid sexual abuse allegations made against the former San Francisco Shock pro.
In a quick statement posted on social media, OWL revealed that they are "aware of the allegations made against" Sinatraa and that they are "offering a refund of 200 League Tokens for the 'Alien' Overwatch League MVP skin."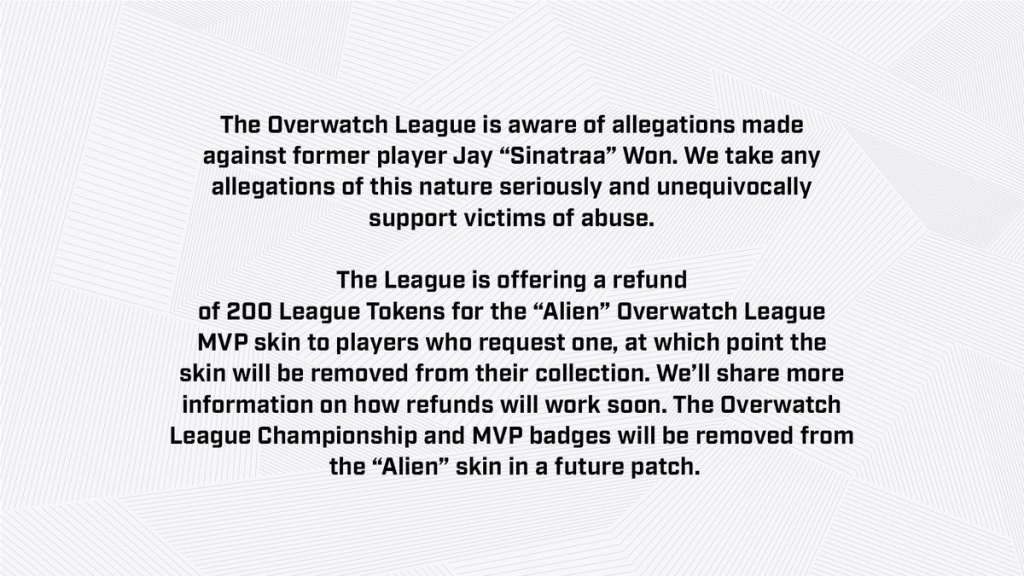 (Image: Overwatch League)
Even if players decide not to request a refund, the Alien skin, which has been unavailable for purchase since June 30th of last year, both the OWL Championship and MVP badges will be removed from Zarya's right arm as they represent Sinatraa's accomplishments during the 2019 Season. 
(Image: Overwatch League)
San Francisco Shock, Sinatraa's former OWL team, also issued a statement, claiming that while "Jay is no longer a member of the San Francisco Shock, we think it's important to re-emphasize our position of zero tolerance in situations like these."
Won, now a Valorant pro for Sentinels, has been suspended by his team and Riot Games from competing in any future tournaments while the investigation is underway, meaning his teammates will have to find a last-minute replacement for the upcoming VCT Masters Stage 1 event.