The roster changes are about to start for the old continent as the last tournament with qualifiers, the third and final Spring regional event, concluded this past weekend.
With an invitational Spring Major on the horizon and only the top six teams in Europe competing in the RLCS X Championships, this inherently means every team below the top 10 in the region is welcome to sign, release or transfer players at will -- and so did FCBEsports.
FC Barcelona has officially released their Rocket League roster as announced on 19th April 2021.  
The team composed of Nacho "Nachitow" Gimenez, Fredi "fredi" Lazarus and captain Ronald "Tahz" Oosting are free agents effective immediately. They finished the season 23rd in Europe with only 70 RLCS points.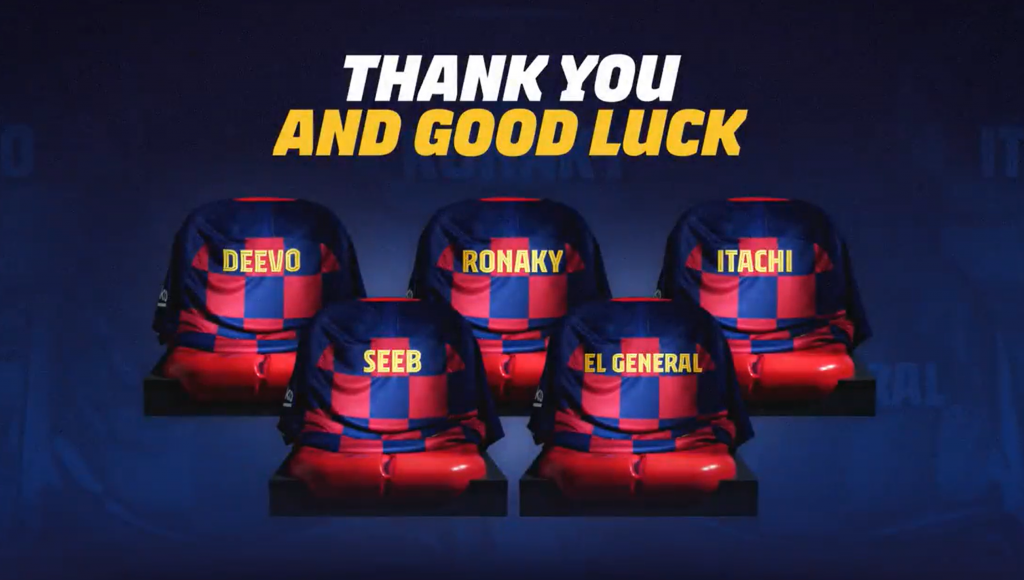 FC Barcelona released this roster back on Oct. 26th only to sign another one four days later (Picture: FC Barcelona Esports)
The independent squad German Amigos wasted no time since the Barcelona announcement, seeking the org and teasing a potential deal, as current member and former FCB player Riccardo "Rizex45" Mazzotta literally raised an eyebrow to the interaction.
Rizex45 went through a rough patch and turmoil of emotions since the beginning of the year with Barcelona benching him then releasing him, the forming and disbanding of FlipFlop Tactics and his four-day tenure in Triple Trouble-turned Illusion.
Since then, KCI rebranded to German Amigos with the addition of Rizex to the Ivan "ivn" Mohammad and Leonardo "Catalysm" Christ Ramos roster. They found recent success in the Spring Split The Grid, finishing 2nd place to Team BDS and walking away with $12,000 in prize pool money.
Whether this is the last we see of Barcelona in the professional scene or they actually swallow their pride by bringing back Rizex and company for the eleventh RLCS season, the European organisation currently walks away from the esports scene with $179,848 in earnings since 2019.
For more Rocket League content, make sure to follow our GINX TV portal @fastkickoff on Twitter!