A week and a half in the making, Dan "Bluey" Bluett is finally confirmed as Galaxy Racer's third man for their Rocket League squad.
The announcement was made on 6th March as rumours had been floating around all week long about the signing.
Welcome the EU Season 8 MVP @BlueyRL as our new third player in our @RLEsports roster!

🚗 #GXRWIN x #RLCSpic.twitter.com/MWyX84tuy2

— Galaxy Racer (@GalaxyRacerDxb) March 6, 2021
Insider source, ShiftRLE, had reported Galaxy Racer's intentions to replace Dylan "eekso" Pickering. The team later held tryouts which had Bluey, Rix.gg's Kurtis "Kash" Cannon and Damian "Tox" Schäfer participating for the spot.
Galaxy Racer decided on the EU Season 8 MVP, Bluey, effectively moving eekso to the inactive roster on 3rd March and ultimately releasing him on 5th March.
Surprisingly, eekso and tox who were once competing for the same spot on Galaxy Racer, joined Maurice "Yukeo" Weihs on their new independent team, Aether.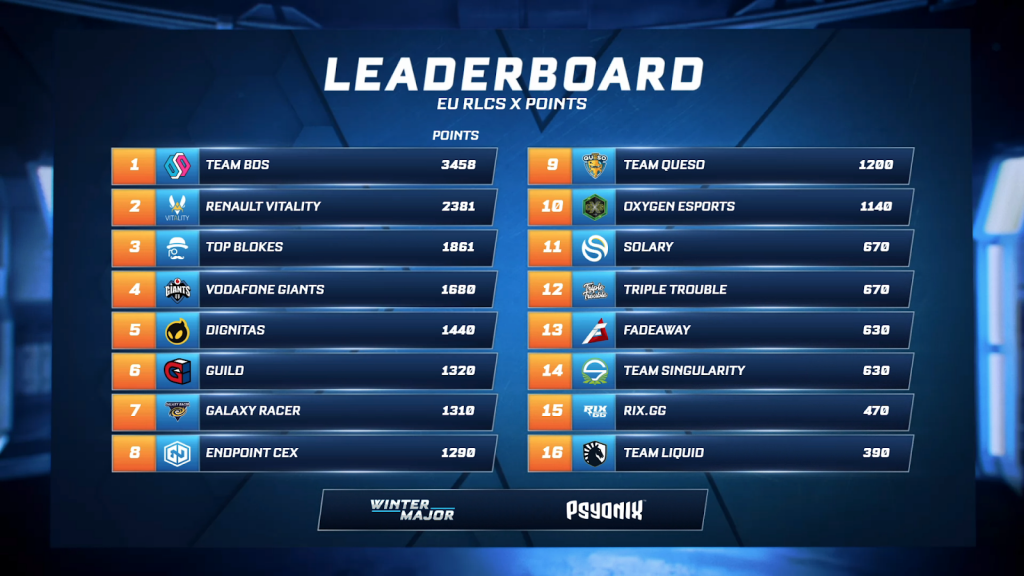 (Image: Psyonix)
Bluey will be joining Mitchell "Mittaen" Driessen, Ario "arju" Berdin and coach Ryan "ANDYTHEMANDY" Gardner on the Galaxy Racer roster.
The 19-year-old will be looking to push the team onto the next stage of the tournament with the third and last split, the Spring Split, starting for Europe very soon.
Galaxy Racer currently sits in 7th place in the region and with the revamped RLCS X World Championship LAN set for June of this year, only the Top 6 teams from Europe will be qualifying for the big party.
With 1310 RLCS points, Galaxy Racer sits right behind Guild Esports, who knocked Galaxy Racer out of the Winter EU Major last month and finished the tournament 4th place overall pulling away with a 10 point lead, entering the Top 6 and currently qualifying for the World Championship.
While BDS is already mathematically qualified for the LAN event, the bottom half of the European seeds are up for grabs with all 3rd to 10th place being one bad Split away from missing the RLCS X finale -- or one good one to qualify.
We'll have to wait and see how the European scene shapes out after their first Spring Regional right around the corner in the next couple of days.