With the Winter Split ending less than a week ago with BDS and NRG Major victories, every player and organisation is scrambling trying to get set for the start of the final stretch.
Teams break up, players flee, Musty goes pro and, sometimes, teams are formed. On this occasion, several pieces had to fall in place for this team to come together. 
Maurice "Yukeo" Weihs, Dylan "eekso" Pickering and Damian "Tox" Schäfer have formed a new trio that will be competing in the European region during the Spring Split soon to start.
They are currently nameless and are looking for suggestions right under their team announcement tweet. 
Announcing our new roster for #RLCSX !@Yukeo 🇦🇹@eekso2 🏴󠁧󠁢󠁥󠁮󠁧󠁿@Toxtraptonized 🇩🇪

Really hyped and motivated to grind and improve as a team. 😍

— SLY Tox (@Toxtraptonized) March 2, 2021
Yukeo is a veteran amongst the three members playing professional Rocket League since early-2018 for teams like Dignitas, FlipSid3 Tactics and recently forming a team parodying the latter, FlipFlop Tactics, alongside Francesco "kuxir97" Cinquemani and Riccardo "Rizex45" Mazzotta.
FlipFlop Tactics was formed in late-January of this year only for Yukeo to part ways after failing to qualify for Elemental Series 2 in February.
Former FlipFlop teammate, kuxir97, has reportedly tried out and worked a deal to join Wolves Esports, ultimately disbanding the team.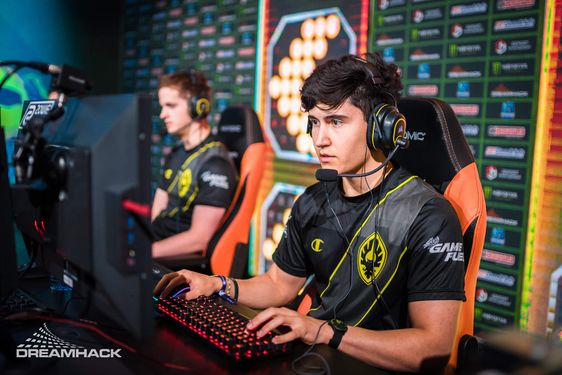 Yukeo playing alongside Jos "ViolentPanda" van Meurs during his Dignitas days (Image: Dreamhack)
Tox also has his history with different organisations. Briefly retiring in August 2019, he came back to play for squads like RCD Espanyol, Giants Gaming and Solary.
The English rocketeer, eekso, is the next longest-tenured pro in the team joining the scene in the Summer of 2018 and being a part of rosters like We Dem Girlz, Triple Trouble as a stand-in and starter for Galaxy Racer.
The 18-year-old had been reportedly trying out for different teams after word got out he was being replaced by Triple Trouble's Dan "bluey" Bluett. Eekso scrimmaged for FlipFlop Tactics (Yukeo's last team) and Solary (Tox's last team) -- pointing eekso as the catalyst for all three parties to join forces.
The trio is set to announce their team name soon and debut once the RLCS X Spring Split sends us into the third and final section of the season before the LAN World Championship.
We'll have to wait and see how much damage and how big a splash this new team can make in one of the most competitive Rocket League regions in the world in such little time left.