NRG beat Rogue 4-2 preventing a bracket-reset-upset and winning the RLCS X NA Winter Major Grand Finals, finishing the three-month-long Winter Split in dramatic-fashion.
With Rogue needing to beat NRG in two consecutive best-of-sevens, they fell short during the second series with NRG avenging their last Regional's loss against Rogue in the RLCS X Games Grand Finals.
NRG's Justin "jstn." Morales did what he does best, whilst putting the best-in-the-world comparisons with Rogue's prodigy, Jason "Firstkiller" Corral, to rest by assisting the championship-sealing OT goal to Garrett "GarrettG" Gordon and winning it all for NRG in a Grand Finals that ran for more than 2 hours total.
The player's faces after GarretG's game-winning goal told their own story as NRG looked exhausted and ultimately relieved to have come out on top, while Rogue seemed in shock realising how far they had come to fall at the final hurdle.
With the result, NRG climbs to the number one spot in North America, earning themselves $36,000 and 802 points, while 2nd place Rogue walks away with $18,000 and 600 points, placing 4th overall in the continent.
Rogue new Top 4? NRG doing NRG things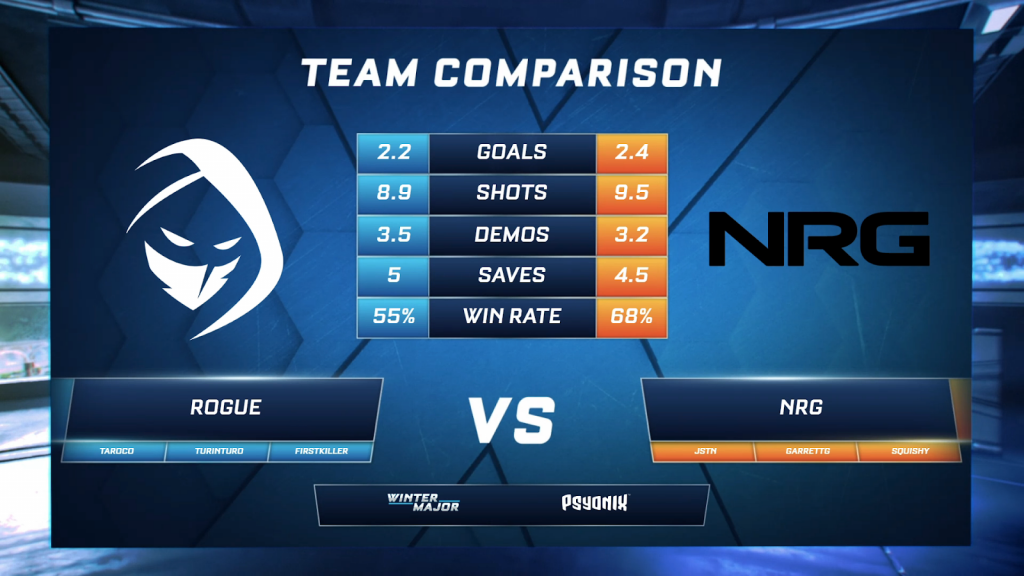 (Picture: Psyonix)
NRG and Rogue have been top-billing names in the North American scene for a while and have met several times since the start of the revamped RLCS X.
NRG walking into their first Winter Split Grand Finals coming from the Winner's Bracket and Rogue from the Losers' side, a reversal of the situation seen in the previous regional.
With the first and only previous NA Major being won by Spacestation Gaming, we were sure to have a fresh, newly crowned North American Major Champion in any of these two teams.
NRG quickly hopped on top, gaining speed and creating a 2-0 series lead over Rogue, but it is well-known Rogue does not go down that easily.
Rogue picked up the pace winning three straight games, forcing Game 7 with Firstkiller assisting Alexandre "Taroco." Reis Pedrogam for the series-winner score, causing a bracket reset.
On a white-hot streak, winning 12 matches straight, no losses during Championship Sunday coming into the Grand Finals and forcing a bracket reset wasn't enough for a Major Championship, as Rogue ultimately fell short to NRG's trademarked in-field passing and quick ways to the ball.
Upper Bracket shine for NRG, Lower Bracket sweeps for Rogue
Although NRG only had three series to go in the Upper Bracket to make it to the Grand Finals, they still had to break through brick walls to finish atop -- beating North American organisations in the likes of Version1 (3-2), Fall Split Major Champions Spacestation Gaming (4-1) and the winningest NA Regional Champions Team Envy (4-2).
Knocking down Envy and SSG (2nd and 3rd places respectively in North America) to the Lower Bracket and securing their spot as a finalist relieved from bracket-reset necessity really helped their Championship run.
Rogue, on the other hand, fell immediately to the Lower Bracket after being taken down by The Peeps (3-1), eventual Winter Major 4th place.
Then, they found their mojo eliminating from the tournament teams like G2 Esports (3-2), Kansas City Pioneers (3-2) and Spacestation Gaming (4-0).
In a series that couldn't be written any better, Rogue swept the team that sent them to the Losers' Bracket, The Peeps, in the Lower Semifinals and also swept 2nd place in NA, Team Envy, in the Lower Finals.
(Picture: Psyonix)
With this Grand Finals results, NRG secures a 200-point lead over Team Envy for 1st place in North America and Rogue enters a safe Top 4 lead over The Peeps.
With both 5th and 6th place being so close to each other, it seems that anything can happen between the last two spots left to qualify for RLCS X Worlds as the Top 4 seems more than locked down.
You can relive this Grand Finals all-time great now as the VOD is available on Rocket League Esports' Twitch and YouTube channels. Make sure you do before we get ready for the start of Spring Split Majors as more information about it rolls out.