To say RLCS Season X is flying by is an understatement. Two-thirds of the way there, the longer virtual season created to solve the pandemic's block on the road is almost over with the third and final split, the Spring Split, to start sometime in March.
But without getting ahead of ourselves, there is one last RLCS X Winter Major to be played and in one of the most contested regions of the globe, North America.
Twelve teams qualified through either point rankings or tiebreakers and only one can walk out NA Winter Major Champion, but besides the obvious resolution to a tournament concept, there are many loose ends and questions unanswered.
Whether you're having an online viewing party or your floormate is also a Rocket League fanatic, here are five things and talking points to look out for in the RLCS X North American Winter Major.
1. Which team will pull away as undisputed 1st place?
Let's start with some obvious ones. It is well-known Europe and North America run the Rocket League Esports scene and while the Old Continent has a well-defined numero uno in Team BDS, North America's race is closer to a photo-finish.
Team Envy, NRG and Spacestation Gaming are 1st, 2nd and 3rd respectively in the North American leaderboards with gaps in RLCS Points of 102 between 1st and 2nd and 48 points from 2nd to 3rd place.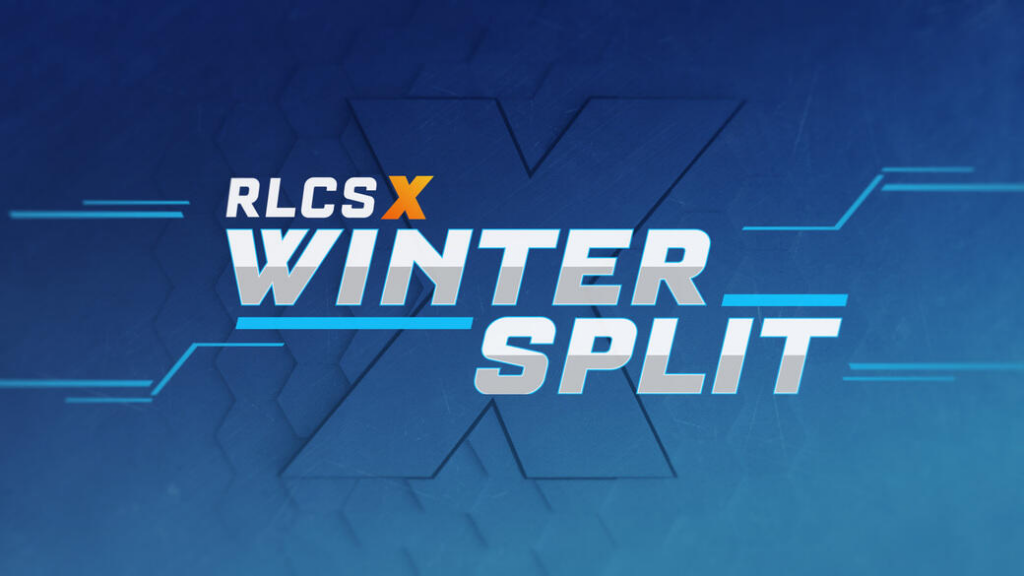 (Image: Psyonix)
And you might say, "Hey, I don't understand numbers, make me a Rocket League-savvy," well my lost-cause friend, these tiny little gaps mean that come NA Winter Major time, each team's placements through the tournament will alter, shape and shift our North America's top teams for good.
The lowest four teams that place in the NA Winter Major will still receive $2,000 in earnings plus 200 RLCS points -- meaning that even if all Top 3 teams fell to the bottom four, their gap between each other will stay the same and the tournament winner might as well cruise to the region's first place.
If places 4th, 5th or 6th (Rogue, G2 Esports, and The Peeps respectively) come away with the upset by winning the whole thing, World Qualifiers can be heavily altered. Big numbers, big stakes, big money on the line this weekend.
2. Could a Round 1 dark horse win it all?
Throughout the Winter Split the theme for the tournaments remained loyal to the Double-Elimination format, just like in the previous split, the Fall Split, the format to follow for all competitions was a Swiss tournament. 
The double-elimination format, though, implies that you need to lose two series to be eliminated from the tournament and that winners will continue to face winners while losers face other losers until one team that lost once meets a team that hasn't lost at all, the former needing a bracket reset created by beating the latter twice.
Anyway, with all that rule-chaos out of the way, all teams participating in the double-elimination tournament are evenly distributed by their rankings and the bottom teams will play in a Round 1, while top regional teams are rewarded with a bye-round per se, and in turn, gives the lower-ranked teams one more series to go through.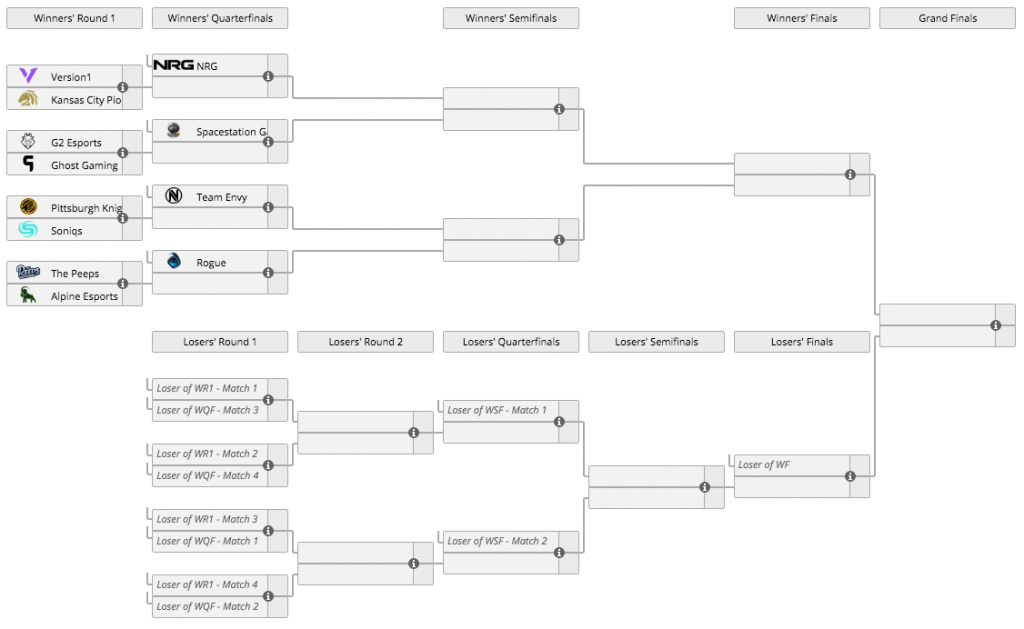 (Image: Liquipedia RL)
In an already long, gruelling and exhausting day, one more series might make the difference, or at least it seems that way.
On both the Oceanic and European Winter Majors, one of the two Finalists came from Round 1 of games, in the shape of R!OT Gaming and Renault Vitality respectively, but both fell short in the Grand Finals.
No Round 1 team has won it all during the Winter Split double-elimination format and with 5th and 6th place in North America both starting in Round 1 (G2 Esports and The Peeps), we might see some last-second Hail Mary of some sorts with the upset of the Region/Split.
3. G2 needs to... Pick. It. Up.
One of the oldest and still intact three-man rosters in the scene is G2 Esports formed by Reed "Chicago" Wilen, Jacob "JKnaps" Knapman and Dillon "Rizzo" Rizzo.
Playing their hearts out, season in and season out since 2019, some might say changes are inevitable in the G2 squad.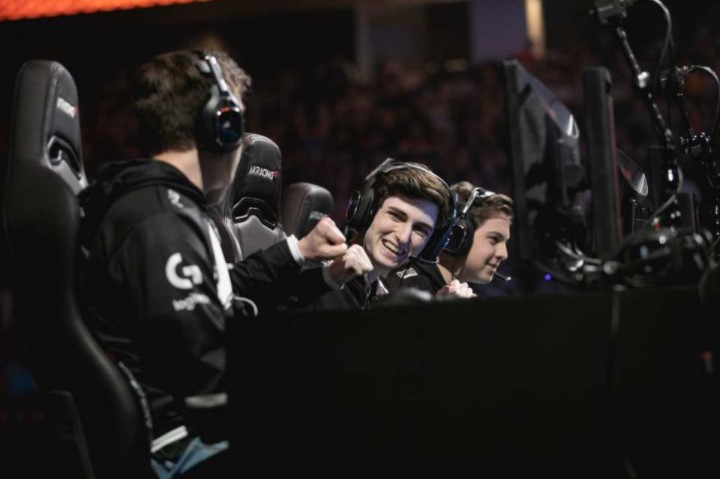 (Picture: Psyonix)
Great showings in The Grid week after week are overshadowed by poor finishes in Regional and Major tournaments with several Top 8s, Top 6s and two lonesome Top 4s back in the Fall Regional #3 and Major.
Now, I am a Rizzo fan-boy because only a monster wouldn't be, but the ship has to turn around some way or another if this fan-favourite roster is to survive until Worlds time comes around. Six total teams will make it to the World Championship and right now G2 Esports lands on a slippery 5th place being pushed down last Regional a spot by Rogue's 1st place upset and finish.
G2 needs to find its inner self and pull off a Championship win for their fanbase, squad's and organisation's sake or this might be one of the last showings of the scene's oldest trio.
Full disclosure, the current roster did sign an extension contract with G2 until 2022 but the same thing happened with Cameron "Kronovi" Bills and we know how that ended.
Quick chat:"Whoops!".
4. Which six teams will make it to RLCS X Worlds?
Speaking of qualifying for Worlds, did you know that was the whole purpose of the Regional and Major tournaments being played throughout RLCS X? Whaaat? So you are telling me it wasn't only to clip on 'em, cash big money prize pools and get meaningless points on a leaderboard? Huh... Wild.
Welp, The RLCS World Championship scheduled for May-June of 2021 will have 16 teams in attendance: the top two teams from Oceania, the top two teams from South America, the top six teams from Europe and the top six teams from North America.
(Image: Psyonix)
Meaning that if the RLCS X season were to end today, Team Envy, NRG, Spacestation Gaming, Rogue, G2 Gaming and The Peeps would qualify for the World Championship from North America as they are places 1st to 6th respectively. 
Thing is, the gap between each team can be closed just like that *mimics a snap*.
Especially with the point distribution Major tournaments offers doubling points per placement. One poor showing in this tournament or one great upset can shift all six of the currently qualified Worlds teams from NA.
Our best guess is a G2 comeback, but hey, there are other 11 teams trying that exact same thing. Who knows? scripted.
5. Will this tournament make NA look weaker or stronger than EU?
Last, but not least, there is a hot debate that started since the dawn of time of RL esports but that grew exponentially come RLCS X time. 
With this RLCS season running longer than ever, there is a comparison habit, human nature, really, to try and claim region supremacy without any physical LAN competition or real point of comparison.
This took form in a religious-like battle of the faiths. Europe vs North America.
If you aren't paying attention to the European Rocket League scene, BDS has basically locked down 1st place, squashing every intention of an upset and seeks, plans and prepares to walk in the RLCS World Championship as the 1st place in Europe and in the World. They currently hold 1st place in the leaderboards with a 1,077 point lead to its European 2nd, Renault Vitality who also happens to be 2nd place Globally.
All of this to say, with the Top 6 North American race being so close, what does that say of Europe? Of North America? Of the EU vs NA debate? 
It has been contested that region A is superior to region B, but if one of the regions is being dominated by a single team, does that make team X better than both regions combined? Or is North America, which struggles to find its rightful1st place, way more competitive therefore better than Europe?
Maybe this weekend's tournament will shake things up or reestablish things we already knew. Hopefully, at least one of the two happens. We need answers.
You can catch the RLCS X North American Winter Major on Rocket League's Twitch channel. The two-day tournament kicks off on the 27th February and wraps up on the 28th. For a more detailed look at the schedule, the teams, and everything else check out our primer.