After four long days of high-octane Rocket League action, the first European RLCS X champion has been crowned. Losing just one series in the entire tournament, Team BDS dominated the competition.
Their event started with a swift run through the first swiss stage, taking down Nordavind, Libertas and Guild Esports (all with 3-1 scorelines) to advance with a 3-0 record. Although they fell to gReazy's new Magnifico side in the second swiss stage, wins over Triple Trouble, Dignitas and Vodafone Giants put them through to the playoffs, where their first series would be a rematch with the Giants. Despite losing the first game after a long, even overtime, BDS pulled through and took the series in five games.
Next up was arguably Europe's best team in the form of Renault Vitality. However, BDS were once again unfazed. For the first time in what feels like forever, Vitality were truly outclassed as Evan "Monkey Moon" Rogez stood out with some fantastic plays all over the field. Taking the series in six games secured a second grand final for his team in the last two months, joining their EuroCup triumph back in June.
Top Blokes had progressed through both swiss stages with a 3-1 record, with their eight-minute game five overtime loss against Guild Esports on Sunday being one of the best matches of the season so far. In the playoffs, a monstrous performance from Archie "archie" Pickthall saw the former Veloce side take down both Solary and a surging Magnifico side in order to reach the grand final.
But once they got there, they ran into a brick wall. Some exceptional Rocket League from all three BDS players was simply too much for Top Blokes to handle as Marc "MaRc_By_8" Domingo and Alex "Extra" Paoli helped Monkey Moon pile on the pressure. They may have taken two games, but it was hard to see Top Blokes coming out on top once BDS found their footing.
With 351 RLCS points secured and $30,000 earned, Team BDS have shown why Renault Vitality's spot at the top is certainly not a secure one. The Grid on Friday will be a crucial indicator of where these teams stand right now and it's going to be an exciting evening of action.
RLCS Season X -  1st European Regional Final Bracket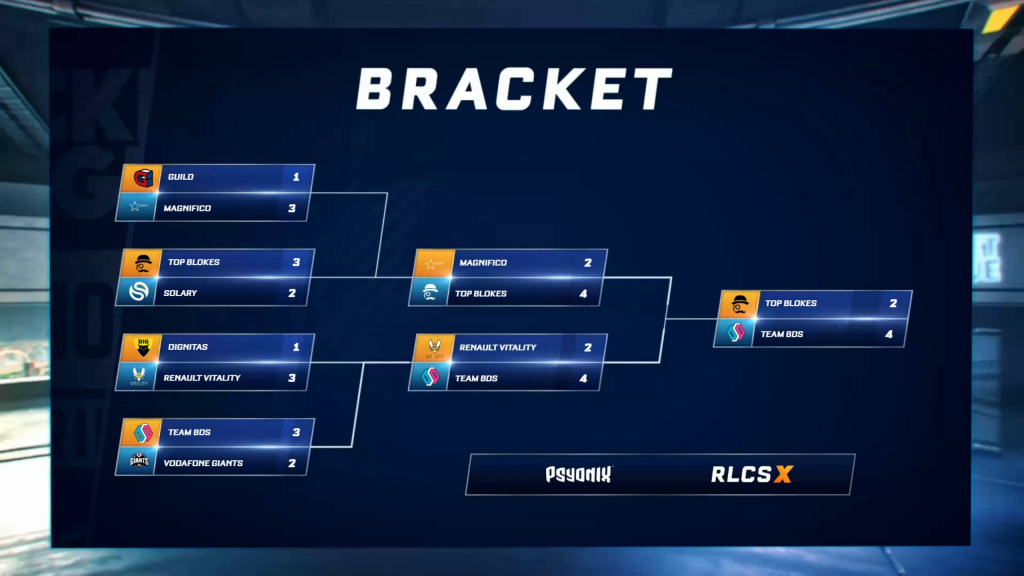 (Picture: Psyonix)