Triple Trouble is a well-fitting name for the situation the team has found themselves in recent months with the latest move perhaps spelling the end for the orgless roster.
The European team has announced the departure of the English player, Dan "bluey" Bluett, in order to "pursue other opportunities".
The parting of ways was announced on 1st March and it came only 20 days after Triple Trouble announced the release of Gian "Calix" Luca Bruder and the addition of his replacement, Finlay "rise." Ferguson to the team.
An update on the @TripleTroubleRL roster: pic.twitter.com/jtSyi9bUat

— Triple Trouble Rocket League (@TripleTroubleRL) March 1, 2021
The roster changes in the last couple of months leave the team in shambles with only newcomer, rise., coach Ethan "Ethzn" Laughland and Triple Trouble veteran Euan "Tadpole" Ingram still in the squad.
With bluey's and Calix's absence, Triple Trouble is now missing two-thirds of the original roster and must forfeit all their collected RLCS X points and their Grid relegation playoff spot. 
Triple Trouble was 12th place in Europe with 670 RLCS points.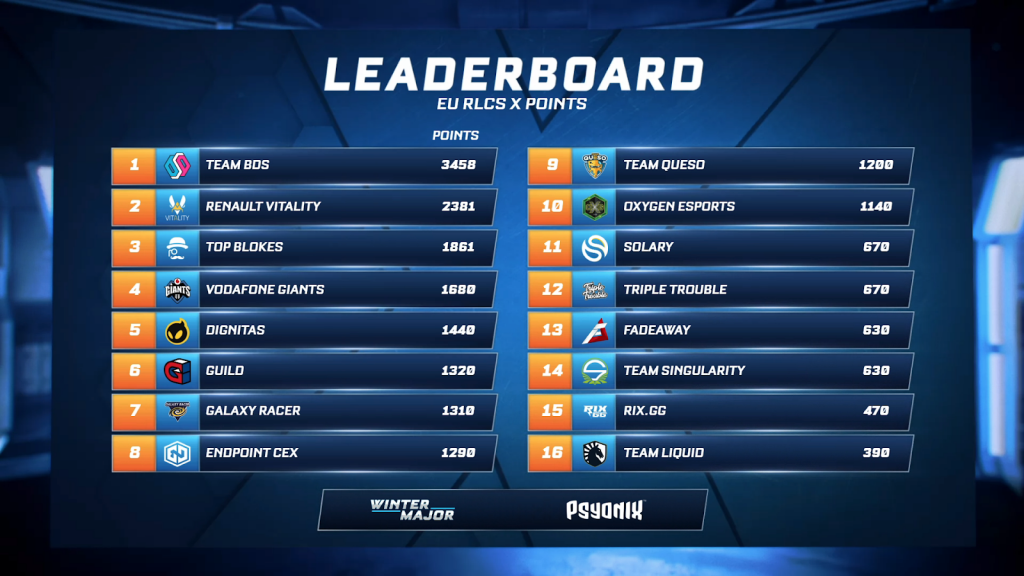 (Image: Psyonix)
Bluey, who had been a part of Triple Trouble since January 2020, is allegedly replacing Dylan "eekso" Pickering on European organisation Galaxy Racer, first reported by ShiftRLE.
Triple Trouble is currently LF1 (Looking For One) and will be holding tryouts through the next couple of weeks, hopefully landing a new member before the start of the Spring Split. 
The team is scheduled to play in the upcoming $5,000 Elemental Series 2 with placeholder third, Galaxy Racer's own, eekso. 
The result of the tournament altogether could mean a trade-like situation with Galaxy Racer acquiring bluey. without sacrificing their 7th EU spot and Triple Trouble starting from scratch with eekso.
We'll keep you updated as the roster changes occur and are made official.