The four-time World Champion is now a four-time RLCS X Regional Champion.
Team Envy has captured their fourth RLCS X regional championship and is now the winningest squad in North American Rocket League.
To do so, the trio defeated the number one seed in the region, NRG, in a best-of-seven Grand Finals that went the length, with Pierre "Turbopolsa" Silfver pushing the org past defending World Champs.
Team Envy walks away with $30,000 and 451 RLCS points whereas 2nd place NRG finished with $15,000 and 350 points.
Turbo was named the Lamborghini Open MVP for his performance as Envy prepares for the Spring Major to close out the RLCS X regular season.
Revenge is a cold Swedish dish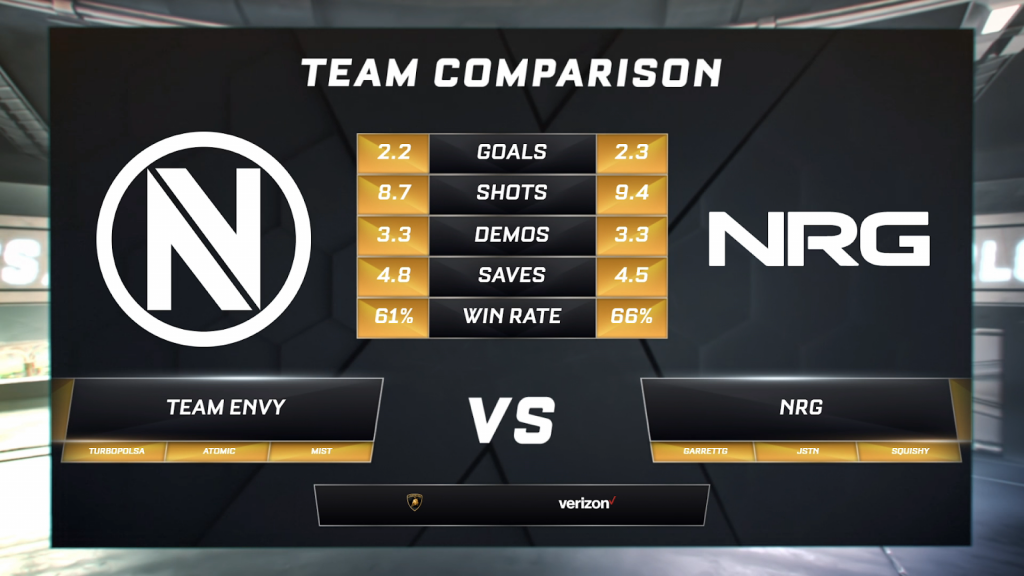 (Picture: Psyonix)
In the absence of an RLCS X LAN event, the still defending champions are Season 8's NRG composed of Garrett "GarrettG" Gordon, Justin "jstn" Morales and Turbopolsa himself, making the Lamborghini Open Grand Finals hold all three members of the 2019 starting squad.
Envy trying to avenge their Winter Major elimination and NRG doing their best BDS impression attempting to hold down the region, the series quickly turned into a back and forth between the two teams.
In a match that no team relented any leeway, it came down overtime to set up Envy's match point, sealed by Turbo in Turbo-style.
However, NRG did not put down the gloves as they picked up the W right after with a 2-0 victory in Neo Tokyo to force Game 7.
Like all Game 7's, the matchup had to be settled on Champions Field where even though NRG had a full squad of players with their names hanging around the field, Turbopolsa's four banners and experience were too much and took the championship home one more time.
Controversial run to the Grand Finals
Let's start with the less problematic path of the two finalists which was lived by NRG Esports. 
Starting the tournament in Group D, the team had a 3-1 run dropping one match to G2 and entering the Knockout Gauntlet as the number two seed, ultimately cruising past Version1 into Championship Sunday.
4-2ing defending regional champs Rogue and slipping away with the W against Oxygen Esports in their best showing since moving regions, NRG was Grand Finals bound and ready for their opponent.
As far as Team Envy's run, they entered through Group C and qualified for the Knockout Gauntlet as the top group team with an unbeaten 4-0 record. In the Winner's Bracket, Charlotte Phoenix stood no chance against them being clean swept 3-0 to advance to the playoffs.
Clean sweeping in the Quarterfinals, they faced off Spacestation Gaming for a top-two finish in what turned out to be one of the most controversial series in Rocket League Esports history.
After taking Game 3's OT due to a server lag spike and a very disputable no call by Psyonix, Envy eliminated SSG in seven to re-enter the Grand Finals and winning them.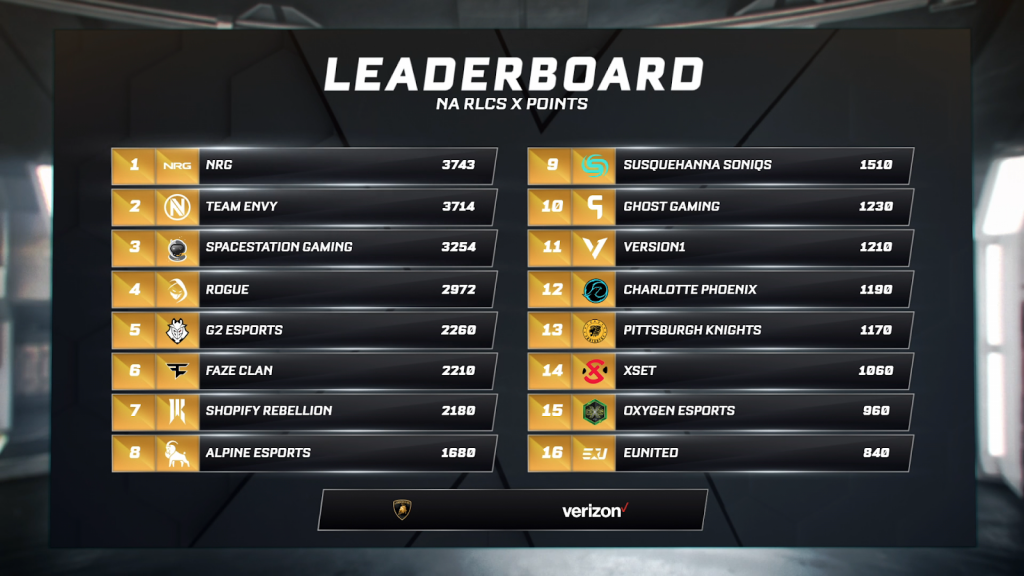 (Picture: Psyonix)
With this result, Team Envy is just 29 RLCS points behind NRG for the number one seed and with their separation from Spacestation, their RLCS X Championships seeding will be a matter of which side of the bracket they are placed, nothing else.
You can relive this historic Spring Regional Grand Finals on Rocket League Esports' Twitch and YouTube channels.
For more Rocket League content, follow our GINX TV portal @fastkickoff on Twitter!