Professional Rocket League Landon "BeastMode" Konerman has been signed by Version1 ahead of the RLCS Winter Split. The 16-year-old will be playing in the stead of Jesus "Gimmick" Parra, former World Champion who joined Oxygen Esports earlier the same day.
BeastMode will be playing alongside Robert "Comm" Kyser and Kyle "Torment" Storer all coached by Jayson "Fireburner" Nunez, a squad that'll be seeking the org's first-ever RLCS Grand Finals appearance for the remainder of the 21/22 season.
Version1 was allegedly "ghosted" by Beast during the month of December after intel source Shift Founder and Lead Reporter  Achilleas "Achilles" Fotiou leaked how deep in talks the young prodigy was with V1. 
"Received contract. Ghosted and tried out with another team," Achilles tweeted then deleted, referring to BM trying out with Team Envy and leaving V1 hanging.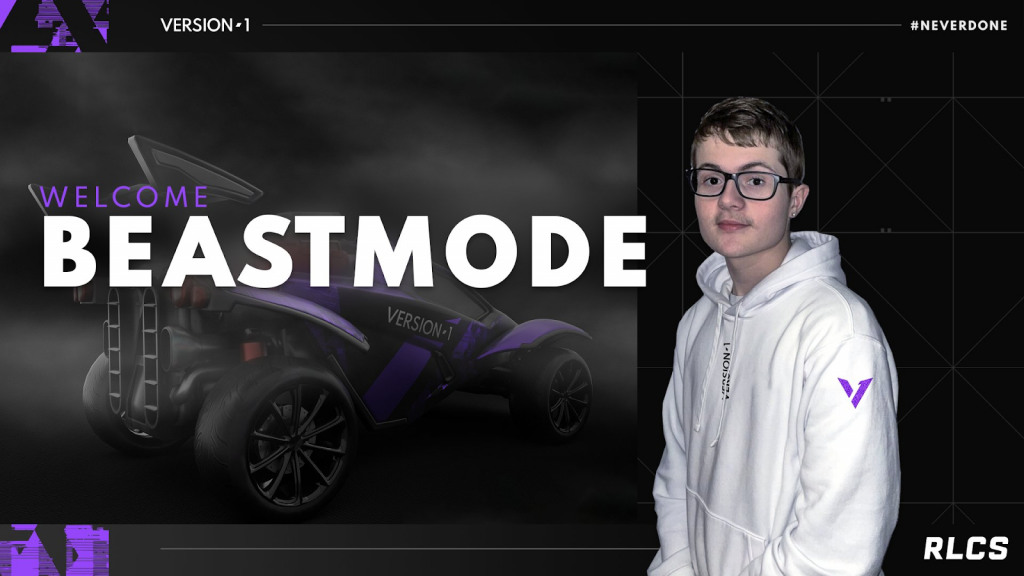 BeastMode was contacted about the story and declined to comment on the matter. Despite the fiasco, V1 would take the rocketeer in to round up their roster for the Winter Split, maybe due to the fact that Team Envy passed on BM after the tryout.
Andrés "Dreaz" Jordan, proceeding from G2 Esports, was involved in a two-way trade where he'd replace Massimo "Atomic" Franceschi in Team Envy and Atomic complete the samurais' starting line-up – making BeastMode and V1 reconsider their original plan after the fact.
Despite multiple Top 8 and Top 4 finishes, Version1 is yet to play an RLCS Grand Finals at an online, LAN, international or regional level and the purple org is hoping BeastMode is the help they needed to end their GF's drought.
The new V1 is expected to make their debut during the RLCS Winter Split which is kicking off with its first regional from 14th to 16th January 2022. Click here to get all the details before the event.
Make sure to follow us at @33Boost on Twitter for more esports news, game content and Psyonix-sponsored giveaways and check out our dedicated Rocket League GINX TV section.
Featured image courtesy of Version1.