Valorant, unlike other FPS' on the market, isn't one to continuously add new weapons to spice things up. Sure, new content drops in the form of Agents, maps, and cosmetics, but when it comes to guns, it's all about weapon balance and fine-tuning. That's where a brand-new weapon tier list for Valorant Episode 4 Act 2 come into play.
Since the game was released in 2020, Riot Games' philosophy has been all about giving each weapon a function within the tactical shooter. Sometimes, in hopes of giving a gun more time to shine, devs end up breaking the balance of the game. 
Regardless of intent, despite not releasing new tools for players to engage with, Valorant feels renewed thanks to those aforementioned balance changes. 
Valorant Episode 4 Act 2 - Weapon tier list 
In order to sort a Valorant weapon tier list, it's important to understand how tier works.
Description of the tiers
S-Tier: Undeniably the best guns filling their respective roles. Barring specific situations, you are better off using these than any others within their categories
A-Tier: Incredibly reliable weapons. Under certain circumstances, might topple S-Tier guns, can't go wrong with these.
B-Tier: They're not the best at what they do, but you might be forced to use them if you're saving or force buying.
C-Tier: In desperate need of buffs. If you use these you're probably making things harder on yourself for no reason. 
D-Tier: The absolute worst guns in the entire game. They can't be saved with buffs, but rather entire reworks.
Worth noting that assessing weapon tiers in Valorant is not like in other games. While we may rank a pistol a tier or two above a Sniper, that doesn't mean it's an outright better option.
It's self-explanatory, but we decided to make a warning regardless. With all that said, let's break down the best and worst Valorant weapons during Episode 4 Act 2.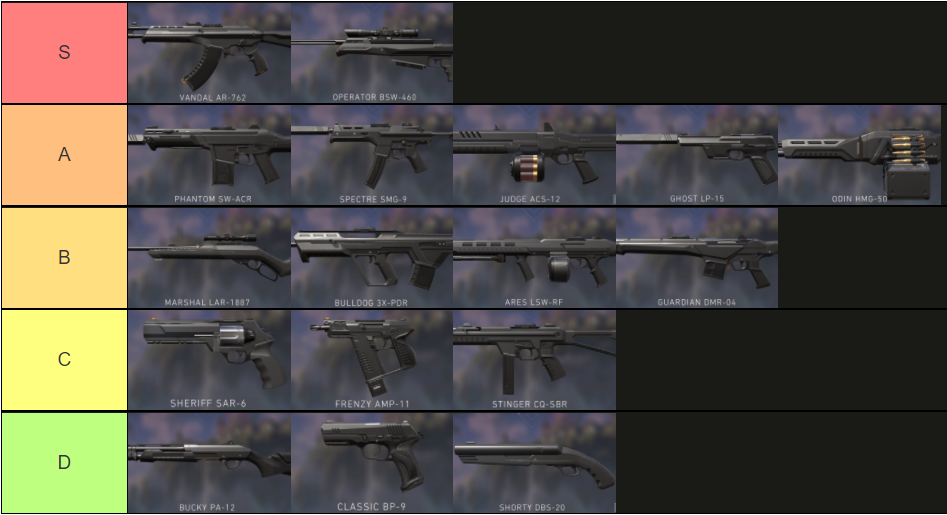 S-Tier
The kings of Valorant and the two most iconic weapons in the game sit at the top. The Vandal enthusiasts are in constant debate with Phantom users regarding which rifle is best.
The only real weakness it has over the Phantom is bullet traces and a slightly harder to control recoil. As for the Op, nothing to add that hasn't been said before, it's designed to be a dominant force in the right hands and that's why it's the most expensive gun in the game.
A-Tier
Phantom
Spectre
Judge
Ghost
Odin
Some top picks in this tier. The Phantom is a super-strong rifle, even if it's affected by damage decrease, unlike the Vandal. For eco or force buys, there's no better gun than the Spectre despite nerfs.
The Ghost should be the defacto in pistol rounds, and if you're feeling like cheesing opponents that don't clear corners, the Judge will be your best friend. 
B-Tier
Marshall
Bulldog
Ares
Guardian
If you're forced to use any of these they might save you. But generally, you shouldn't be looking to purposefully buy any of the guns given other options. 
The Ares was buffed to the point of being broken just weeks ago. In response, Riot decided to not only revert the changes but to make the gun somehow even worse, for example.
C-Tier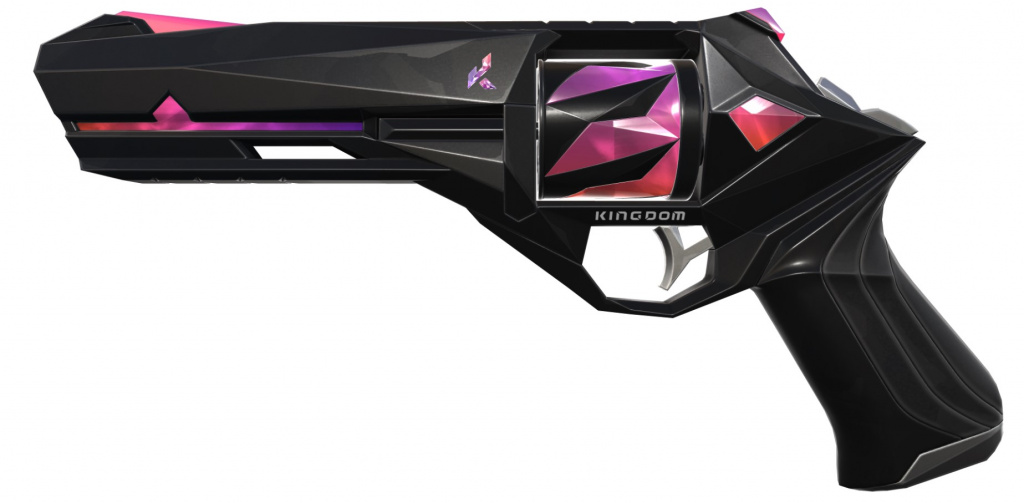 Unless you're cracked out of your mind, the Sheriff is not worth the money required in a pistol round and we'd argue that you're better off even when saving. 
In terms of pistols, only one can be described as worse than the Frenzy. As for the Stinger, the SMG hits like wet paper.
D-Tier
In all fairness to the Classic, it costs 0 to purchase, but after some changes to its right-click, it lost everything that made it interesting, if albeit cheap at times.
There's no saving the other two shotguns, sadly. Might as well remove them from the game. Steer away from them. 
Be sure to check out and follow our section dedicated to Valorant to stay updated with the latest news, guides, leaks, update announcements, and more related to the game.
Featured image courtesy of Riot Games.