Arguably the biggest feature in COD: Mobile Season 4 is Clan Wars. Like Ranked Series, this is a unique bi-seasonal competitive event, which will reset every two seasons, with new rewards and new chances for your clan to climb the leaderboard. COD: Mobile Clan Wars will offer players new ways to compete, capturing Nodes with their clan, and earning a tonne of awesome cosmetic rewards in the process. Here's what you need to know about COD: Mobile Clan Wars, starting with the exact release date, then how this event works, and all the rewards you can earn along the way.
COD: Mobile Clan Wars release date and time
COD: Mobile Clan Wars has a release date of 1st June 2021. While the exact release time might be different for each region, we know it will begin on 1st June 2021 at 00:01.
At this point, players will be able to jump into Clan Wars in COD: Mobile, playing with their fellow clan mates and earning great rewards along the way.
How to play COD: Mobile Clan Wars
First off, players who don't have a clan might be wondering what they can do. Well, while you do need a clan to compete in Clan Wars, many new clans, both casual and hardcore, will likely be created when the event starts. Even if you just play casually, you will still be able to get some nice rewards.
So how will COD: Mobile Clan Wars work? Well, each new Clan Wars will last a week, as teams will be fighting over different Nodes. Clans will need to join a new Clan War each week to participate.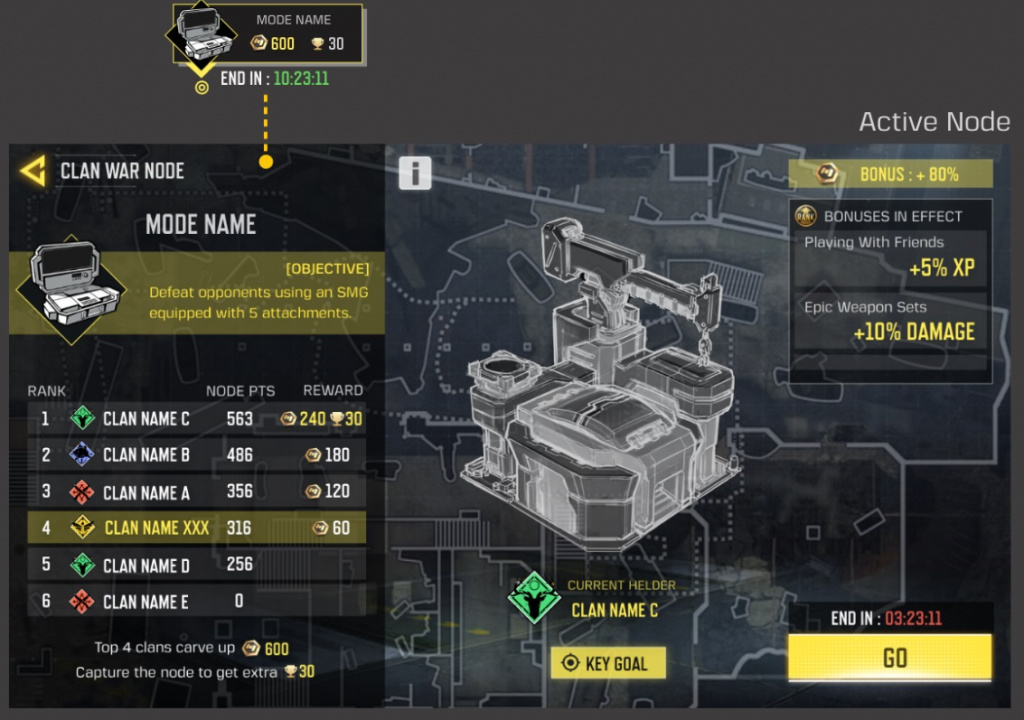 (Picture: Activision)
Teams will need to capture Clan War Nodes. These are timed objects with unique modifiers, and when the time runs out, clans will earn currency based on their ranking.
Nodes will be changing every day and there will always be new ones to fight for. The Clan Leader can also set a specific node as a primary target, and all members of a clan will earn bonus points when attacking this primary target.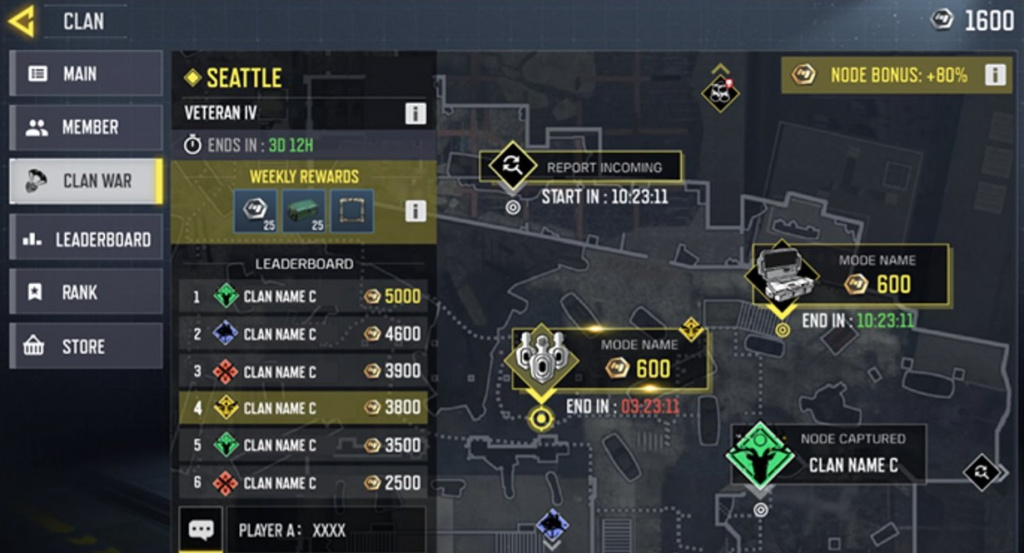 (Picture: Activision)
A quick rundown with general information as per a post by the developer on Reddit can be viewed below.
New Challengers Each Week: Your clan will be matched up with a specific number of other clans each week, that way it is a more focused fight and without one clan always dominating
Weekly Prizes: In every clan war season (which run a week) you'll be able to receive weekly prizes depending on where your clan ranked on the leaderboard, which is based on participation and how many nodes your clan was able to claim.
Match Bonuses: There will be a variety of way to earn bonuses to help your clan get ahead, whether it is playing with friends or even just making sure to play at least one match every day.
Nodes & Points: Clans who compete for nodes, as shown above, will earn points depending on where they placed. However, strive to win! The clan who captures the node will earn bonus points.
Participation Matters: All players who participated in at least 2 clan wars are given a season prize based on clan rank.
Find Your Clan: Not everyone may want to be in a highly competitive clan, there is space for all, even those who casually play throughout the week and just want to help each other earn rewards.
There will also be additional social mechanics that reward players for playing with members of their clan.
COD: Mobile Clan Wars rewards
While participating in COD: Mobile Clan Wars with your friends, you will be able to earn clan currency. This unique currency can be used to purchase the rewards in the in-game store you most want out of the Clan Wars experience.
However, that's not the only way you can earn rewards. You can also earn weekly rewards based on both your individual as well as clan performance, and by climbing the Clan Leaderboards.
Exclusive to Clan Wars is the Ronin - Hakagure with accompanying cosmetics. It is the most expensive of the Clan Wars rewards.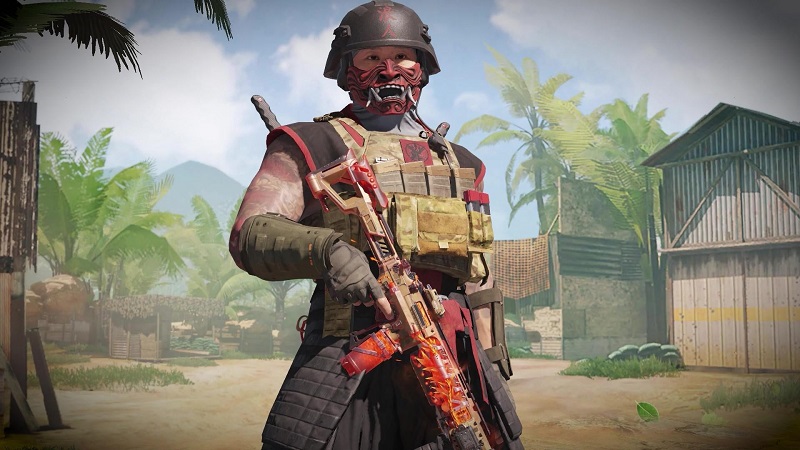 (Picture: Activision)
Check out the list of COD: Mobile Clan Wars rewards below.
Ronin - Hagakure
QXR - Rebirth
Backpack - Ronin
Chestpiece - Ronin
Helmet - Ronin
RUS-79U - Brushed Chrome
QXR - Brushed Chrome
Chopper - Ambush
DL Q33 - Ambush
ASM10 - Ambush
Knife - Ambush
SMRS - Ambush
Frag Grenade - Ambush
Flashbang Grenade - Ambush
Rank Border - Elite 1
Rank Border - Elite 2
Rank Border - Elite 3
Rank Border - Pro 1
Rank Border - Pro 2
Rank Border - Pro 3
Rank Border - Legendary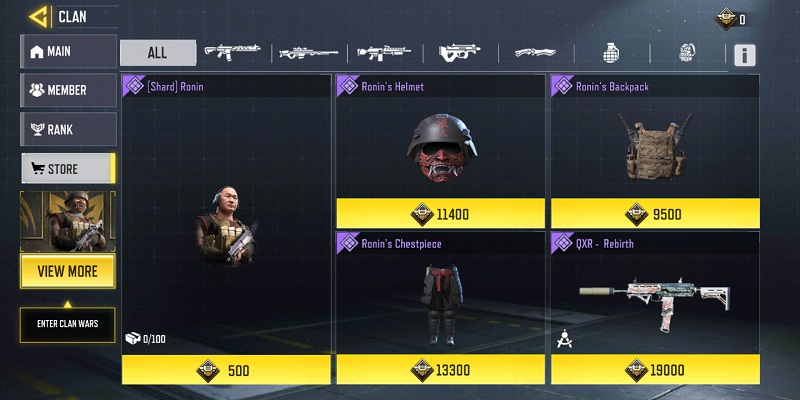 (Picture: Activision)
As you can see from the image above, the full Ronin - Hagakure outfit and cosmetics will cost you a boatload of clan currency. There will also various be rare quality rewards mixed in to provide more options at lower costs. 
When participating in Clan Wars, you will likely want to use the best guns in the game to capture those Nodes with your clan. Well, we've got you covered with tier lists for Sniper/Marksman Rifles, Assault Rifles, Submachine Guns, Light Machine Guns and even Shotguns so you can take your opponents down with ease.
Check out our dedicated section filled to the brim with COD: Mobile news, guides, leaks and much more.