As the first CS:GO Major in over two years, the PGL Stockholm Major has definitely lived up to the hype with some incredible, nail-biting matches throughout the Challengers and Legends stages. Thanks to the Viewers Pass fans can purchase, there are some rewards to acquire by making the correct predictions, from levelling up your event coin, to earning some awesome Souvenir Tokens. If you are unsure which Pick'Em predictions to make for the PGL Stockholm Major Championship stage in order to complete all remaining challenges, we've got you covered.
Stockholm Major Pick'Em predictions for Championship
From the initial 24 teams, only eight remain with a shot at the lion's share of the biggest prize pool in CS:GO esports history. 
The PGL Stockholm Major Viewers Pass tasks players to make correct predictions for the Championship stage. Unlike the previous two stages with a Swiss Round format, the Championship stage features a single-elimination bracket format.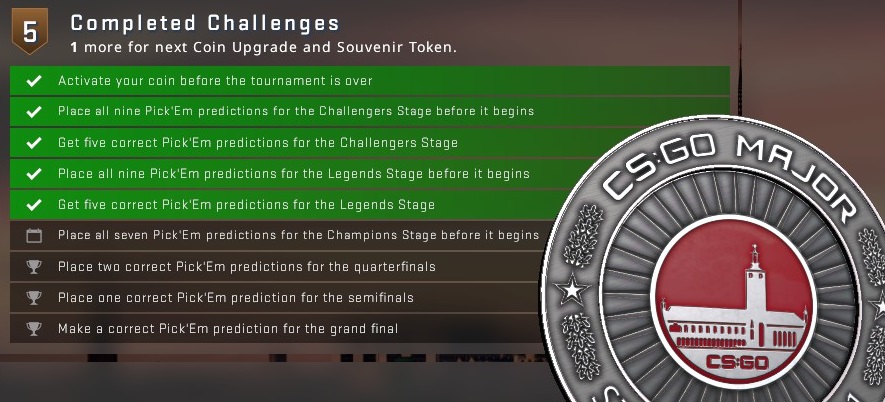 The image above showcases how we've managed to get all Pick'Em challenges completed so far, making the correct predictions.
For the final Pick'Em challenges, fans are tasked with making two correct predictions out of four quarterfinal matches. Then, they need to make one correct prediction from the two semi-final matches and choose the team which they think will lift the PGL Stockholm Major trophy.
While NIP has been looking extremely strong, and you can never really count out any team that has made it to the Champions stage, Natus Vincere (Na'Vi) has just been on a different level so far.
Check out our predictions and final Pick'Ems for the PGL Stockholm Major Championship stage below.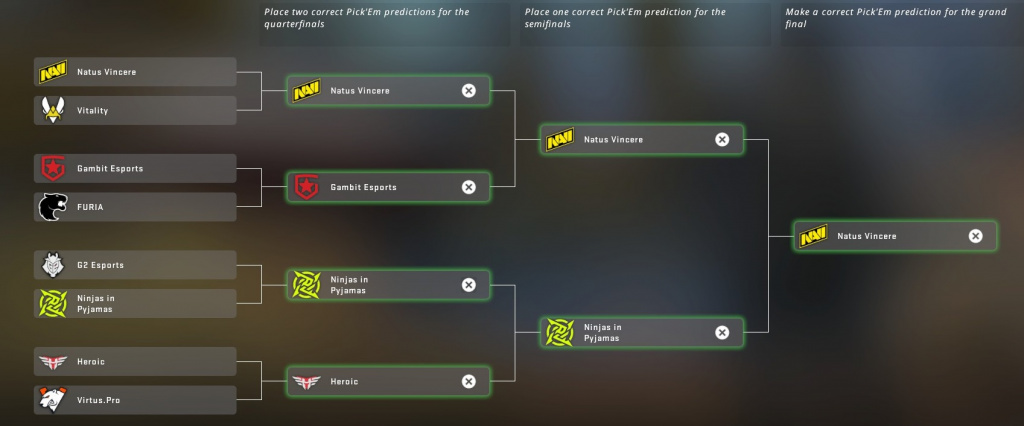 You have until 4th November at roughly 08:00 BST to fill out the predictions. The PGL Stockholm Major is set to end on 7th November 2021.
Please note that we do not guarantee success with these Pick'Em predictions for the PGL Stockholm Major Champions stage. We do, however, believe it should be Na'Vi's year, and let's be honest, who doesn't want to see the GOAT of CS:GO esports, Oleksandr "s1mple" Kostyliev, finally lift a Major trophy?
Don't forget to check out our dedicated CS:GO section for esports, news, guides and more. 
Featured image courtesy of Valve.