Valve unleashed the biggest CS:GO Operation yet on 4th December 2020, bringing new maps, a boatload of rewards, and a new in-game CS:GO stats tracking feature. In this guide, we will explain how you can use the new CS:GO stats tracking feature in Operation Broken Fang, and which stats you can pull.
CS:GO stats tracking feature: How to use
First and most importantly, the new stats tracking feature in CS:GO isn't available to all players. You will need to fork out 14.99 USD to purchase the Operation Broken Fang in order to make use of this feature.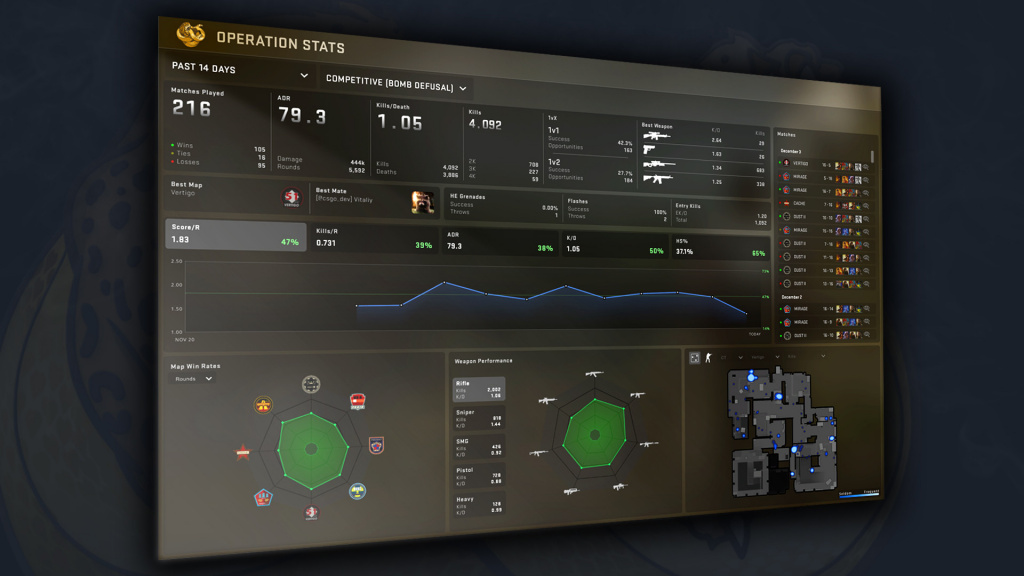 (Picture: Valve)
To use the new CS:GO stats tracking feature, you can simply follow the steps below:
Launch CS:GO and head to the main menu.
Near the bottom of the main menu, click on Operation Stats.
Select the stats you want to check out, choosing a timeline from the past 14 days, 30 days, 90 days or "all time".
Select which aspect of your game you want to track, from Wingman to Competitive Defusal mode and much more.
Jumping into the feature might seem a bit overwhelming, so we've broken down the main things you can track in the next section.
Operation Broken Fang stats: What you can track
Your statistics will be automatically tracked as you play the game, and they will show up in the Operation Broken Fang stats tracking feature.
In the main page, you will be able to see your matches played, your ADR, Kill/Death Ratio, best weapons, best map and a whole lot more.
This is a statistical overload, and even includes graphics for each stat, showcasing your skill improvement or decline.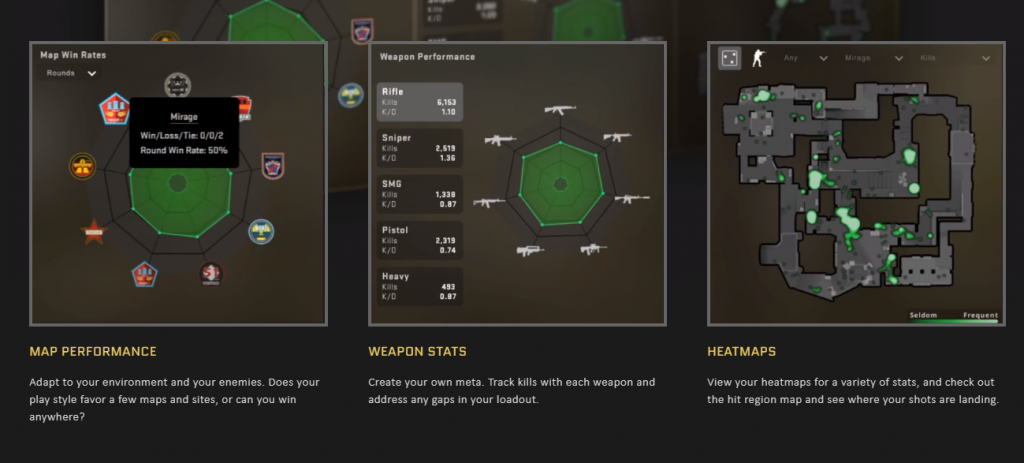 (Picture: Valve)
The main features for the stats tracking thanks to Operation Broken Fang are map performance, heatmaps and weapon stats.
Map Performance:
Adapt to your environment and your enemies. Does your play style favour a few maps and sites, or can you win anywhere?
Heatmaps:
View your heatmaps for a variety of stats, and check out the hit region map and see where your shots are landing.
Weapon Stats:
Create your own meta. Track kills with each weapon and addresses any gaps in your loadout.
Arguably the most impressive in the new CS:GO stats tracking feature are the heatmaps. This will help amateurs and professionals improve their game, learning where their weaknesses in each map are.
The CS:GO stats tracking feature is so impressive Valve could have released it on its own and still made Operation Broken Fang a winner.