With a new CS:GO operation comes a new case. The Shattered Web Case contains four new knives alongside the first collection of new skins coming with this operation.
Just over a month after the CS20 Case was released, this new collection brings designs you'll want in your inventory with a combination of colourful flare and post-apocalyptic vibes.
AWP | Containment Breach - Covert Skin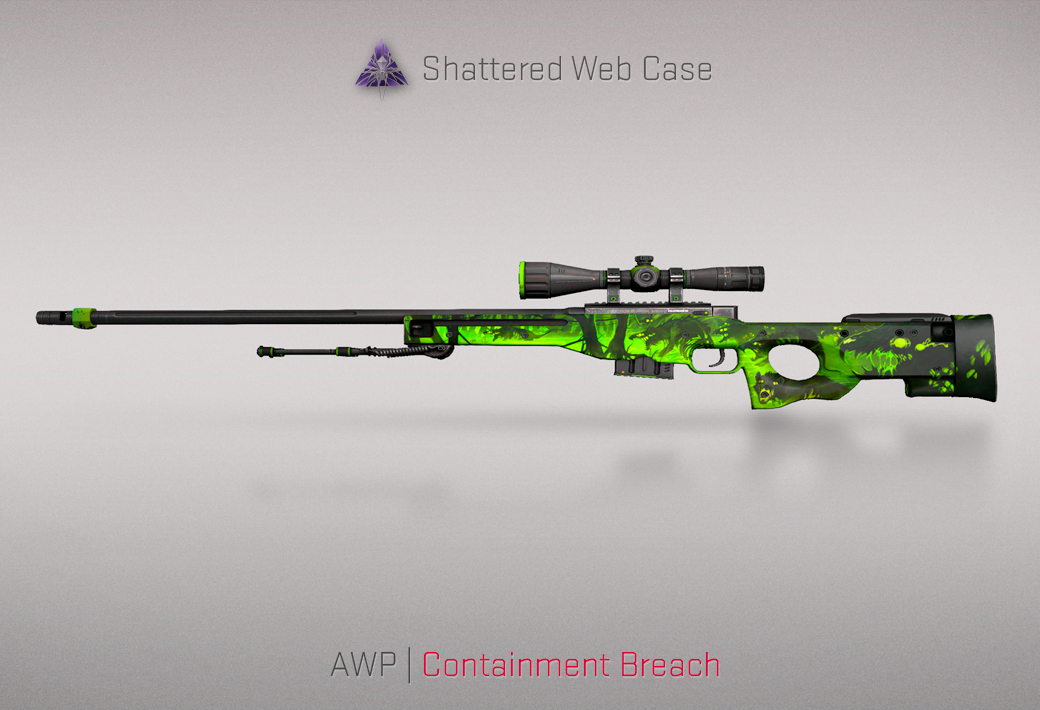 With ghastly hellhounds on a luminous green background, this AWP seens inspired by the 'Danger Zone virus' found in the Phoenix laboratory in the mode of the same name.
The vibe of this skin feels not too unlike the Galil AR | Cereberus and makes the big green gun even better.
MAC-10 | Stalker - Covert Skin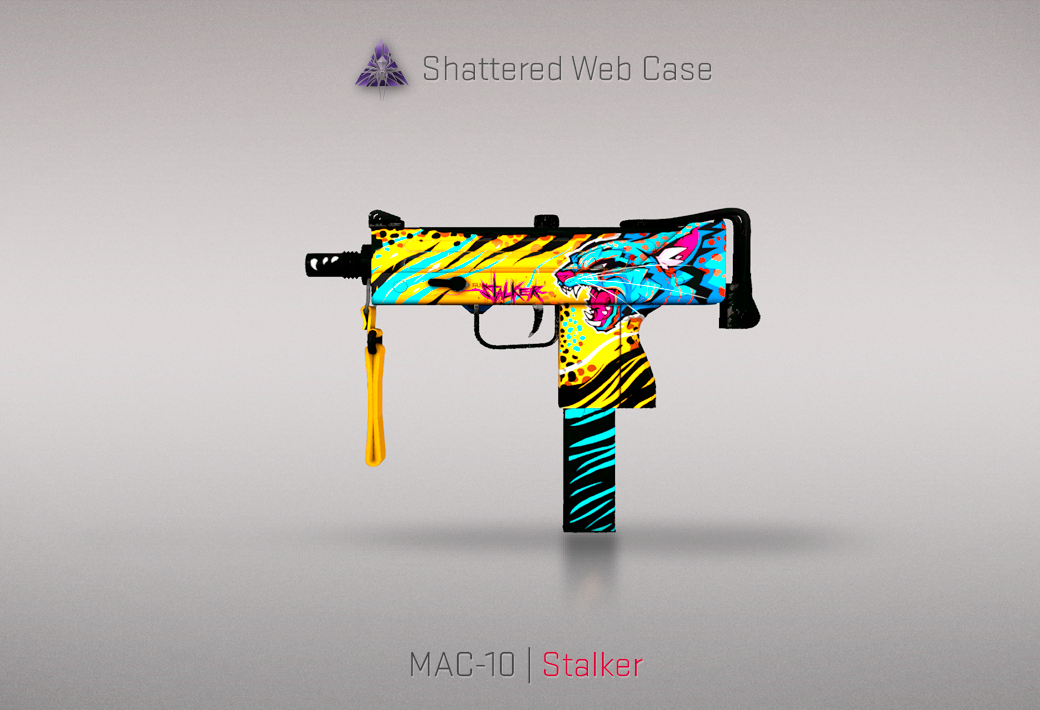 This striped MAC-10 is fierce and fabulous with a bright blue feline accompanying the mostly yellow SMG body.
Feel like a neon cheetah as you speed around maps tearing down your prey before they can react.
SSG 08 | Bloodshot - Classified Skin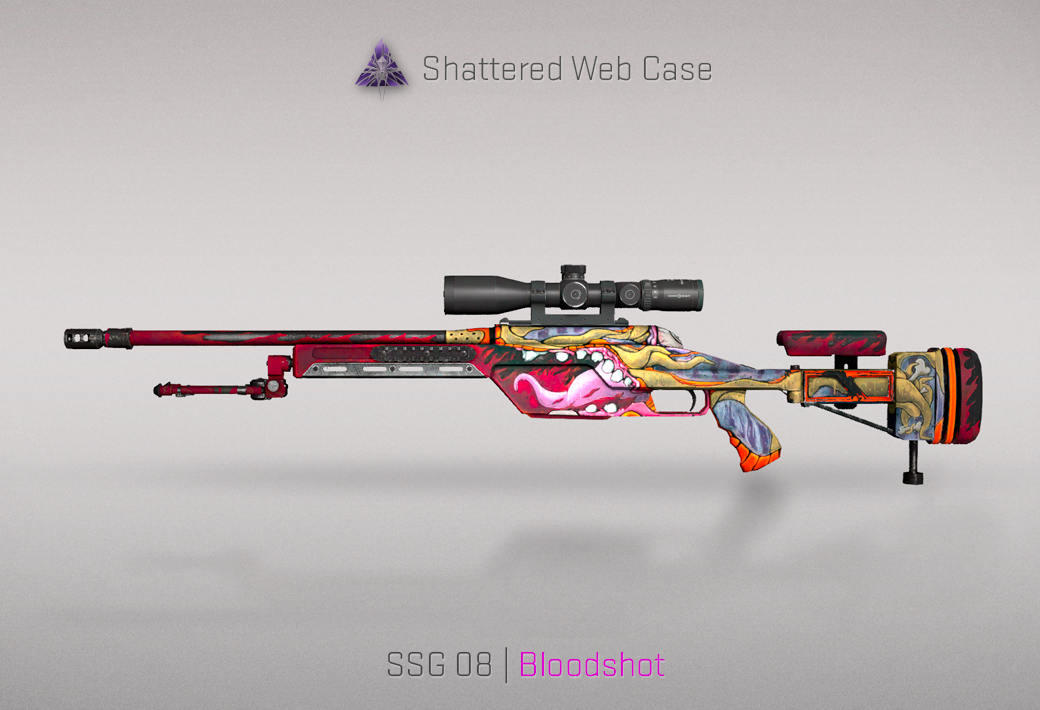 Splattered with blood, this Scout skin appears to have a monster as its centrepiece.
With a set of white teeth, curled pink tongue and a collection of tentacles behind it, Bloodshot is a sinister sight.
SG 553 | Colony IV - Classified Skin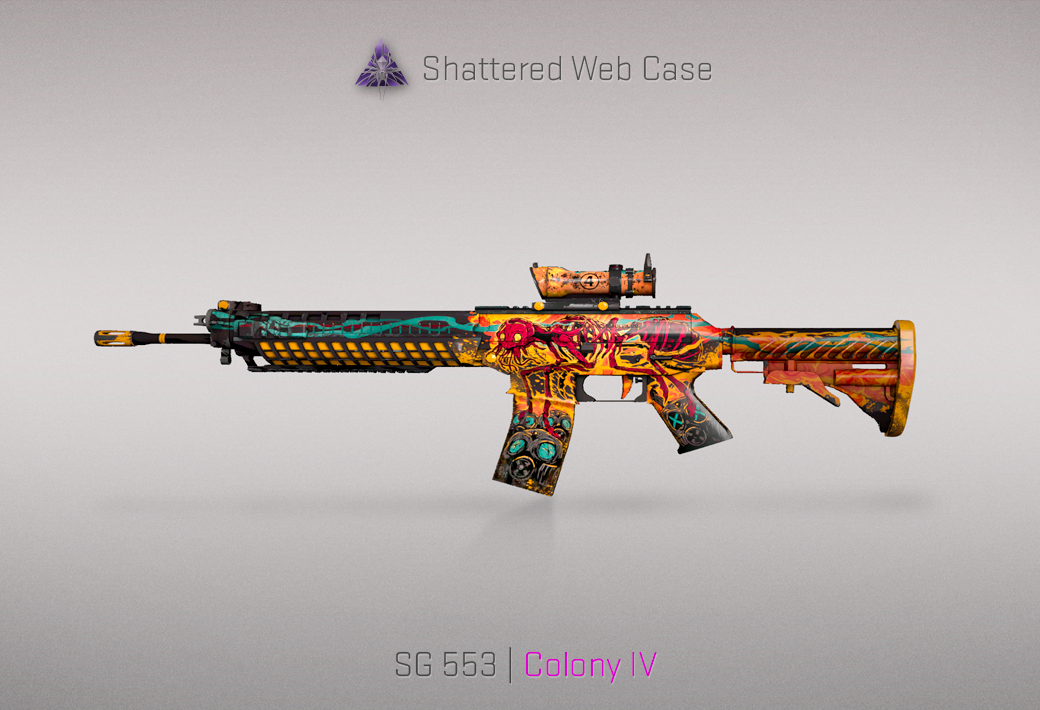 A price revert isn't going to stop the Krieg just yet, giving you plenty of opportunity to utilise this spooky SG.
With a red skeletal monster in the middle, green toxic-looking smoke and a potential zombie army clad in CT gas masks, this skin certainly tells a story.
Tec-9 | Decimator - Classified Skin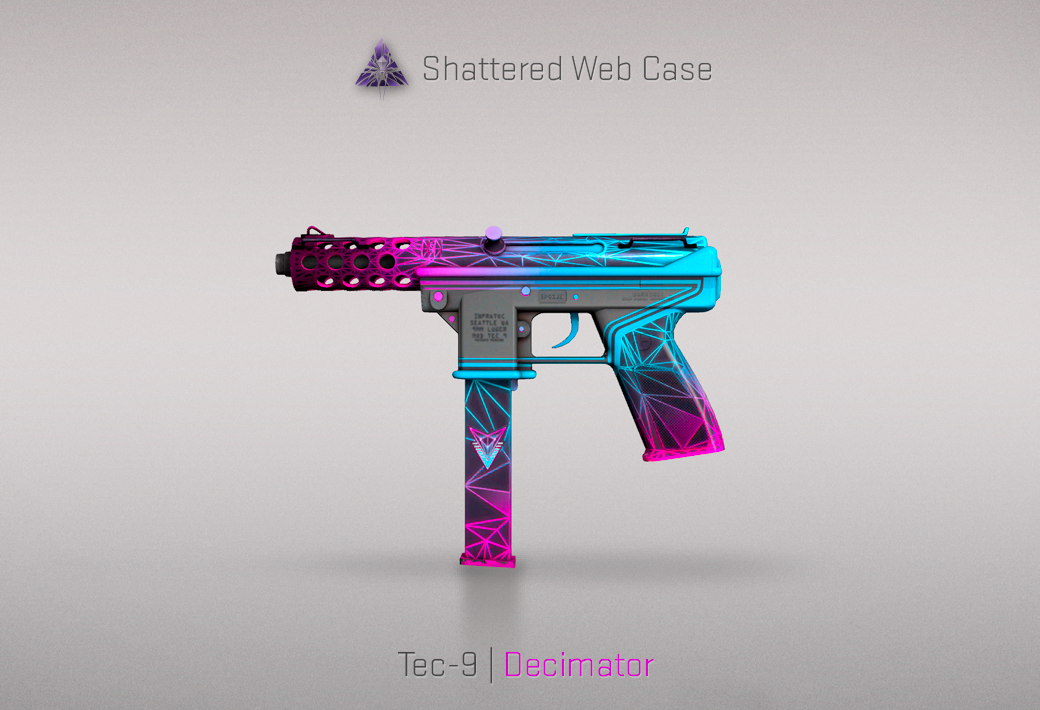 A sequel skin to the M4A1-S of the same name, this Tec-9 is eye-catching and hopefully head-popping in your hands.
While the pistol has fallen out of favour in recent years, it is still holds potential for those who wield it over the CZ.
MP7 | Neon Ply - Restricted Skin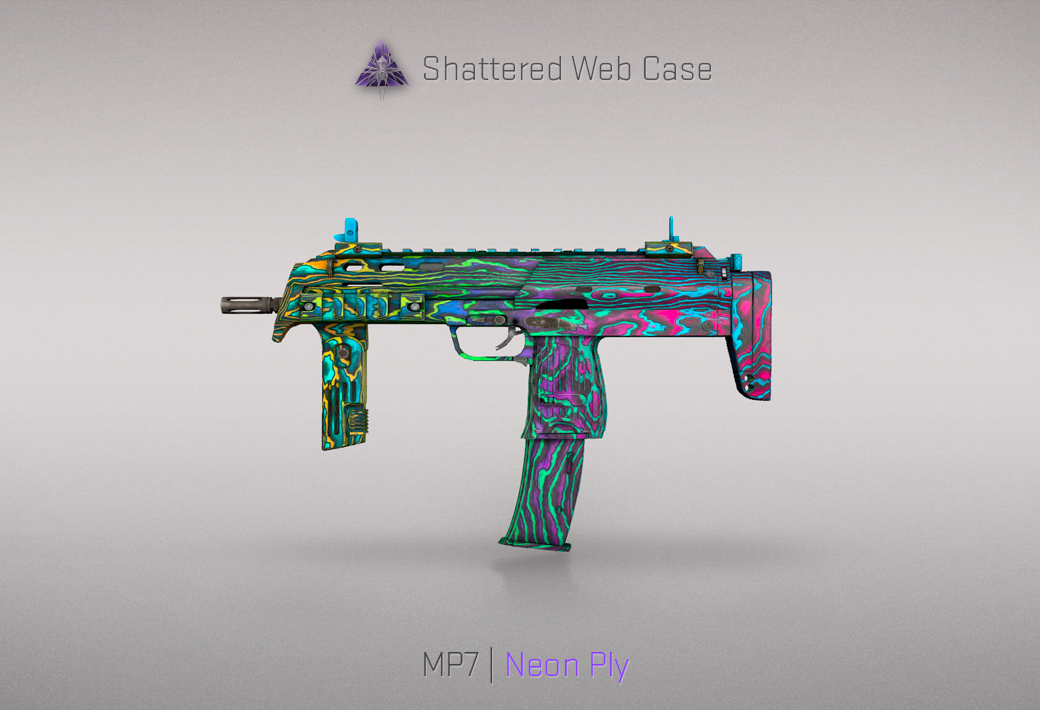 A fluorescent skin that mixes rainbows and wood is a unique concept for a CS:GO weapon.
This works well to create a skin that stands out and looks good for its Restricted rarity.
PP-Bizon | Embargo - Restricted Skin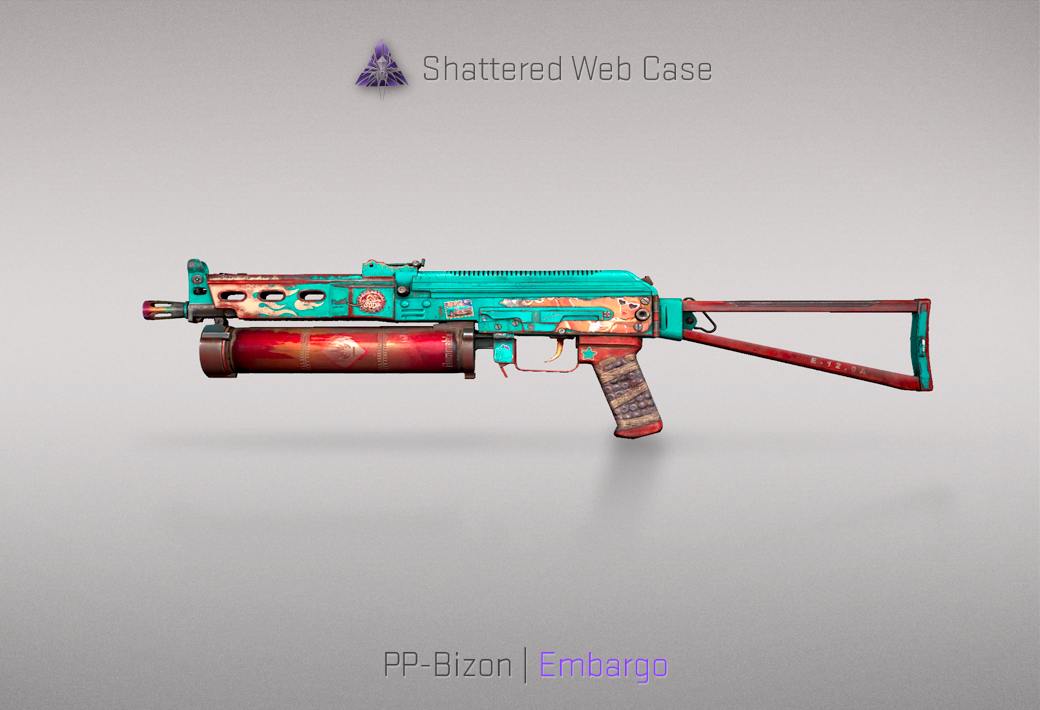 The most unloved SMG in CS:GO is getting some love in this collection.
This turquoise PP-Bizon also features a flame, red highlights, rust wear and stamps.
AK-47 | Rat Rod - Restricted Skin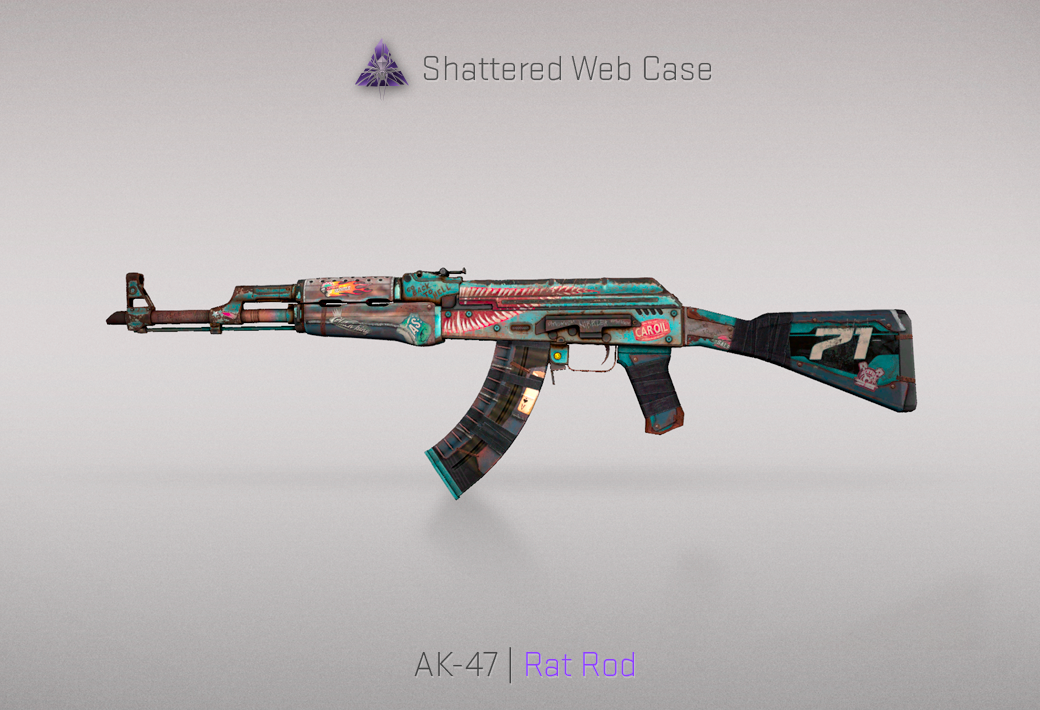 This AK skin feels like a distant cousin of the Bloodsport, representing a vintage rather than top of the range racing car.
Like the Embargo, natural rust gives this skin a distinctive Fallout-esque look alongside its other worn details including 'go back to hell' scratched next to the wood.
AUG | Arctic Wolf - Restricted Skin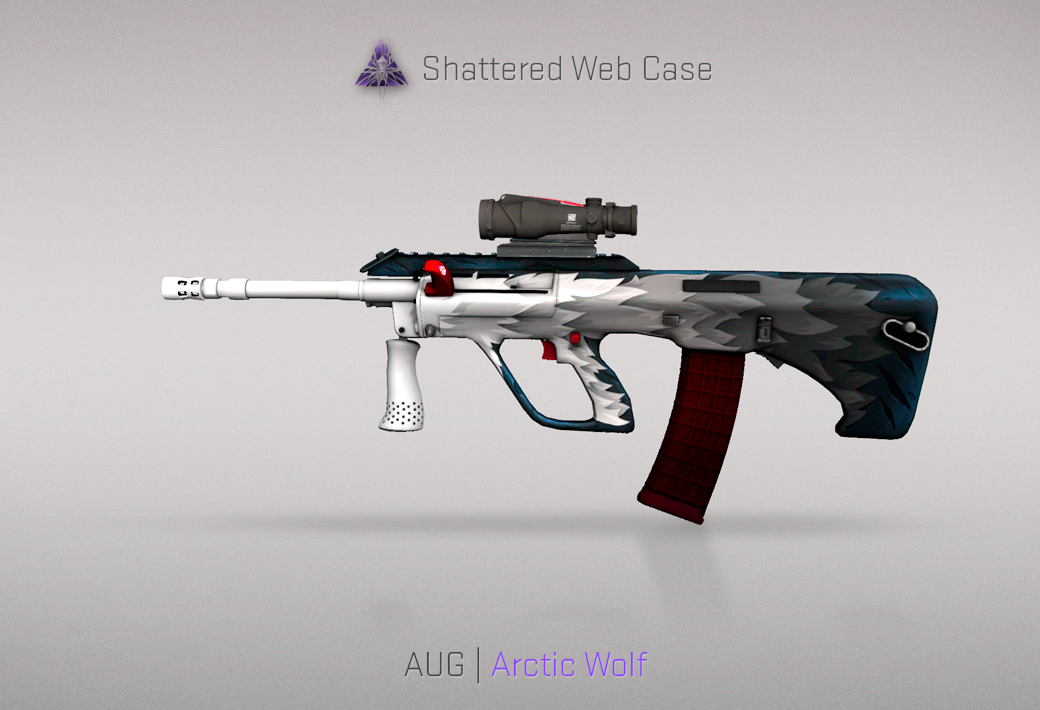 A partner to the UMP, this AUG is the newest member of the pack.
With a fur-like design, this skin will keep your scoped rifle warm as winter comes.
P2000 | Obsidian - Restricted Skin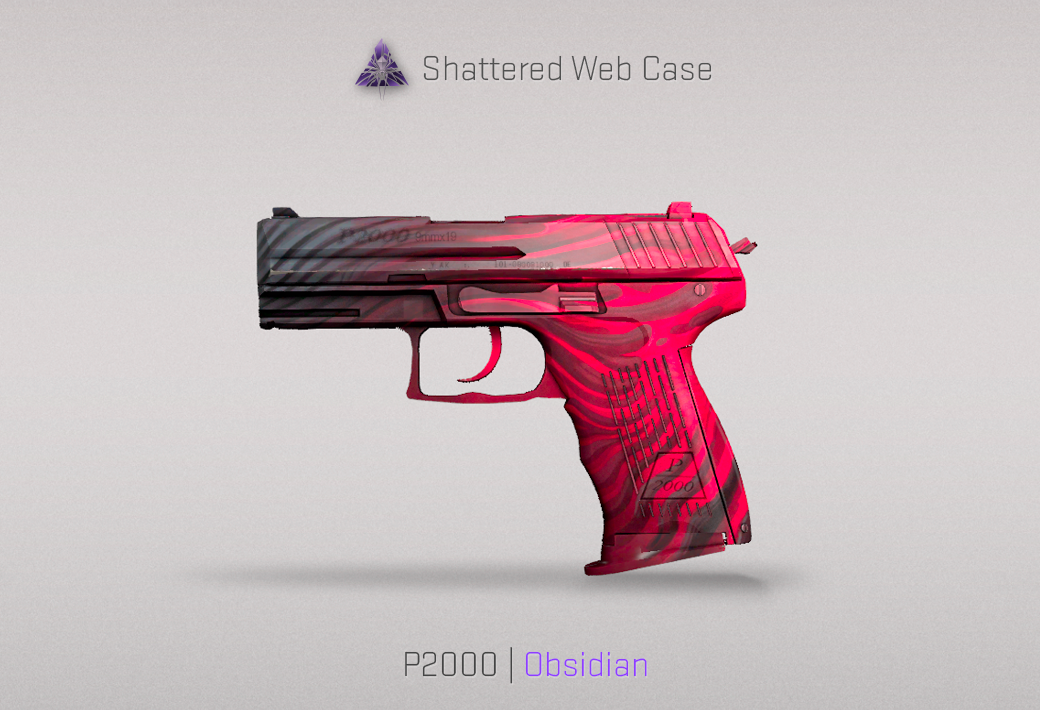 This unusual skin looks embossed from a distance, with a combination of vibrant red with contrasting dark portions.
An almost demonic aesthetic for this P2000 fits its hellish ability against Glocks or instead of a USP-S.
Nova | Plume - Mil-Spec Skin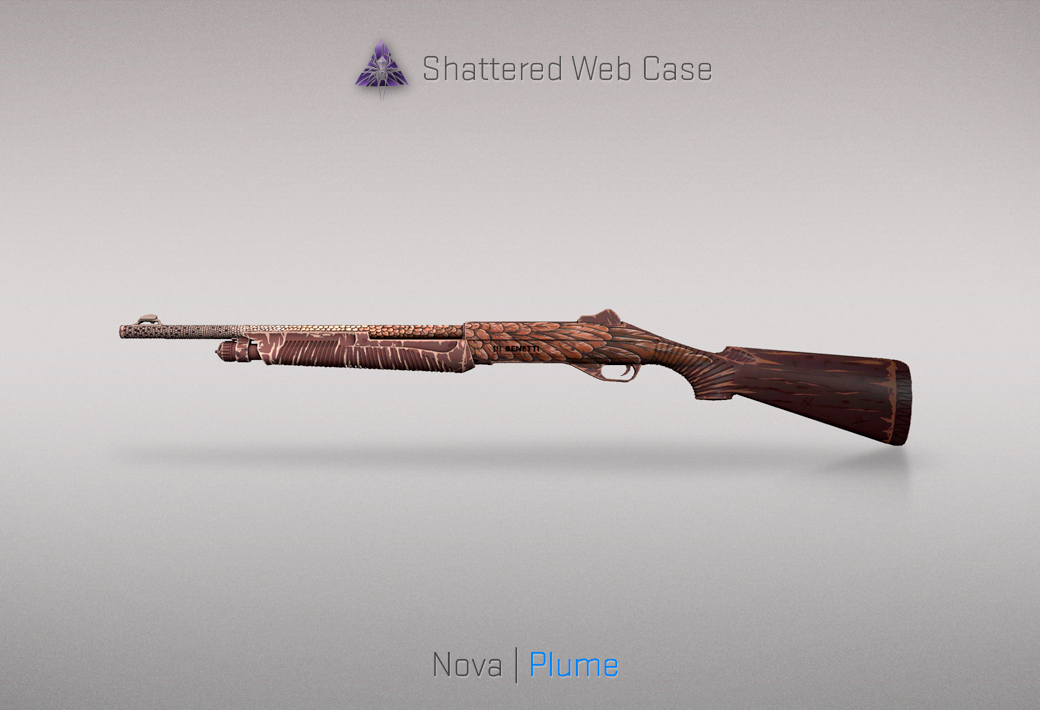 Fitting for the first week's mission requiring this shotgun, the Nova can get a brand-new look thanks to this case.
Plume adds feathers to the body to complete an avian design.
MP5-SD | Acid Wash - Mil-Spec Skin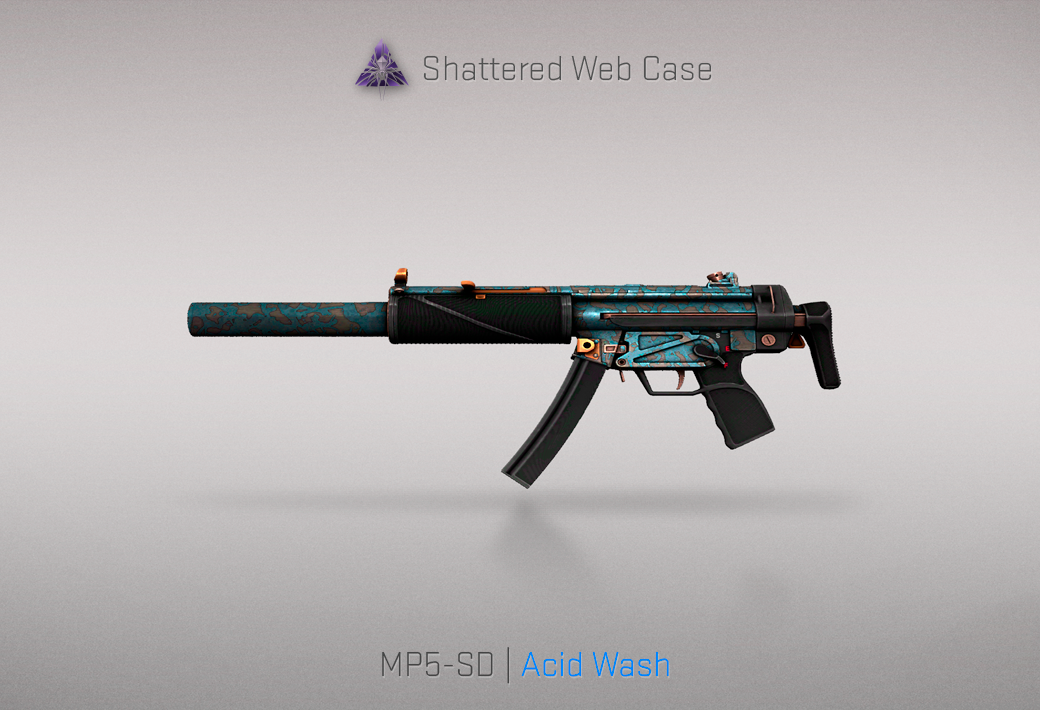 The MP5 continues to see new skins added for it in each collection added to CS:GO.
A simple metallic blue pattern with orange highlights makes this skin understated but great for a realistic loadout.
G3SG1 | Black Sand - Mil-Spec Skin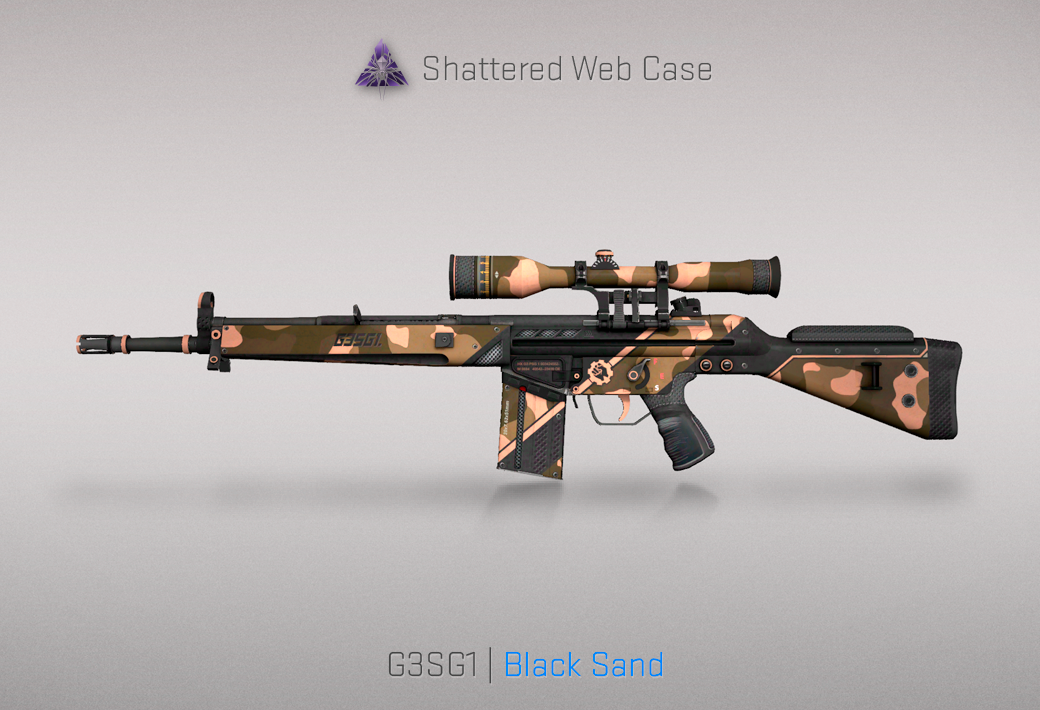 Three guns before the autosniper have been given a Black Sand skin: the Galil AR, MP9 and Sawed-Off shotgun.
As yet another underused weapon gets the same treatment, fans know whether they like this design or not and will be unlikely to purchase an G3SG1 just to see it again.
R8 Revolver | Memento - Mil-Spec Skin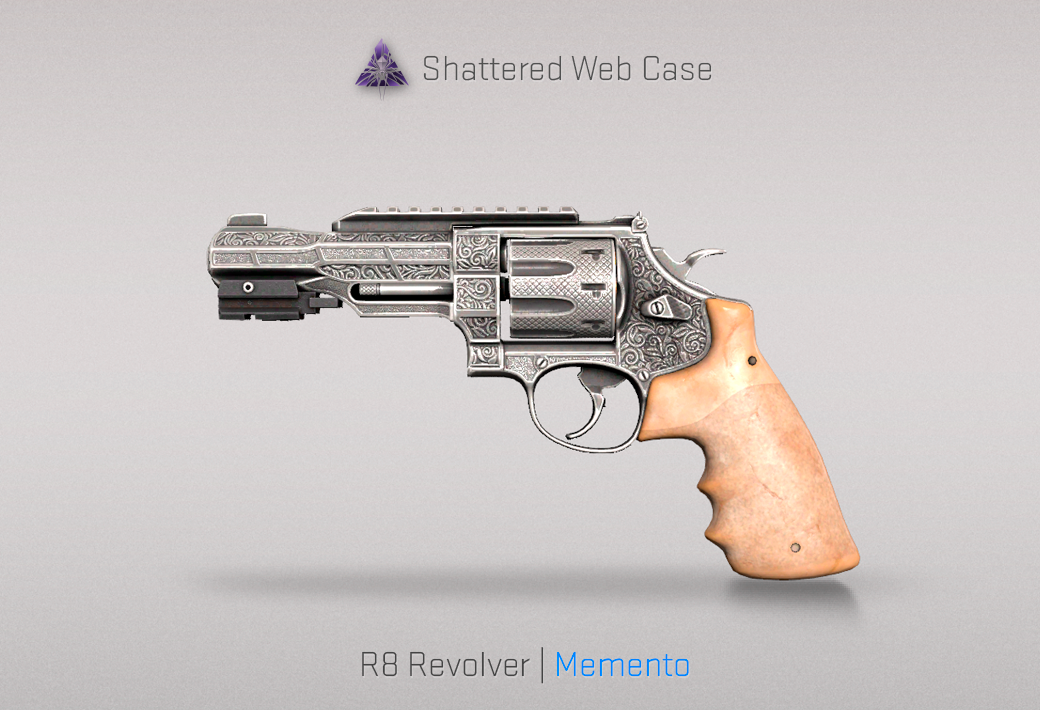 If you've taken a break from RDR2 on PC to come back to CS:GO, maybe it is worth equipping the Revolver again for old times' sake.
This simple skin resembles a more traditional version of Grip from the Clutch Case.
Dual Berettas | Balance - Mil-Spec Skin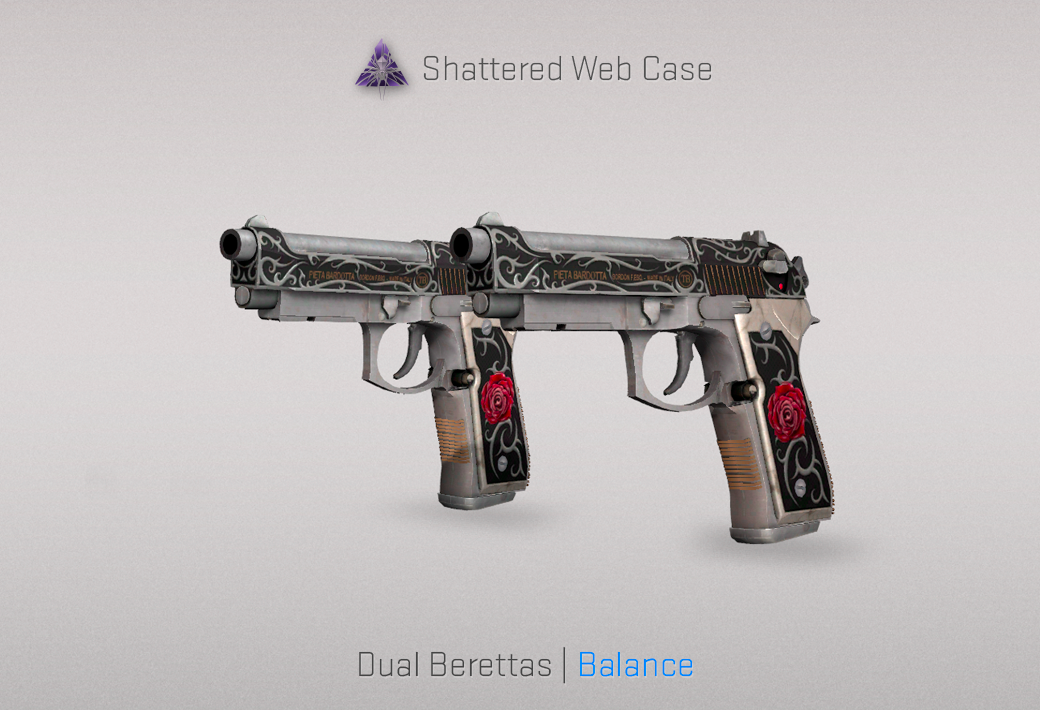 The only thing better than one Beretta is two Berettas, perfectly Balanced. 
Featuring roses on the handles, a collection of silver thorns adorn both pistols elegantly.
SCAR-20 | Torn - Mil-Spec Skin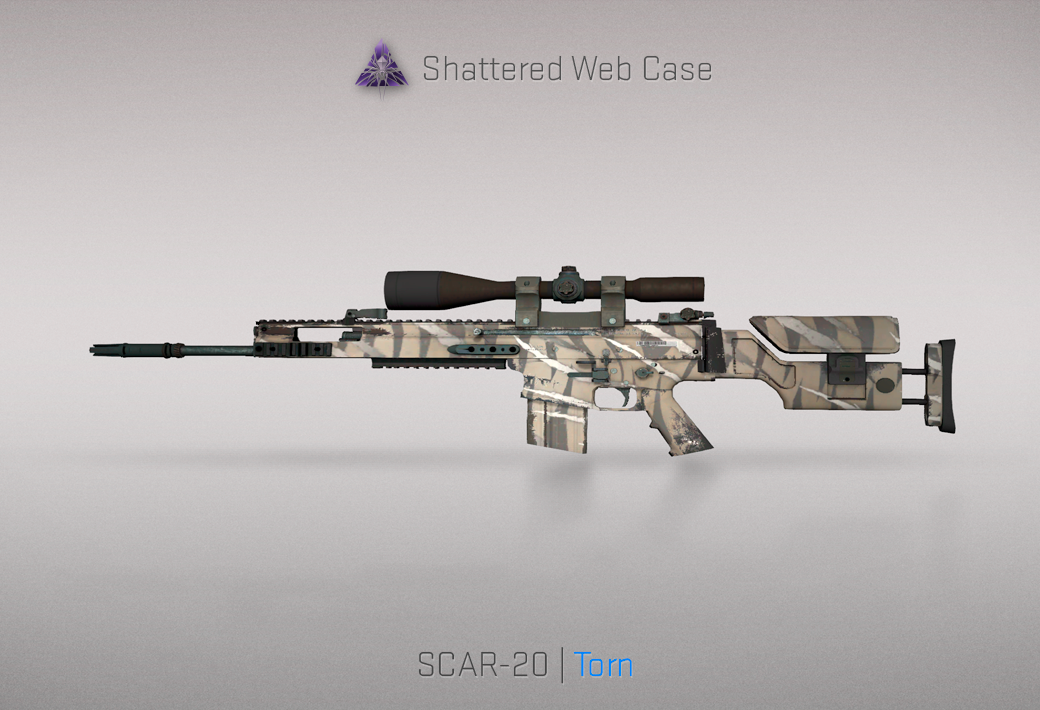 The second autosniper skin in the Shattered Web Case ensures the CTs and Ts both have something new to play with.
Stripes are disturbed by large claw-like slashes across this gun, leaving players to wonder what could have possibly done the damage.
M249 | Warbird - Mil-Spec Skin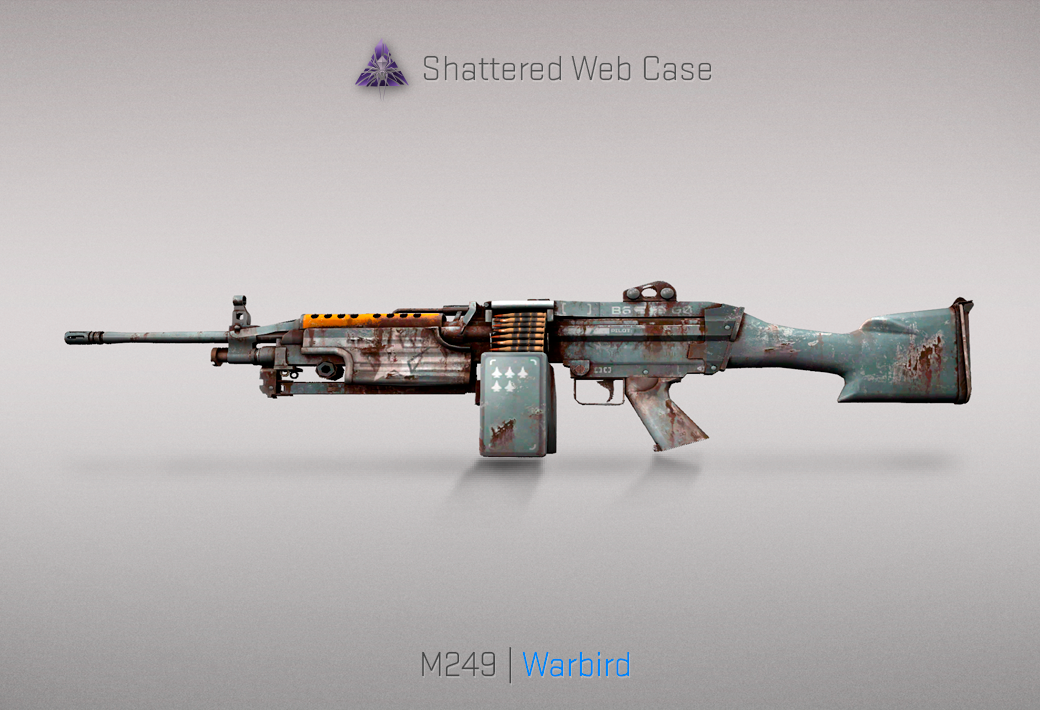 Warbird is yet enough rusted skin from this case as a nice companion to the AK-47 | Rat Rod.
With a faded blue base, this LMG has five planes on its side possibly representing a 'flying ace' to fit its aerial combat design.
Do you agree with these opinions? Which skin is your favourite from the Shattered Web Case? Let us know in the comments below!