11/21/2020 - 19:02
If you want to follow me on Twitter, I'm
@Andrew_East
. Hope you had a fantastic time following this race, I sure did.
11/21/2020 - 19:01
That's it for me! Be sure to check back to the site often as tons more Destiny 2 content will come in the upcoming days, including a raid guide, raid guns, how to get the Lament exotc quest done, and much more!
11/21/2020 - 18:51
We've compiled all the new stuff available right after the raid was completed, including exotic quests, cutscenes and possible new areas.
Check it out
!
11/21/2020 - 18:07
Stay tuned gamers as more content has popped all over Destiny 2 once the raid was completed, we'll compile all the info for you to check out real soon.
11/21/2020 - 18:02
Learn more about Clan Luminous' victory and watch the exact moment they clear the raid
right here
.
11/21/2020 - 17:45
Slayerrage has cleared the raid! A valiant effort indeed ending in what it seems to be second place of World's First.
11/21/2020 - 17:44
People are reporting that a new exotic quest has popped up at the Tower after the raid was cleared.
11/21/2020 - 17:30
ALERT! ALERT! Twitch streamer Clawtivity and his team have finished the Deep Stone Crypt raid!!!
11/21/2020 - 17:18
Break time! We'll be back with more updates in just a few minutes! 
11/21/2020 - 17:08
Who are you rooting for in this World's First raid race? Tweet us your favourite teams over at
@GinxTV
! 
11/21/2020 - 16:58
Datto's team has made it to Taniks! More and more teams reaching this seemingly final encounter.
11/21/2020 - 16:43
My dad is Bungie has reached Taniks' boss encounter! Race to becoming World's First is down to the wire.
11/21/2020 - 16:36
While we wait for teams to figure out the DPS phase of Taniks The Abomination, why don't you swing by our
Season of the Hunt Season Pass recap
? If you're on the fence about the content, it could help you figure out if it's for you or not!
11/21/2020 - 16:13
Leaks seem to be true as Taniks makes a return as The Abomination as a boss during this raid.
11/21/2020 - 16:08
Slayerrage's team has finished the pod encounter! They have now crashed into the crypt, more info to follow.
11/21/2020 - 16:02
Scratch our previous update! We are back with some LORE! Turns out this raid so far is walking us through a space station, leading Guardians into a escape pod to crash land and open the Crypt itself. So cool!
11/21/2020 - 15:56
Taking a quick break, stay tuned as we'll be back with more updates in just a few!
11/21/2020 - 15:49
Few high profile teams like Datto's and Gladd's still in the second encounter, we'll check back with them later as we now keep our focus on those passed the space traversal area reaching the third encounter.
11/21/2020 - 15:47
Bungie is my dad clan done with second encounter! Didn't matter that Teawrex missed his Nova bomb during the DPS phase.
11/21/2020 - 15:46
Yes, if you needed confirmation, THIS RAID IS IN SPAAACEEE.
11/21/2020 - 15:40
Gigz's squad finished the second encounter! Traversing space looking to reach the third room. 
11/21/2020 - 15:21
SlayerRage
and his clan have finished the second encounter! They are currently traversing through a new jumping phase, uncovering the deepest secrets of the raid.
11/21/2020 - 15:14
Over at
Gigz's
stream, seems the fireteam is getting close to ending the encounter, as mechanics have been figured out, but DPS numbers have not been enough to secure victory. Again, we'll know more about the encounter once we take a deep dive and clans reveal how they pulled it off, as they're being extremely secretive with information during the raid race.
11/21/2020 - 14:39
Checking in with
Datto's
squad, they're playing it close to the chest as every fireteam member mutes themselves to discuss strats in secret. OMAHA!
11/21/2020 - 14:12
It seems
Gladd's
team is slowly figuring out how to use the buffs within Atraks-1's encounter. Meanwhile, Bungie is my Dad clan has decided to take a quick break.
11/21/2020 - 13:49
Teams are once again stuck on this second encounter. Makes us wonder, we'll we reach Last Wish levels of time invested?
11/21/2020 - 13:24
More and more teams have moved past the first encounter, reaching the fight with Atraks-1.
11/21/2020 - 13:19
We have a Fallen Exo sighting! This raid hides deep (no pun intented) secrets for the Destiny 2 lore-heads. Atraks-1 is currently being fought by Clan Bungie is my dad
11/21/2020 - 13:16
Bungie is my dad Clan CRACKED IT! The squad has now moved to the next traversal phase. We'll keep you posted on the specifics real soon.
11/21/2020 - 13:01
According to Twitch streamer
Ekeguan
, this first encounter could potentially be a DPS check, meaning they only have one phase to defeat the Crypt Security boss.
11/21/2020 - 12:52
Keypads, Servitors, and fuses, three key components of this encounter so far. Teams are still figuring out the process to avoid wiping.
11/21/2020 - 12:46
Teawrex
has pulled up the mighty Microsoft paint as the My Dad is Bungie clan is looking to effectively communicate how to work around the fuses which need to be deactivated, or so it seems.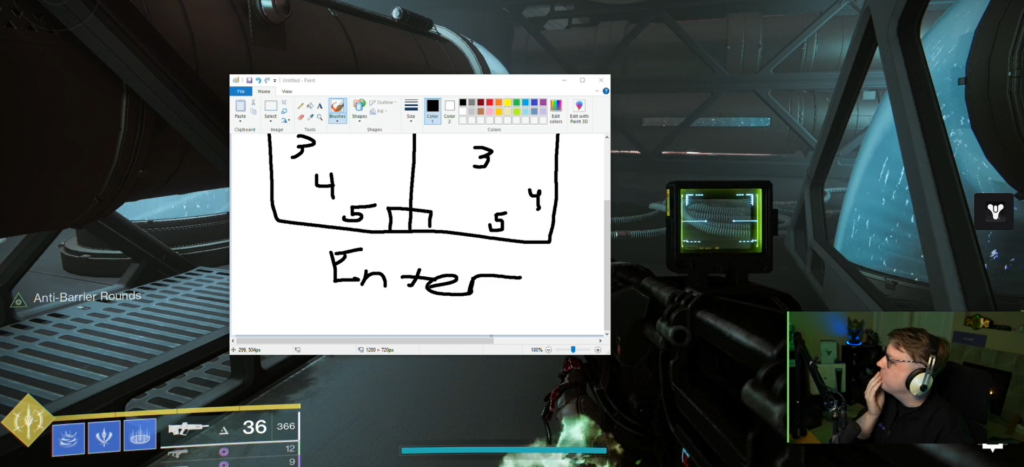 11/21/2020 - 12:29
The raid race has been going on for half an hour and teams have hit a roadblock involving buffs called "Operators" and a Crypt Security boss in what it looks like an Exo tech facility.
One of the most exciting times in Destiny 2, Bungie's looter shooter that keeps going strong with the Beyond Light expansion kicking off Year 4, is the reveal of a new raid and the race to become the first squad to complete it.
With the developers themselves encouraging players to give it a go, the most dedicated of the bunch geared up with days in advance, bringing their best loadouts and gear into the mix.
Like previous raids, most of the top content creators in the Destiny 2 scene will look to become the world's first raid team to complete it.
In case you're unaware, here are the stipulations for the World's First raid race:
Contest Mode will cap all players at 20 Power below each encounter for 24 hours.  
Artifact Power will be disabled during Contest Mode.  
Your team's Power Cap goal is 1230 for all the encounters.   
Being above 1230 will not provide any additional advantage in the final fight. 
Where to watch the Destiny 2 Deep Stone crypt raid race?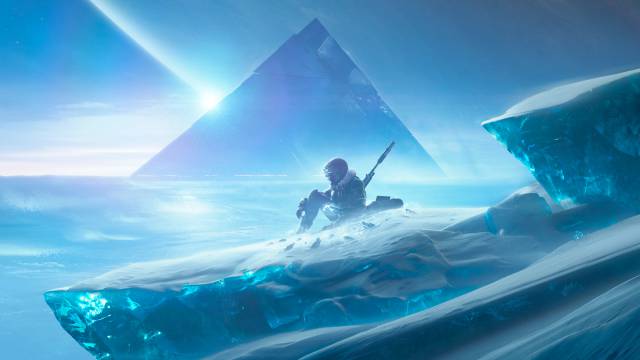 (Photo: Bungie)
The raid was unlocked at 1 PM EST / 6PM GMT / 7PM CET with multiple teams jumping in immediately trying to solve every encounter, defeat every boss and collect every piece of sweet loot before anyone else.
While Bungie has provided a site to watch every single streamer looking to complete the raid, these are some channels we recommend you check out:
Professor Broman: The former raid-racer is doing a tailgate, checking in on the most famous teams' progress.
Gladd: Clan Redeem is many people's favourite to become world's first winners so be sure to periodically check Gladd or any other Redeem member.
Teawrex: The streamer is playing with the Bungie is my Dad Clan looking to claim the title of world's first Deep Stone raid winners.
If you can't keep your eyes on Twitch, stick around this page as we'll post live updates as soon as any development occurs.