The Witch Queen expansion for Destiny 2 brought plenty of new exotics like the Secant Filaments into the mix for players to add to their own arsenal. Since release, some exotics have drifted out of importance, while others have remained integral to PvE and PvP alike.
Secant Filaments are a part of the latter group that continues to shine within in the meta due to the powerful passive that the leg armour brings. Swapping out exotic armour is always a major choice that affects a build, and the filaments are perfect for anyone looking to enhance their Rifts on the Warlock.
Destiny 2 - Earning the Secant Filaments exotic
There are two main methods to earn the Secant Filaments exotic in Destiny 2. One of the options is a straightforward path with a less powerful variant, and the other will take some luck but the reward is better in the end.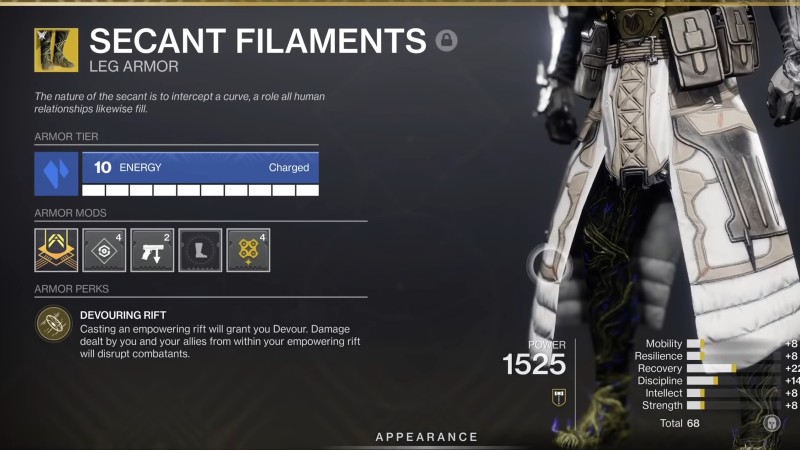 The more straightforward path is to take on the main campaign for The Witch Queen expansion. However, you'll need to make it through the entire story on Legend difficulty in order to qualify for the leg pieces. If you can make it through the more difficult campaign as a Warlock, then you can head to Ikora within The Enclave.
She will reward you with a guaranteed Secant Filaments exotic, but the trade-off is the overall power. Levels on the item will start off lower than if you were to find the armour in a roll. The silver lining is that the armour will become available in more collection loot pools once it's been unlocked once.
For those that want to go for a higher level Secant Filaments with more power, then a different route is needed. Lost Sectors are the name of the game in this regard, and you'll have to run them solo in hopes of the leg armour. The catch is that these Lost Sectors must also be done on Master or Legend level difficulties.
Not only is earning the filaments a random roll, but you'll also have to stay on the lookout for a daily rotation that includes the right difficulty and the correct loot pool within Destiny 2. If you can lock down the correct rotation, then the next step is to complete the Lost Sector and earn a set of filaments with more power and recovery.
Regardless of the route that you choose, the Devouring Rift ability is fantastic in plenty of situations. The ability is activated any time a Warlock uses an Empower Rift. In this state, you and your allies will all deal damage that can disrupt enemies.
That's all there is to know about the Secant Filaments in Destiny 2. Best of luck in the route you choose to get them!
Featured image courtesy of Bungie.
---
For more Destiny 2 news, be sure to check out our dedicated section or take a look at some of our Guides & Tutorials just below:
Weekly Updates - Destiny 2 Weekly Reset | Destiny 2 Weekly Challenges | Destiny 2 Xur Location This Week | Destiny 2 Trials of Osiris Map & Rewards This Week | Destiny 2 Lost Sector Rotation |
Upcoming Updates - Destiny 2 Season 19 Release Date | Destiny 2 The Dawning Event 2022| Destiny 2 Lightfall Release Date | Everything We Know About 'Destiny 2 The Final Shape'
Exotics, Catalyst & God Rolls - Alter of Reflection Catalyst Quest | Austringer God Roll | Calus Midi Tool God Roll | Dead Man's Tale God Roll | Fixed Odds God Roll | Hawkmoon God Roll | How To Get Come To Pass | How To Get Dawn Chorus | How To Get Omnioculus | How To Get Star-Eater Scales | Mechabre God Roll | Osteo Striga Catalyst | Riptide God Roll | Queens and Worms Quest
Game Guides - Destiny 2 Redeem Codes | How To Unlock All Subclasses | Memories of Ruin Puzzle Solution| Strikes Guide | Where To Farm Cabal | Where To Farm Fallen | Where To Farm Hive | Where To Farm Scorn | Where To Farm Vex | How To Get 100k Nightfall Score | 
Raid Guides - Master King's Fall Totem Challenge Explained |