As Tarnished across the globe venture into the Lands Between of Elden Ring, created by FromSoftware with the game's lore written by George R.R. Martin, deadly foes await. There are dozens of bosses in Elden Ring but the first "real" one players might come across is the Tree Sentinel based on its location. It won't be easy to beat the Tree Sentinel at first, no matter which of the 10 unique starting classes you pick when jumping into Elden Ring.
In this guide, we take you through the steps of beating Elden Ring's Tree Sentinel boss, as well as pinpoint its exact location on the map. 
Tree Sentinel location in Limgrave
Once players finish the tutorial area of Elden Ring, they venture into the lush environment of Limgrave, which is where the Tree Sentinel is located.
As you can see from the image above, the Tree Sentinel is just north of The First Step. While the boss does move around on the road to the Church of Elleh. Thanks to his golden armour, however, he is nearly impossible to miss.
Now that you know exactly where to find the Tree Sentinel in Elden Ring's Limgrave area, our next section provides tips on how to beat the boss with relative ease.
How to beat Elden Ring's Tree Sentinel boss
First off, while the Tree Sentinel is likely the second boss you will encounter in Elden Ring, we suggest not taking him on right away, not even if you've picked the best class for beginners.
The first step to beating down Tree Sentinel is to unlock your horse in Elden Ring, which happens after you first run into the boss. Then, we also suggest you get some more healing Flasks.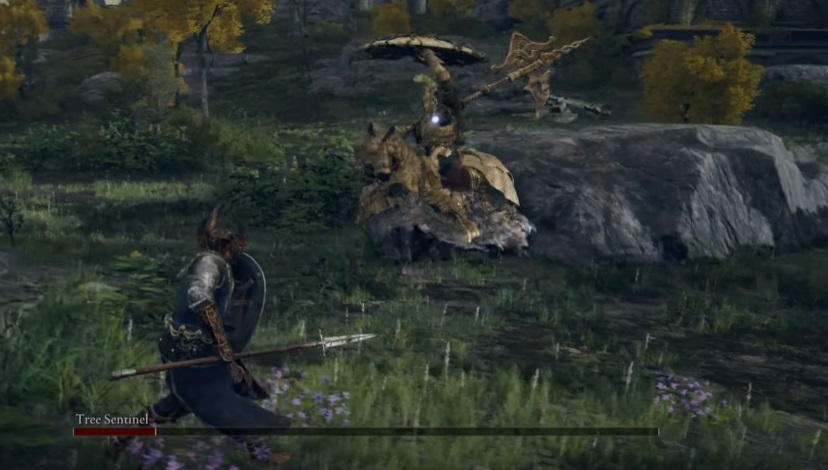 After you've followed the steps above you can use the five tips below to beating Elden Ring's Tree Sentinel boss with ease.
Fight Tree Sentinel on horseback, riding in a circle so you can always hit its backside with a melee weapon. Use magic and/or arrows to stay at range if you are able to.
If the player has access to Spirit Summons or multiplayer at this point, use them because the more the merrier.
Learn the boss' attack pattern and always wait until it finishes an attack, then poke once or twice (three times with a fast weapon) then get out of dodge.
In the second phase of this Elden Ring boss fight, the Tree Sentinel starts jumping into the air, doing a shield slam attack. This attack has a large area of effect. We suggest learning the size of this attack and dodging out EVEN IF you think you are out of range, as his shield slam can one-shot players.
Always remember good Stamina management. For example, never roll twice if you only need to roll once, and keep a bit of that Stamina bar green so you can always dodge out of the way in a pinch, especially during the second phase of this boss fight.
Check out YouTube channel Boss Fight Database's fantastic video below showcasing how easy it can be to beat Elden Ring's Tree Sentinel with the right tactics.
Once you've managed to beat the Elden Ring's Tree Sentinel boss, you will get some nice loot. There doesn't, however, seem to be any achievement or trophy attached to beating it.
Remember, while the Tree Sentinel is encountered early on, it is an optional boss. If you simply can't beat it, come back once you've explored the Lands Between a bit more, and levelled up your character.
Don't forget to check out our ever-growing Elden Ring section, filled to the brim with guides, news, and much more.
Featured image courtesy of FromSoftware.