When the F1 Esports Pro Series 2018 kicks off on October 10, it will look a lot different than last year's inaugural iteration. That's because nine of the 10 official teams have come onboard, each signing drivers to compete on their behalf as they race for glory in F1 2018. [caption id="attachment_106292" align="alignnone" width="600"]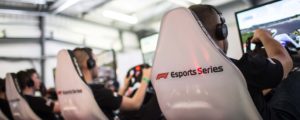 Credit: Formula One[/caption] It's a big step forward for Formula One's growing esports plans, evolving from last season's London and Abu Dhabi events into a proper three-event series at London's Gfinity Esports Arena—which could pave the way for a potentially longer, more consistent approach in seasons ahead. With the official teams along and $200,000 up for grabs, it's sure to produce some compelling moments on the digital circuits. Before the action gets underway, we spoke with Julian Tan, Formula One's head of digital growth and esports, about bringing (most of) the official F1 teams onboard, building on last season's momentum, and what the future of F1 esports looks like into 2019 and beyond.
Getting in gear
Expanding into esports was a natural transition for Formula One, given Codemasters' long-running F1 simulation series and the growing interest in competitive racing games. Formula One saw the opportunity as a chance to not only build a potential new pillar of its business but also to possibly court new fans of the traditional motorsport via an introduction through esports. "Essentially, when we started last year, it was a little bit about testing the waters. We'd heard a lot about esports and we knew this was a growing and burgeoning industry," says Tan. "Esports was a natural initiative to test the waters. In our first season last year, the reception for it was incredible. We were very encouraged." Last season saw F1 get its feet wet with online qualifiers followed by a pair of live events: semi-finals at the Gfinity Esports Arena, and then the finals at the 2017 Abu Dhabi Grand Prix in November. When it was all said and done, 18-year-old British driver Brendon Leigh took the crown. It was a thrilling race amidst the atmosphere of a real F1 event, but with just the two main events, it definitely felt like measured first steps into esports for Formula One. Season two promises so much more. "You'll see immediately that our second season is much, much bigger than our first," Tan asserts. "This season has been a big step up."
Merging the worlds
[caption id="attachment_106293" align="alignnone" width="600"]
Credit: Joe Brady[/caption] Bringing aboard the actual Formula One organisations is the biggest change, creating a bond between these enduring teams and the esports drivers that can now represent them in F1 2018. It's a move similar to that of the NBA 2K League, which is adding even more teams for its own next season, and it allows F1 to begin breaking down the barriers between the traditional and esports racing worlds. "One of the key things we found that was really very special about Formula One esports was the ability to combine the power of esports with the magic of Formula One," Tan explains. "How we can tie those two worlds together is really the core strategy that we think will create a lasting asset on our side." Nearly all of the teams are onboard for season two, and for some of them, it's their very first foray into esports on any level. Renault Sport Team Vitality is already well-established in the scene and fields teams in several games, for example, and Red Bull has many different ties to esports teams and events. But for other organisations, esports represented something new and enticing—but also unfamiliar and potentially daunting, all the same. "The F1 teams themselves—they're very diverse," says Tan. "Within our journey into esports, we spoke to them at the end of our first season. You could almost group them into F1 teams who have dabbled quite a bit into esports, and those that hadn't. The most interesting thing I noticed in my conversations with the teams was that they were all hugely excited about this opportunity." Teams just now stepping into esports have used the F1 race calendar to build hype around their introductions, with Alfa Romeo Sauber showing off their new squad at the F1 Milan Fan Festival at Monza, which happened alongside August's Italian Grand Prix. Meanwhile, Hype Energy eForce India, the esports team of Racing Point Force India, debuted at the British Grand Prix at Silverstone Circuit. Curiously, however, Ferrari isn't involved this season, making them the lone holdout in the world of F1 esports. According to Tan, they're still in discussions with the team, and that Ferrari wasn't the only organisation that was a bit reticent to jump headfirst into esports. "We're actually very close to Ferrari, and we're continuing discussing with them. The conversations that we've had have been very, very positive. From our conversations, they see this as a real opportunity," says Tan. "I think this year, with everything that's happening and how fast esports has grown, I understand… not just Ferrari, but a lot of the teams in our conversations were maybe a little bit more conservative in the opportunity, and wanted to think carefully about it. But we're very optimistic with Ferrari in next year's season and the following seasons to come."
The winning Formula?
[caption id="attachment_106294" align="alignnone" width="600"]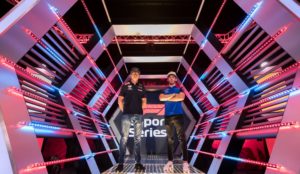 Credit: Joe Brady[/caption] The nine F1 esports teams picked their players at July's Pro Draft event, in which the top 40 online finalists completed a series of trials to vie for the pro organisations' affections. This week, they'll return to the Gfinity Esports Arena for the first of three F1 Pro Series 2018 battles, the last of which will crown the team and drivers' champions on 16-17 November. It should be a major moment for Formula One and its esports ambitions, and a big step beyond seeing the unaffiliated racers of last year's finals. "It's grown quite significantly from being just a competition to identify the fastest driver to really integrating the world of Formula One with esports—and in many ways changing the lives of many of these drivers, who at one point were just playing the game in their bedroom," says Tan. "Now they are official Formula One drivers." With three events spread across a month and a half, it's still a pretty compact season. But Tan says that the Pro Series 2018 is simply the next stop on their esports roadmap, and is key to getting them to a place where they can establish much deeper roots and put on a potentially larger competition. "Seeing how we can align the calendar with the real-life Formula One calendar will also be a priority," he added. "One thing that this season does particularly well is form that transition phase, where we're building a more stable season. Where we go in 2019, 2020, I think it starts to become important to build the legs behind a more consistent format for the season—something that you can replicate year over year," explains Tan. "One of the key things about how we want to continue to grow this asset is really building something that's unique to us, and aligning those two worlds helps create that competitive advantage for the product." Ultimately, they see much bigger things ahead for F1 esports, and it's early days still. Tan suggests that they'll learn from this season's tweaked format, and make adjustments as necessary, to ensure that the F1 Pro Series 2018 delivers the most compelling competition—and is built for the long haul, as well. "We recognise that the decisions that we make may not always, 100% of the time, be the right ones. But it's important to come in early, make decisions, learn from what you're seeing and continually optimise the season and the series," he said. "All of that will be very important to inform our future iterations of the series, and how best we can continually optimise and improve the series, little by little, until we reach that holy grail or north star that we're pursuing."