Ryan "Filipino Champ" Ramirez is often referred to as one of the biggest heels in the fighting games community since he's not shy from speaking his mind in confrontational manners. Now, it seems he might've taken that label too far.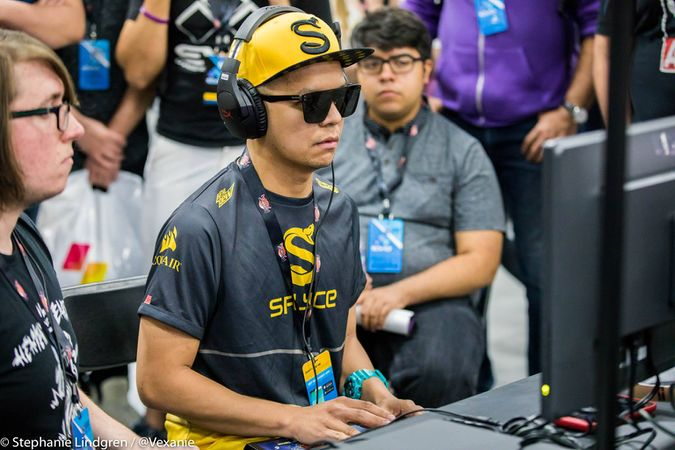 FChamp's insensitive joke as landed him in hot water. (Picture: Stephanie Lindgren)
On June 13th, FChamp tweeted out a picture of a watermelon with the hashtag #WatermelonLivesMatter. While the original post has been deleted, a user screen-capped the Tweet.

(Credit: Twitter)
The remark was perceived as insensitive and tone-deaf by a lot of fellow pro players and tournament organisers, to the point the former EVO 2012 winner was handed a ban from East Coast Throwdown events
.
"From this moment on @fchampryan (Filipino Champ) is no longer welcome to East Coast Throwdown," the TOs confirmed. Soon after, Rick Thiher, the man behind the Combo Breaker events, supported this decision by adding FChamp won't be allowed at any future CB tournaments.
"In solidarity with the team behind ECT, any community member barred from attending East Coast Throwdown will not be welcome at Combo Breaker 2021 or other events I direct."
Following the sanctions, Ramirez issued an apology, calling out the callous nature of it. "Very insensitive tweet by me I didn't mean any harm from it but I promise I'll be better sorry to everyone."
With many quick to point out the recent issues with Skullgirls developer Mike Zaminot's troublesome joke during a tournament stream and the apparent lack of consequences in that instance, Dominique "SonicFox" McLean voiced their opinion explaining the context behind both comments.
"Mike's history (and apology) already shows continued support of the BLM movement and is willing to own the mistakes he made with any repercussions that come with it. Champ's history has shown pretty racist things time and time again with ill intent."
True to his nature, Ramirez questioned SonicFox's statement, replying that he's never been one to throw a racial slur, at least, up until this point.
"When was the last time you saw or heard me be racist? C'mon man, I've never been racist in my life."

Eventually, FChamp would boot up his Twitch stream to address everything in further detail, explaining the context behind the Watermelon joke in the first place.
"We went to the market and we bought a very big watermelon. We were talking about slaughtering this watermelon 'cause it's so big and we were about to just eat it. So I tweeted that watermelon lives matter."
He also made it clear there was no "intention of being racist, but it was a very bad joke, it was a terrible joke."
As the FGC tries to cut down on racism, sexism, and transphobic remarks, more and more bans have been issued in the past few months. Recently, Street Fighter V players Dalauan "LowTierGod" Sparrow and Christina "CeroBlast" Tran were banned by Capcom from the company's events after both were found to have made inflammatory comments.