FIFA 21 has something for everyone, but for a lot of players, FIFA Ultimate Team is what it's all about. But what is it exactly? Well, FIFA Ultimate Team is a mode where you can create and manage your club and build your dream team using players from all the different leagues.
What is FIFA Ultimate Team?
FIFA Ultimate Team is a mode that revolves around cards. Everything from club items, consumables, managers, players, and staff items come in the form of a card. They can be earned by playing games both online and offline and completing challenges to receive coins, which is the mode's digital currency.
But that's not all. FIFA Ultimate Team also heavily revolves around a digital marketplace, where players can buy and sell cards online. They can also purchase packs of cards with either in-game coins or FIFA Points, a separate currency that can be bought with real money. If you're lucky enough, you might get a desirable card in a pack, which you can either use or sell for a fortune.
It all sounds pretty incredible, right? But while it can be tempting to dive right into the deep end, FIFA Ultimate Team is a complex mode, and it's a good idea to learn the basics on how to get started. Here's everything you'll need to know on how to get started on FIFA Ultimate Team in FIFA 21.
Team Chemistry
The first and more important thing to learn before you start is team chemistry. In FIFA Ultimate Team, team chemistry is what determines how compatible a player is in any given team. It factors in everything from their preferred position and formation to how closely linked they are to their surrounding teammates and the manager.
The most significant boosts to team chemistry happen between players who play for the same team or have the same nationality. Similarly, playing in the same league also bolsters team chemistry quite a bit, and that's why most FIFA Ultimate players tend to have team's filled with players from the same league.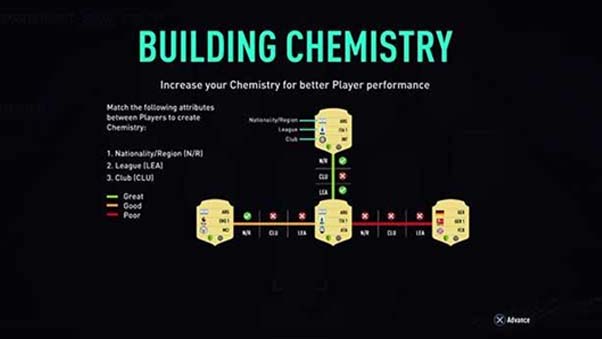 These connections are shown as lines between the players. Naturally, a green line shows a strong connection between two players, while an orange one shows a moderate connection, and a red one shows a poor one. Each player will also have a visible chemistry number out of ten next to their name in the squad, and the team will have an overall chemistry rating as well.
Chemistry is essential because it increases the cohesion between the squad, which permeates all areas of the game. Just like in real life, team chemistry in FIFA Ultimate Team can make the difference between a successful pass, a successful link-up, and a successful shot. It's arguably the most crucial element of the mode, and for that reason, it's worth mentioning first.
Humble Beginnings
If you're playing FIFA Ultimate Team for the first time, you'll need to follow the in-game instructions to get started. The first thing you'll need to do is to select a country, which will fill your club with players from the one you pick. You'll receive 22 players in total, as well as a loan player, who will become unusable after a specific amount of games.
Next, you'll need to establish your club's identity. In FIFA Ultimate Team, badges, home and away kits, and even stadiums can all be changed. In the start, you'll be given several options to choose from, but you can always change them later on.
After that, you'll be prompted to complete the first objective, which is to play a game. Objectives are an excellent way to earn extra rewards, and they can be anything from winning games to selling players. Eventually, they'll get more complicated, but the rewards you make will be sweeter.
First Match
For your first match, you won't have the best players or team chemistry, but you can still improve it by making sure all the best players are on the pitch and in their rightful positions. You'll receive coins every time you complete a match, but you'll receive more for winning than losing or drawing.
It's probably also a good time to get your head around consumables. In FIFA Ultimate Team, players are bound by contracts, which is more or less the number of games they can play before needing a new contract. Things like injuries can also be healed using specific consumables, as well as position changes, temporary stat boosts, and more.
First Purchase On The Transfer Market
Once you've finished your first game, you'll be asked to buy a player on the transfer market. An excellent place to start is to pick a league and focus on buying players who play within it. That way, you're guaranteed to have no issues with chemistry. I'd also recommend picking up a good striker since they can be highly impactful in the early days of your club.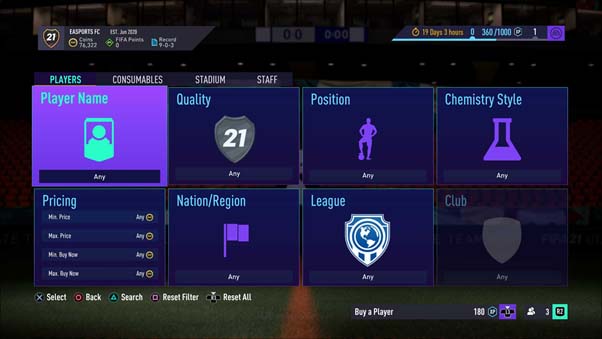 (c) EA Sports
It's also a good idea to look for a player with a decent overall rating since it can make all the difference on the pitch. In FIFA Ultimate Team, cards can be either bronze, silver, gold, or special. They can also be rare, which means they sell for more. As far as players go, those with higher overalls will be gold and above.
To Infinity and Beyond
Now that you've played your first game and bought your first player, you're well and truly on your way to becoming a FIFA Ultimate Team legend. From this point onward, you'll want to keep building your squad and acquiring better players as you go.
You'll want to start racking up the coins, which can be done quickly by playing a combination of offline seasons and squad battles. Once you've managed to put together a half-decent team, you can start playing online and enjoy the experience of competing against other players and their teams.
If you're truly committed, you can consider investing in some FIFA Points to buy card packs. But remember, you're not guaranteed to hit the jackpot every time, and for the most part, you'll often snag average to decent players at best. Here's a quick breakdown of the odds and probabilities.
Bronze Pack;

100% chance of 45+ player
62% chance of 60+ player
12% chance of 63+ player

Premium Bronze Pack

100% chance of 45+ player
75% chance of 60+ player
33% chance of 63+ player

Silver Pack

100% chance of 65+ player
75% chance of 70+ player
3.3% chance of 73+ player

Premium Silver Pack

100% chance of 65+ player
41% chance of 70+ player
10% chance of 73+ player

Gold Pack

100% chance of 75+ player
7.7% chance of 82+ player
3.4% chance of 83+ player

Premium Gold Pack

100% chance of 75+ player
19% chance of 82+ player
4.7% chance of 83+ player
How to List Your Cards on Transfer Market
Last but not least, you'll need to know how to list your cards on the transfer market to sell them. To do that, you need to select your item from either the Squad or My Club screen, select action, and select "List On Transfer Market".
Next, you'll need to set a starting price, as well as a buy now price, and a duration. The starting price is the minimum price that users can bid. The buy now price is both the maximum price that users can bid and the price they can pay to buy the item on the spot.
Naturally, the duration is how long your card will be listed on the transfer market. It can be set to either one hour, three hours, six hours, twelve hours, one day, or three days.
For rare and valuable cards, it's a good idea to use a FIFA Ultimate Team database like FUTBIN to determine the best price.
Once you've done all the necessary research and you're ready to list the card on the market, select "List On Transfer Market" once more, and you're good to go. You can also do it on the FIFA FUT Web App.
Just remember that any cards you sell will incur a 5% tax, which is how much EA charges for every transaction. For example, a card worth 10,000 coins will incur a 500 coin debt, while a card worth 100,000 coins will incur a 5000 coin debt, and so on.
Now that you've been introduced into FIFA Ultimate Team, you can sit back, relax, and get stuck into your new journey.
For all the tutorials about FIFA 21, visit our Beginners and Advanced guides: