It's Football Manager 2021 release day! As many fans of the historied Sports Interactive franchise are gearing up to start a fresh new save looking to experience all the new features the simulation game boasts this time around.
A question has been on everyone's mind -- How will COVID-19 affect the beginning of your journey?
Well, let's not beat around the bush, here's what you need to know about coronavirus in FM21.
FM21: COVID-19 in-game effects
Sports Interactive confirmed that the ongoing coronavirus pandemic will indeed be featured in Football Manager 2021.
Depleted transfer budgets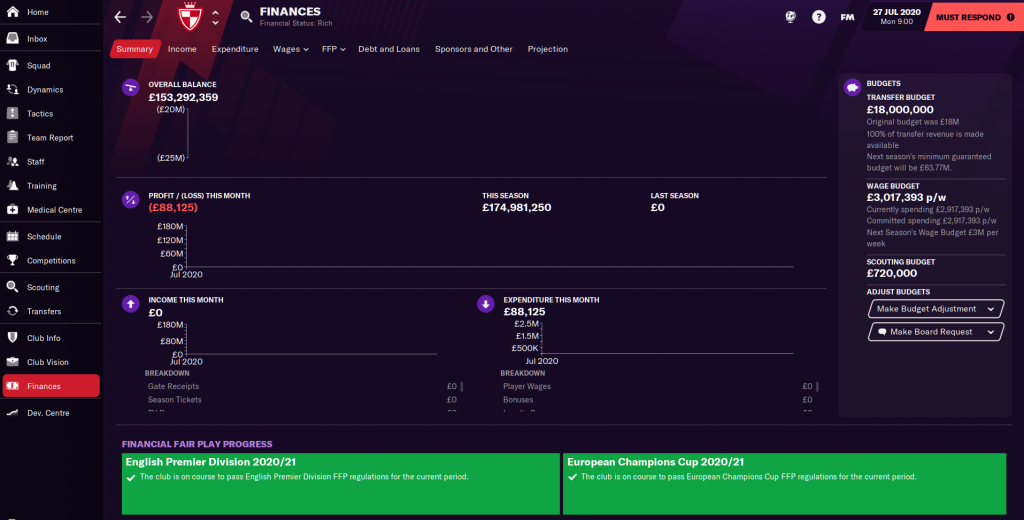 Liverpool's transfer budget is only £18M (Photo: Sports Interactive)
The first noticeable change you'll see is in transfer budgets across the board. Even if you like to take control of a wealthy powerhouse like Manchester City or PSG, you'll have diminished resources.
"FM21 will see more 'loan to buy' offers, the value of mid-range players dropping and clubs in real financial trouble trying to move players on a more regular basis," SI detailed in a blog post.
Season starts and transfer windows

(Photo: Sports Interactive)
Another on-the-fly change from the developers includes moving the start dates of certain leagues and the transfer windows around the world.
For example, the EFL Championship which regularly begins in August, will kick-off in September in FM21 to mimic real life.  
More substitutions 
Just as competitions like the Champions League are allowing five subs per match this time around, FM21 will reflect that, giving you more room for rotation in a jam-packed season, especially for top-flight squads competing in up to four different tournaments in a single year. 
Keep in mind that these changes are only applicable during the first season of your save, with much of the restrictions or changes reverting to the regular state of things once season 2 of your journey starts.
Some of the important things that Sports Interactive decided not to change is matchday revenue, as they mention this will allow the game to get back to normal as fast as possible.
We wish you the best of luck in your journey and hope you can find success in the first COVID-19 season in FM21!