Originally showcased with the Season 7 trailer, Clark Kent, or more known as Superman, is coming to Fortnite. Epic Games has been keen to crossover with DC Comics as we've already seen Batman, Justice League, and Suicide Squad characters feature in the popular battle royale.
Now to help fight back against the alien invasion, Epic Games are releasing Superman to the battlefield in form of a loot bundle. Starting today, gamers will be able to unlock a set of Superman gear including outfits, emotes, and more.
You'll need to complete a set of quests to reveal the mission to restore Clark Kent's memories and unlock his heroic set. Here's everything you need to know about the Superman skin in Fortnite.

How to get the Superman skin in Fortnite
Live on the Epic Games servers beginning Tuesday, 10th August at 10 am ET (3 pm BST), gamers will have the opportunity to complete these challenges to unlock the Superman set.
The challenges are part of the Chapter 2 Season 7 battle pass, however, gamers do not need to have any battle stars collected for these tasks.
The first step gamers will need to take is to unlock the Call to Action Emoticon, this will be available after completing 1 NPC task. The Superman Sheild Spray will be available after completing 3 tasks, and the Clark Kent outfit after 5 tasks.
Here are the NPC quests, gamers will need to interact with Clark Kent, Armoured Batman, and Beast Boy to complete these:
Take damage from a player and survive
Defeat Aliens
Reach speed 99 in a vehicle
Use a Launchpad
Visit three Different Named Locations
Visit the Mothership or an Alien Biome
The next step is to Glide Through 3 Rings as Clark Kent, to unlock the Daily Planet Back Bling. Then head to a phone booth to Use a Phone Booth as Clark Kent for the ability to suit up.
This quest unlocks the built-in Secret Identity Emote, which transforms Clark Kent into Superman and vice versa. (Gamers can also choose to start games as Superman from the Fortnite Locker) The Superman Cape Back Bling is also unlocked by this Quest.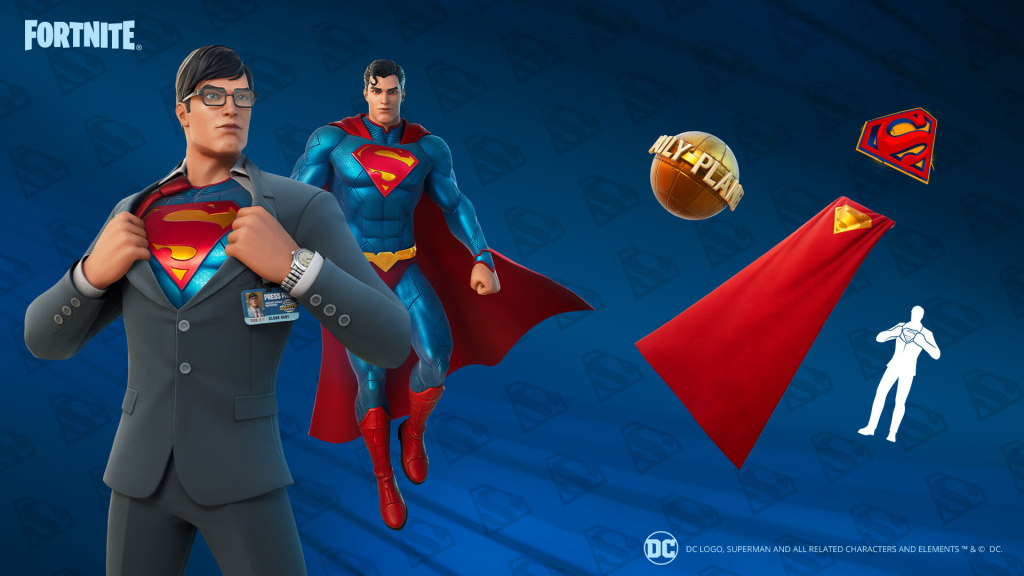 There is also an alternative "Shadow" style for Clark Kent, Superman, and the set's accessories available for unlock by completing further Chapter 2 Season 7 challenges.
The contents of the Shadow bundle are as follows:
The Kal-El's Cape Glider

A Superman Banner

The Last Son of Krypton Loading Screen

The Solitude Striker Pickaxe

The Shadow variant for Clark Kent, the Daily Planet Back Bling (the "Late Edition"), the Superman Cape Back Bling, and the Solitude Striker Pickaxe
For all the latest news and guides for Fortnite, check out our dedicated Fortnite hub.
---
For more Fortnite news be sure to check out our dedicated section, or some of our Guides & Tutorials, just below:
Fortnite Guides - All Fortnite Redeem Codes | When Does Fortnite Chapter 3 Season 5 Start?|All Fortnite Twitch Drop Rewards| How To Make Your Own Fortnite Skin |
Fortnite Events - Fortnite Winterfest 2022 | 
The Best Fortnite Creative Codes - Best Edit Course Codes|Best Prop Hunt Codes|Best Zombie Map Codes
Featured image courtesy of Epic Games.