If here is something that has stood out within Genshin Impact since its launch, it has been its wide variety of weapons available within the game, which allows you to have different combinations and options according to your preferred combat style, or what you need to complete in missions and challenges.
In this guide, we will list some of the best swords currently available in Genshin Impact through its gacha system or in its Battle Pass.
Best swords in Genshin Impact
Aquila Favonia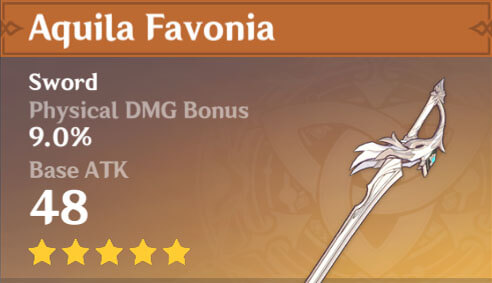 (Picture: miHoYo)
This sword is considered one of the best weapons in the game, given its great stats that substantially enhance your offensive power.
When attacking with this, your ATK percentage will increase by 20/25/30/35/40%, in addition when taking damage from your enemies, it will activate a passive which will regenerate HP equivalent to 100/115/130/145/160% of your current ATK and will increase ATK damage to nearby enemies by 200/230/260/290/320%.
A weapon worthy of any character, but recommended for Jean, Keqing and Qiqi.
Skyward Blade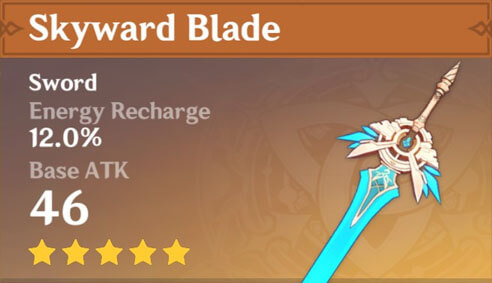 (Picture: miHoYo)
This celestial weapon is one of the best for any character that depends a lot on their elemental abilities, being based on the power of Stormterror.
The Skyward Blade increases the CRIT Rate by 4/5/6/7/8%, however its greatest benefit comes from using your Elemental Burst, since doing so this sword will grant you 10% Movement SPD and ATK SPD, in addition to increasing the damage of normal and charged attacks based on 20% of your current ATK.
One of the best options to carry in Bennett, Xingqiu, Qiqi, and even for the Traveller.
Primordial Jade Cutter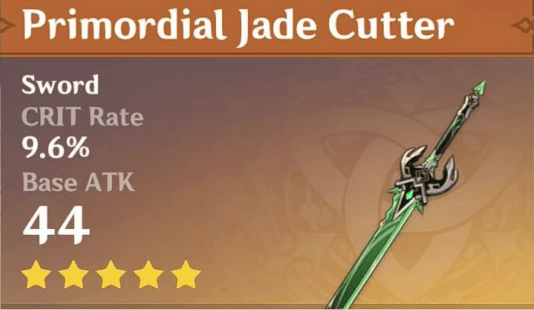 (Picture: miHoYo)
This ceremonial sword made of jade is a weapon with great power, which will increase according to your HP, so it is advisable to carry artifacts that benefit this to use it to its maximum potential.
The Primordial Jade Cutter passively increases your HP by 20/25/30/35/40%, in addition to granting an ATK bonus based on 1.2/1.5/1.8/2.1/2.4% of your max HP.
There is no character in itself recommended for this weapon, since it depends more on how you assemble your composition of artifacts along with the improvements you can get by leveling up these or the sword itself, to take advantage of its power.
The Black Sword

(Picture: miHoYo)
This malicious, bloodthirsty weapon lets you take down any enemy around you without using your elemental abilities, thanks to its excellent offensive and regeneration bonuses.
To begin, this sword increases the power of your normal and charged attacks by 20%, while you can also recover 60% of your current ATK in HP, when making a critical hit. This effect can only be activated every 5 seconds.
Recommended for high-impact characters like Jean and Keqing.
Sacrifical Sword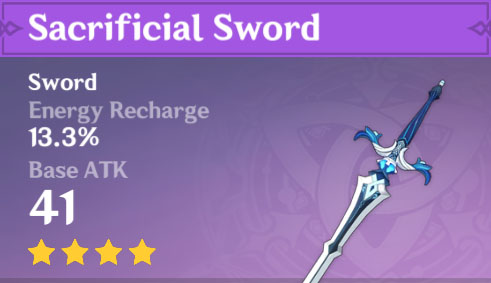 (Picture: miHoYo)
Finally, this weapon can become an ace up your sleeve at the right times, thanks to its passive ability which can get you out of trouble and turn the fight around.
The Sacrificial Sword allows that when dealing damage to any opponent with your Elemental Skill, you will have a 40/50/60/70/80% chance its cooldown will reset, allowing you to recharge your Elemental Burst even faster and hit face any enemy that makes you difficult.
Its passive ability only triggers every 30/26/22/18/14s, and is recommended for use on characters who can take great advantage of their elemental abilities, such as the Traveller, Xingqiu, and Qiqi.
In addition to these weapons, there are several options within the game's gacha that can be useful, such as the Summit Shaper and the Lion's Roar, but if you ever come across any of those listed here, feel free to use them and get the most out of them in combat.
Swords are far from the only weapons in Genshin Impact. Why not check out our best polearm's in Genshin Impact for even more ideas.