Genshin Impact's
2.4 Special Program livestream
announced new characters, a brand new region, new featured events and quests for Travelers to look forward to in the new year. There is also plenty of new game features and mechanics and quality of life improvements added to the forthcoming update that should resolve current game bugs and fixes.
Likewise, included in the 2.4 update is a brand new weapon: the 5-star polearm called the Calamity Queller. Not much information is available as of now regarding the weapon but here's everything we do know about the weapon including how to acquire it, its stats and abilities, ascension materials and more.
What is the Calamity Queller in Genshin Impact?
The Calamity Queller is a 5-star polearm weapon that will be arriving in the 2.4 update. Additionally, the Calamity Queller is poised to be the signature weapon for the update's newest character, Shenhe.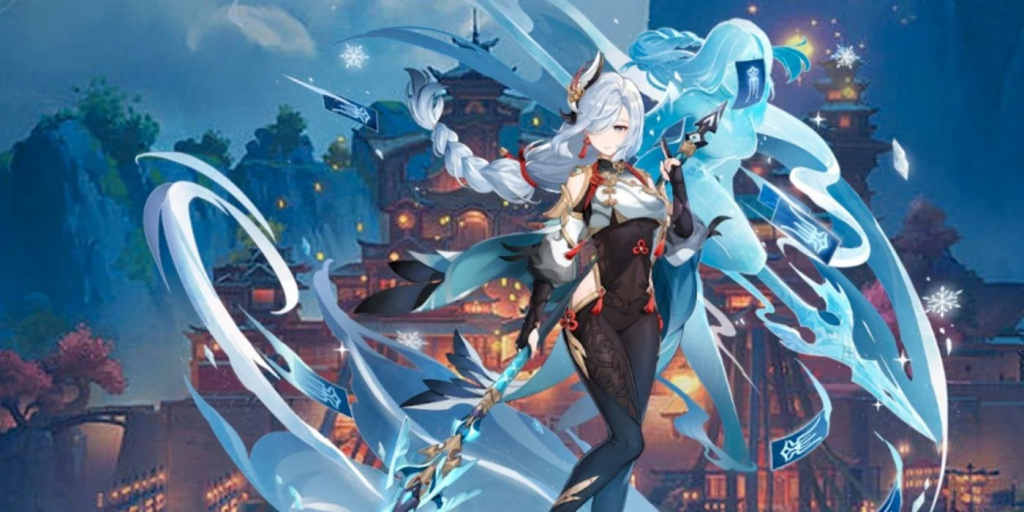 According to in-game lore, the Calamity Queller is a "keenly honed weapon forged from some strange crystal. Its faint blue light sees to whisper of countless matters now past."
While the weapon's history is clouded in mystery as is the "strange crystal" that powers it, the weapon boasts high ATK and secondary stats and a passive that grants an Elemental DMG bonus. As such, other notable polearm wielders like Xiao and Xiangling will greatly benefit from the weapon's ATK stats and passive.
The upcoming 5-star polearm - codename Santika as ascended. Subject to change.#GenshinImpact#原神pic.twitter.com/79k1gTyfJt

— Festivity (@Festivizing) November 24, 2021
What are the Calamity Queller's weapon stats and abilities?
Rarity: 5-star
ATK: 49-741
Secondary Stat: 3.6% - 16.5% ATK
The Calamity Queller's passive (Special Ability), Extinguishing Precept, gain a percentage bonus on all Elemental DMG. Once the weapon has activated an Elemental Skill, the character will gain an effect called Consummation which increases ATK stats up to 6.4% every 20 seconds.
This ATK stat boost can be stacked up to six times however if the character equipped with this weapon is off-field, the effect's ATK boost is doubled.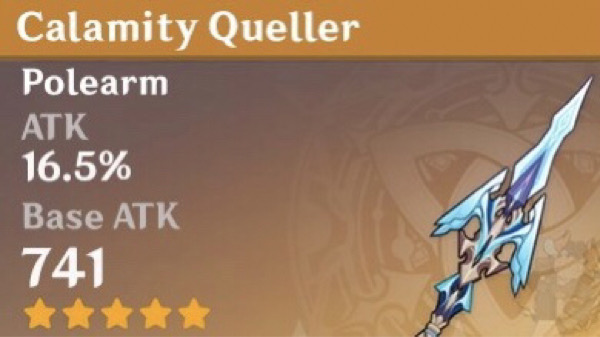 What are the Calamity Queller's ascension materials?
Here are the ascension materials required to max out the Calamity Queller according to the Genshin Impact source, Honey Impact.
Ascension Levels 2&3
10,000 Mora
Mist Veiled Lead Elixir x5
Mist Grass Pollen x5
Whopperflower Nectar x3
Ascension Level 4
20,000 Mora
Mist Veiled Mercury Elixir x5
Mist Grass Pollen x18
Whopperflower Nectar x12
Ascension Level 5
30,000 Mora
Mist Veiled Mercury Elixir x9
Mist Grass x9
Shimmering Nectar x9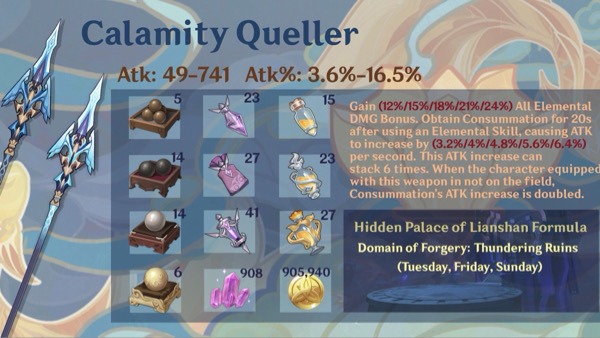 Ascension Level 6
45,000 Mora
Mist Veiled Gold Elixir x5
Mist Grass x18
Shimmering Nectar x14
Ascension Level 7
55,000 Mora
Mist Veiled Gold Elixir x9
Mist Grass Wick x14
Energy Nectar x9
Ascension Level 8
65,000 Mora
Mist Veiled Primo Elixir x6
Mist Grass Wick x27
Energy Nectar x18
How to get the Calamity Queller in Genshin Impact?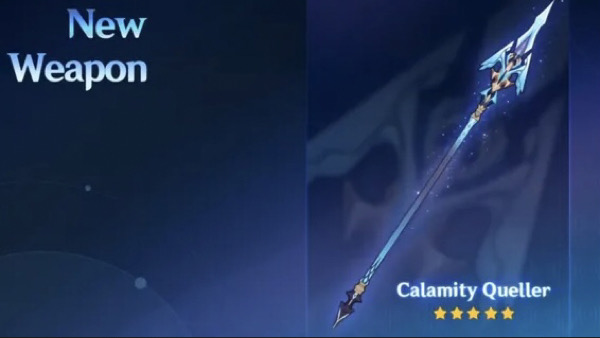 During the 2.4 Special Program livestream, it wasn't confirmed how Travellers can acquire the weapon in Genshin Impact. However, if we were to use the Redhorn Stonethresher from the 2.3 update as an example, this 5-star weapon could potentially be featured in an Epitome Invocation Event Wish banner.
If this is the case, they will need to use the Epitomized Path to set a course for the 5-star polearm, Calamity Queller, to significantly boost its drop rate. While this may all be just speculation, we will update the article once more information is revealed.
The Calamity Queller has the potential to be the game's most powerful polearm. As it is a 5-star weapon, many will be clamouring to use their Wishes to acquire the weapon once it becomes available.
Don't forget to check out our dedicated Genshin Impact section for the latest news, updates, guides, leaks and more.
Featured image courtesy of miHoYo