Shy alchemist she may be, but Sucrose is a top-tier Enabler in Genshin Impact. That means she is all about setting up for Elemental Reactions, either by proccing them herself or empowering her teammates to do it for her.
Batten down the hatches, here's how to get Sucrose's experiments to deal with your enemies in style.
Genshin Impact Sucrose guide
Weapons
Sucrose is one of the queens of Enabling in Genshin Impact, and her Catalyst choices reflect that. Here's some of the better choices to get her Swirl on:
Sacrificial Fragments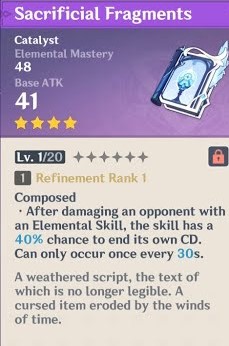 (Picture: miHoYo)
The most potent Enabling option on the list. Sucrose is gated by her exorbitantly long cooldowns (15s for her Elemental Skill, and 20s for her Burst), and Sacrificial Fragments goes a long way to alleviating some of that.
Key to that is Composed offering a significant chance to auto-refresh "Astable Anemohypostasis Creation - 6308", especially because its AoE nature means it has multiple chances to proc. Add in some Elemental Mastery (a key stat for Sucrose) and you have a top-tier Catalyst choice. 
Mappa Mare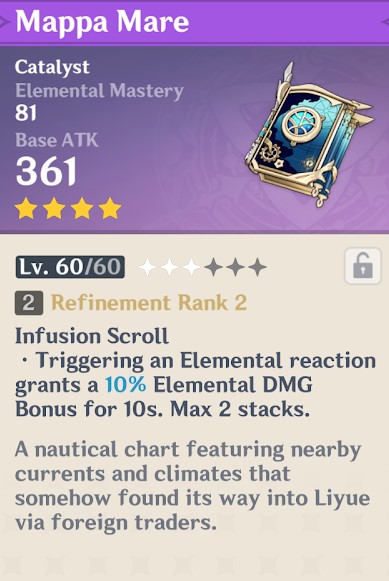 (Picture: miHoYo)
That said, Mappa Mare offers tough competition. It too brings coveted Elemental Mastery, But Infusion Scroll adds more power into Sucrose's own Damage. If you can use her Elemental Skill into her Burst while proccing Elemental Reactions - as you should be looking to anyway - then the raw pop damage Sucrose can put out even from a supportive Enabler's build is potent.
Better yet, you can forge Mappa Mare, making it easy to get hold of and refine - no need to pray to the gacha gods on this one!
Lost Prayer to the Sacred Winds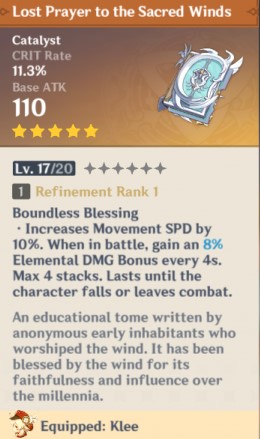 (Picture: miHoYo)
At the other end of the scale is Lost Prayer to the Sacred Winds. If you want Sucrose to be a serious DPS threat, this is a great Catalyst choice. If you have her at Constellation Level 4 or above a DPS build is extremely potent, and Crit Rate, Movement SPD and a stacking Elemental DMG Bonus are all exactly the stats a damage Sucrose is interested in.
Other options in a similar vein include Skyward Atlas, The Widsith, and Solar Pearl, all of which are less dependent on being on the field for their damage output the Lost Prayer, so are worth investigating for a sub-DPS/Burst build on Sucrose.
Artifacts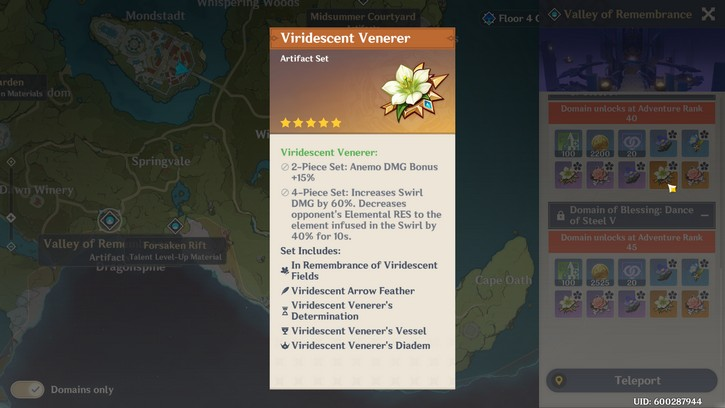 Run full Viridescent Venerer.
There, done.
Facetiousness aside, it really is the best choice for Sucrose in whatever capacity you want to play her. 15% Anemo DMG Bonus is great for an Anemo Catalyst user, but the 4-piece set effect adding 60% DMG to Swirl and decreasing enemies' Elemental RES to the infused Element is huge for Sucrose.
It just synergises so well with both her Elemental Burst's Absorption ability and her Ascension Ability, Catalyst Conversion, increasing the Elemental Mastery of characters matching the infused element of a Swirl Reaction. You up your own team's damage while simultaneously reducing your opponents' defences against that damage - you just can't pass it up.
If you're struggling with good drops for Viridescent Venerer, then Full Instructor is a good back-up. Sucrose thrives on Elemental Mastery, so this is a genuinely fairly potent option. For DPS fall backs, consider Wanderer's Troupe and Noblesse Oblige.
Artifact Stats
Sucrose's stat builds vary depending on exactly what you want out of her, but core to any build is Elemental Mastery. Sucrose is all about setting up Elemental Reactions and both of her Ascension Abilities improve teammates' Elemental Mastery to double down on that.
That means you'll notice it's high priority in both build paths highlighted here:
Enabler Stat Priorities
Elemental Mastery
Energy Recharge
Anemo DMG Goblet
ATK
DPS Stat Priorities
Crit Rate (50~%+)
Crit DMG
Elemental Mastery
Anemo DMG Goblet
Energy Recharge
ATK
The DPS build for Sucrose only really takes off at C4 with the Alchemania skill, though she's still viable without it.
Play Patterns
Think of Sucrose like something of a budget Venti - in other words, she has a massively impactful Elemental Skill and Burst that set up for huge Elemental Reactions and can hard CC opponents. Hell, both characters' Elemental Skills launch opponents in AoE, and both Bursts suck enemies in and have Elemental Absorption.
As such, your goal with Sucrose is to maximise the damage of your Swirl and subsequent Elemental Reactions to the best of your ability.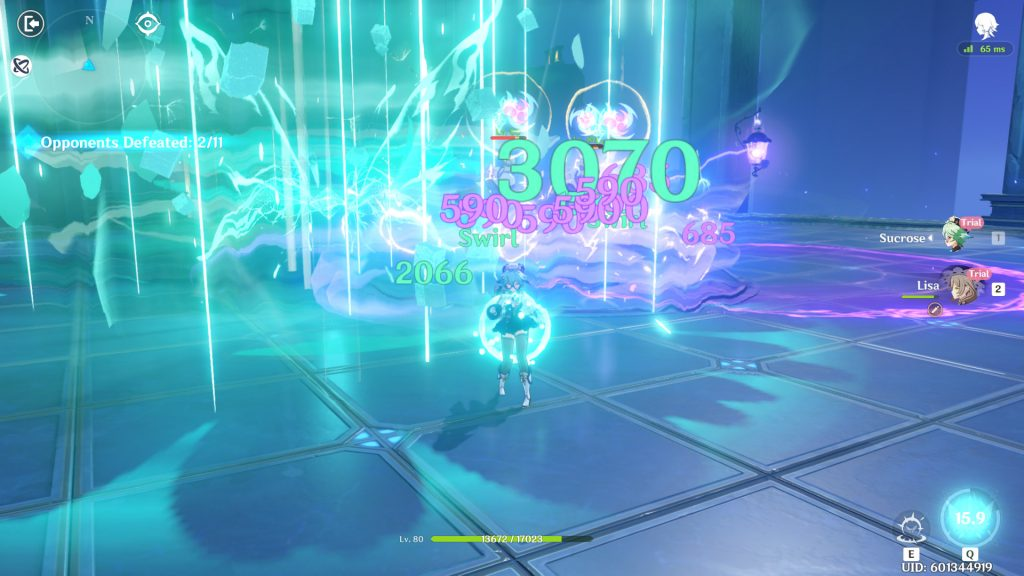 (Picture: miHoYo)
Have your main DPS (or a character with the same element as that character) apply their element to your unfortunate victims, then switch in Sucrose and slam them with the full brunt of your abilities.
You can then take advantage of Catalyst Conversion and Mollis Favonius massively increasing your squads' Elemental Mastery, especially those characters with the same element as the one that was infused in the Swirl reaction. Switch out to any characters that can set up for further Elemental Reactions before quickly switching out to your DPS choice to hammer away with their improved EM.
This is the big difference between Sucrose and Venti: he has his abilities up incredibly quickly, and does offer more cc, but Sucrose's Elemental Mastery amp is very distinct to her. If you have a team that really goes hard on Elemental Reactions, Sucrose will take them to the next level. 
As a side note, if Sucrose is your DPS, then just don't switch! Lay all the elements out beforehand with the rest of your squad, then let Sucrose run wild with all that set-up.
As for teammates, you're looking for Elemental Reaction combos above all else - that likely means Pyro, Hydro and Cryo teammates for AoE Vaporise and Melt. Both reactions are massive damage but can be frustratingly single target… unless you have Sucrose to spread the love. Other options include going for an Electro and Cryo team to maximise Physical DPS via Superconduct (think Chongyun or Qiqi with Beidou or Keqing), or looking at Pyro plus Electro for all the explosions you could want.
The likes of Fischl, Xiangling, Mona and Kaeya are all good options too, because of their ability to set up for Elemental Reactions even when they aren't on the field. Any character that can do that - from Lisa to Qiqi - are worth considering. More Elemental Reactions are always the end goal!
And that's that! We wish you luck with your alchemical experiments with Sucrose!