Update 2.0 is coming to Genshin Impact. We've covered all of the content that will arrive with this update, featuring the debut of the Inazuma region, and now miHoYo has revealed the details of the featured banners that will be available starting 21st July.
This time and as in other major patches, we will have two banners within the Event Wish section, with one of these bringing the arrival of a long-awaited Cryo character, while the other will be focused on a batch of highly coveted weapons.
The Heron's Court - Kamisato Ayaka makes its debut
One of the main banners of this update will be the so-called "The Heron's Court", where players will have a better chance of getting an event-exclusive 5-star character, the "Frostflake Heron" Kamisato Ayaka, a Cryo Sword character who has some of the best Elemental stats and abilities, being a crucial part of the Inazuma region story.
This banner will also have a huge drop-rate boost for Ningguang (Geo), Chongyun (Cryo), and Yanfei (Pyro), three powerful characters with good DPS and capable of making incredible Elemental Reactions.
You can learn more about Kamisato Ayaka, along with our recommendations for weapons, artifacts, and even some tips, in our deep character guide.
Epitome Invocation - New 5-star weapon based on Inazuma
As part of the debut of Ayaka and the Inazuma region, a new signature weapon in the form of the Mistsplitter Reforged sword will also make its appearance into the game, along with the Skyward Spine, an excellent Polearm charged with the power of the wind, perfect for DPS characters.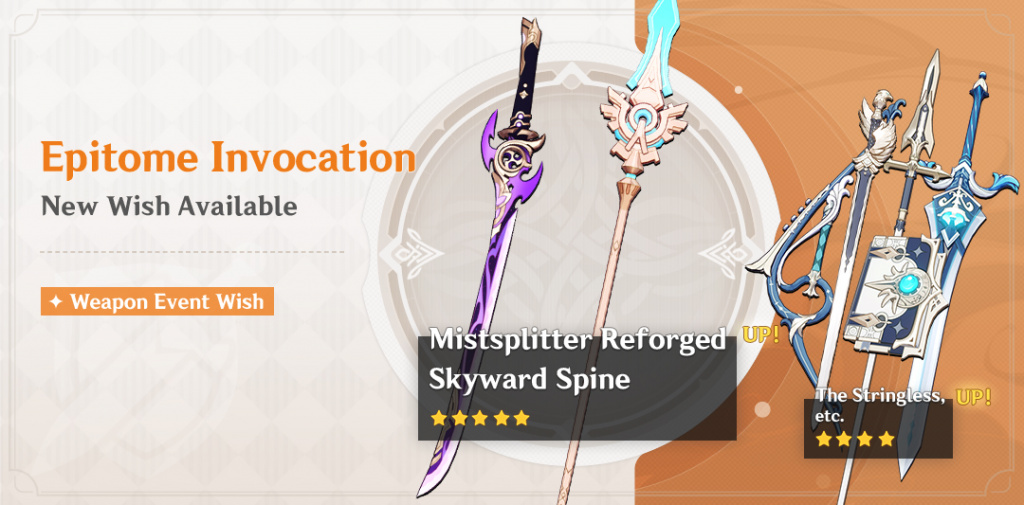 The Mistsplitter Reforged is a weapon based on a classic Japanese katana. Thanks to its passive, it can provide an elemental buff that will stack, increasing damage output for the character who wields it.
This new weapon is part of the Inazuma Series, blazing a fierce violet light providing great versatility and a fantastic option to create devastating Elemental Reactions.
As for the Skyward Spine, this is a polearm that symbolizes Dvalin's fire resolve, increasing CRIT Rate and Normal ATK SPD. Additionally, Normal and Charged Attacks hits on opponents can trigger a vacuum blade that deals a percentage of ATK as DMG in a small AoE. This effect can occur no more than once every two seconds.
Besides these, these event-exclusive 4-star weapons will receive a huge drop-rate boost:
Favonius Sword (Sword)
Sacrificial Greatsword (Claymore)
Favonius Lance (Polearm)
Favonius Codex (Catalyst)
The Stringless (Bow)
Remember that with the arrival of the update 2.0, miHoYo will introduce the Epitomized Path, a new banner mechanic to get 5-star weapons easier in Genshin Impact based on how many pulls you make and which weapon you are looking to get.
Bring all the Primogems you have, and start looking for them as hard as you possibly can, as both banners will be available for a limited time, from 21st July until 10th August, 2021.
Don't forget to join our community of travellers on our Genshin Impact Twitter account, where you will find tips, tricks, guides, and more.