The next major update for Genshin Impact "Fleeting Colors in Flight" is now available, bringing a lot of new features into the game with the addition of the Enkanomiya region, new threatening enemies, a powerful 5-star weapon, the return of the Lantern Rite, and most importantly, two new characters and even some exclusive skins.
While you can already see some of the details revealed during the 2.4 Special Program, such as the new banners in which these will be available, and a new edition of our complete character tier lists, miHoYo has already released the full details about the first of the two new additions into the game's roster.
We have already shown you everything about Shenhe, so now, it's time to present you to the 4-star character featured in Genshin's 2.4 update, known for being a renowned opera singer with an exquisite and delicate style. Introducing the "Stage Lucida", Yun Jin.
Yun Jin - Background and Origins
Within the borders of Liyue, there are different places of great tradition where its people usually spend their time in different ways, be it negotiating, meditating or even enjoying a good drink. One of these places is known as the Heyu Tea House.
Although its main attraction comes with the appearance of the Tea Master, who usually doubles down as a storyteller, recently the great Yun Jin has become the star of this popular site, thanks to her fervent presentations and her masterful ability to reflect her works, being the director of the famous Yun-Han Opera Troupe.
Between her knowledge as a writer and her great talent for music, she has managed to become quite a celebrity in Liyue, having everyone talking about her past performances day after day, as they struggle for a chance to see her on stage, just like how it used to be with her mother some time ago, who taught her everything she knows to catapulted her to the top.
Despite her great passion for opera, Yun Jin has never hidden her own free will by enjoying occasional musical performances outside of her style, as well as enjoying a good cup of tea and a delicious meal from time to time. After all, she is quite a diva who deserves to enjoy that and more, after captivating the entire town of Liyue with great shows whenever the time is right.
Yun Jin - Talents
Her normal attack, Cloud-Grazing Strike, allows her to make up to five consecutive spear strikes, while with her charged attack, Yun Jin will consume a certain amount of stamina to lunge forward, dealing damage to all opponents along the way.
She can also use a plunging attack from mid-air, to strike the ground below and damage opponents along the path and deal AoE DMG upon impact.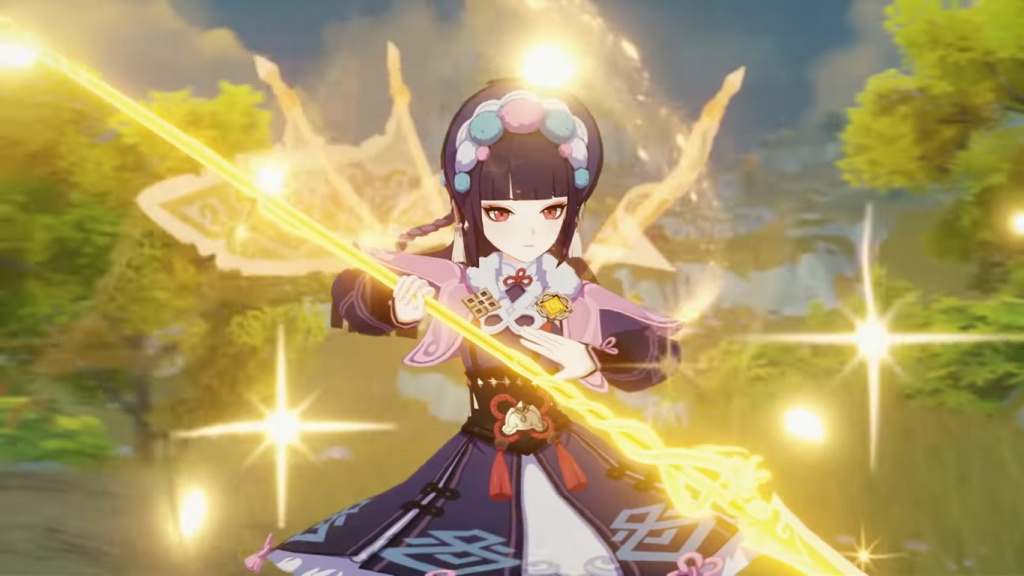 With her Elemental Skill, Opening Flourish, Yun Jin will use her abilities to defend against her foes, depending on whether you tap or hold her skill.
By tapping, she will flourish her polearm in a cloud-grasping stance, dealing Geo DMG. By holding, she will take up the Opening Flourish stance and charge up to form a shield. The shield's DMG Absorption will be based on her Max HP and has a 150% effectiveness against all Elemental DMG and Physical DMG.
When the skill is released, when its duration ends, or when the shield breaks, Yun Jin will also unleash the charged energy as an attack, dealing Geo DMG. Based on the time spent charging, it will either unleash an attack at Charge Level 1 or Level 2.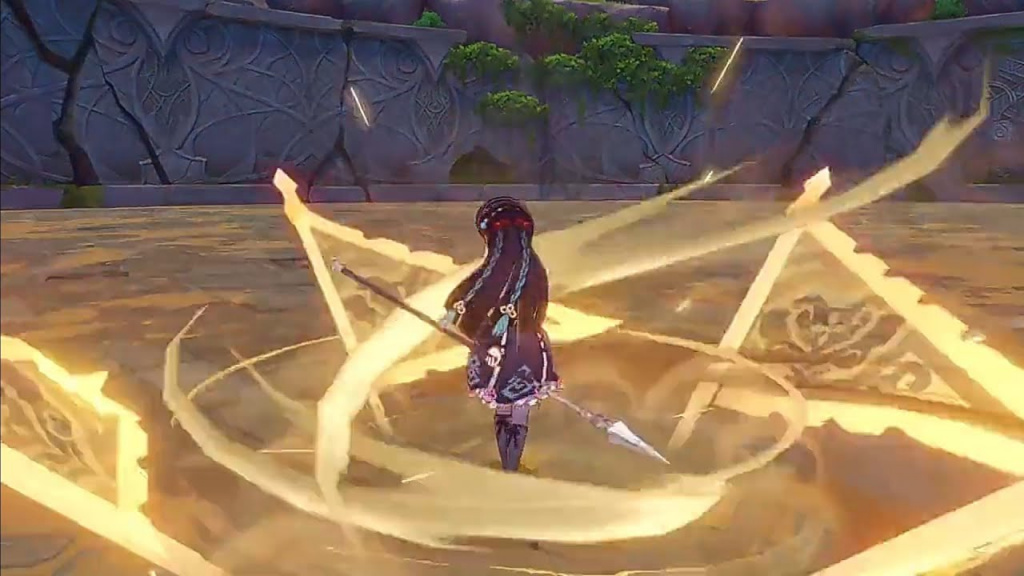 Finally, with her Elemental Burst, Cliffbreaker's Banner, Yun Jin will make a Geo explosion around her, dealing AoE Geo DMG and granting all nearby party members a Flying Cloud Flag Formation.
While this is active, whenever you deal Normal Attack DMG to your opponents, your party characters will deal Bonus DMG based on Yun Jin's current DEF. The effects of this skill will be cleared after a set duration or after being triggered a specific number of times.
In addition, when one Normal Attack hits multiple opponents, the effect will be triggered multiple times according to the number of opponents hit. 
Yun Jin - Best Weapons
Staff of Homa
Among the most recommended weapons for her, you should definitely go for the Staff of Homa, a 5-star polearm that can only be obtained through gacha, and it's mostly known for being the main weapon for Hu Tao.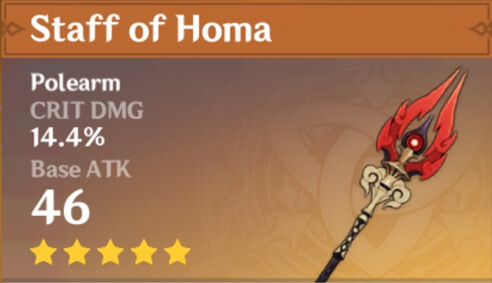 The Staff of Homa is a "firewood staff" that was once used in ancient and long-lost rituals, so it's said to be used by the Wangsheng Funeral Parlor to purify the infected bodies, during a plague that started spreading in Liyue after the negative karma of the yakshas killed many people.
This polearm will increase Yun Jin's HP by 20/25/30/35/40%, while also providing an ATK Bonus based on 0.8/1/1.2/1.4/1.6% of the wielder's Max HP. When the wielder's HP is less than 50%, this ATK bonus is increased by an additional 1/1.2/1.4/1.6/1.8% of Max HP, becoming an excellent option for all of his abilities.
Deathmatch
In case you don't want to spend a lot of time and Primogems in the gacha, you can also look for the Deathmatch, a 4-star polearm available exclusively through the Battle Pass rewards.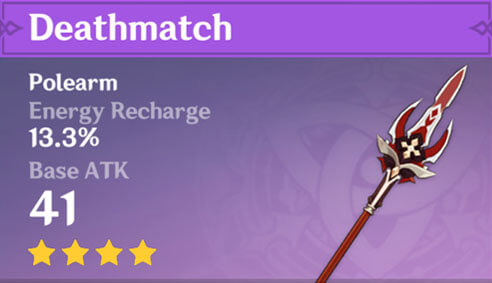 The Deathmatch is a sharp crimson polearm that was once a gladiator's priceless treasure, and its awl has been stained by the blood of countless beasts and men.
With the weapon's passive Gladiator, if there are at least 2 opponents nearby you, your characters' ATK and DEF will be increased by 16/20/24/28/32%, and if there are fewer than 2 opponents nearby, only the ATK will be increased by 24/28/32/36/40%.
Favonius Lance
Next up we will add the Favonius Lance, a polearm made in the style of the Knights of Favonius with a straight shaft, and its tip that flows lightly like the wind, used in a ceremonial role at parades and reviews, but it's also a keen and mortal foe of monsters.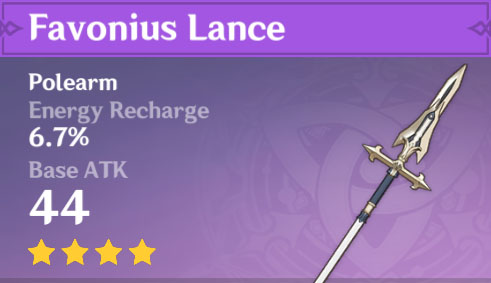 With its Windfall skill, all CRIT hits will have a 60/70/80/90/100% chance to generate a small number of Elemental Particles, which will regenerate six Energy for the character, although this can only occur once every 12/10.5/9/7.5/6 seconds.
"The Catch"
Last but not least, we will find one of the latest introductions into the game available as a free reward, as part of the items available in the Inazuma Fishing Association, in exchange for the fish you collect with the Fishing System.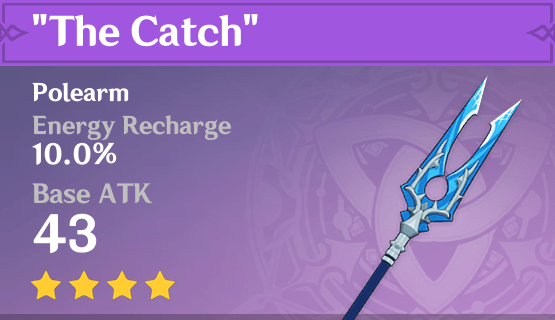 "The Catch" is a polearm that almost resembles a trident. Its Shanty skill can increase your Elemental Burst DMG by 16%, and your Elemental Burst CRIT Rate by 6%.
Yun Jin - Best Artifacts
Husk of Opulent Dreams
As the main choice for her artifacts, we will recommend the Husk of Opulent Dreams set, as it allows you to amplify your DEF by 30% when using two pieces, while with four, the character can obtain the Curiosity effect either by hitting an enemy with a Geo attack, by obtaining a stack, or even when your character is off the field.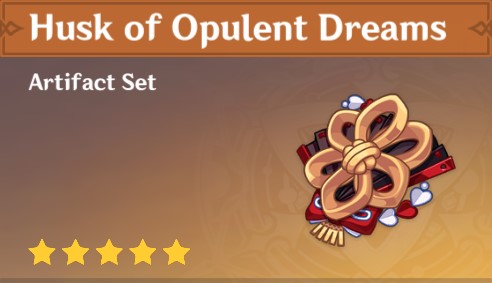 This effect can stack up to 4 times, with each charge increasing DEF by 6% and granting 6% Bonus Geo DMG. However, if the wearer does not gain a Curiosity stack within six seconds, the character will lose a stack.
If you don't have all pieces of it, you can either combine it with the Archaic Petra artifacts, which grants a bonus of Geo DMG respectively with two equipped pieces.
Archaic Petra
And talking about the Archaic Petra set, you can choose to arm her with these artifacts as these grants a damage increase in Geo abilities of up to 15%.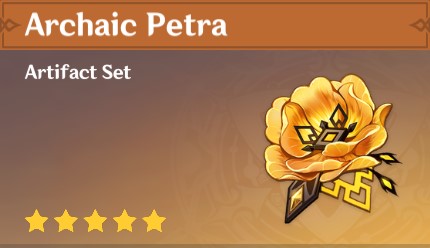 Additionally, Archaic Petra allows that every time Yun Jin obtains an elemental shard created through a Crystallize Reaction, all party members will gain bonus damage of up to 35% for the attack's element for 10 seconds.
As a suggestion, you can also combine it with Noblesse Oblige pieces, which will increase the power of its ultimate elemental ability and grant additional physical damage for a certain time after using it.
Artifact Stats
As for their stats, these will be focused on strengthening her offensive capabilities, with a priority on her CRITs, along with an increase on Energy Recharge to spam her skills, and better DEF for her skills potential.
Main stats:
ATK
HP
DEF%
Geo DMG Bonus%
CRIT DMG
CRIT Rate
Sub stats:
CRIT DMG
CRIT Rate
DEF%
Energy Recharge
HP% / Flat HP
ATK%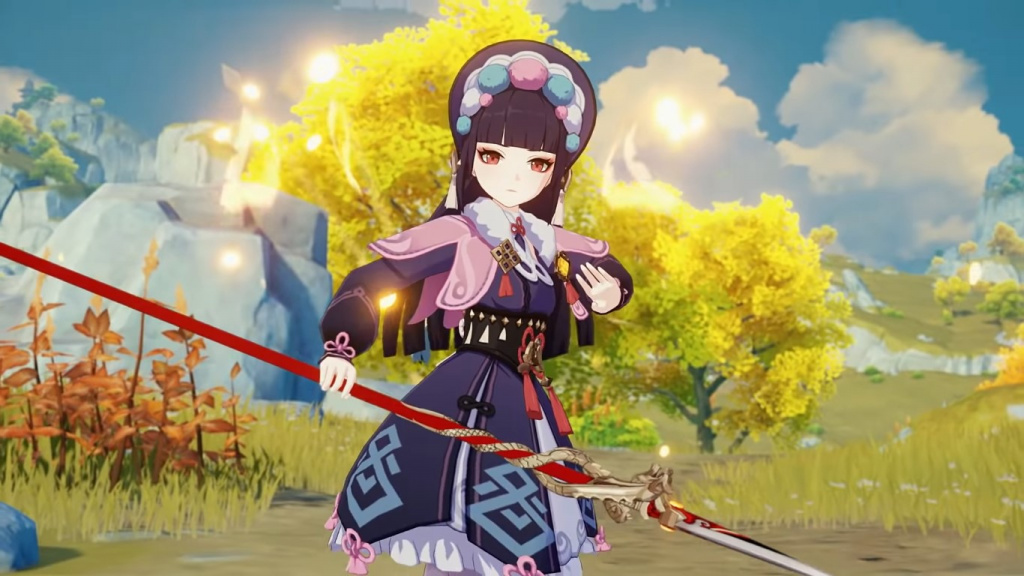 Recommended team composition and release date
Yun Jin is a versatile Geo character whose attacks are based on martial arts, so her skills will be focused on creating strong shields to deal with hordes of enemies around you, while her burst can increase quite significantly your party's attacks based on her DEF, meaning she will become a good support for most comps.
So to complement her playstyle, we recommend choosing from these characters for your team:
To begin, we suggest choosing a DPS character whose damage potential is mostly based on normal attacks. As most of the best options will come from polearm users, you should go for either Yoimiya, Zhongli, or Xiangling.
As the second element for your team, you may want to look for a healing character such as Bennett or Diona, as any of these two are fantastic for any team due to their skills and utility in combat.
Finally, your last option will be quite flexible, either you want to get another powerful DPS or sub-DPS character such as Kamisato Ayaka or Xingqiu, or add another Geo adventurer as Gorou.
And this is all we have to share with you about Yun Jin. Remember, she will be only available on 5-26th January, along with Shenhe in the "The Transcendent One Returns" banner, so try to save as many Primogems as possible.
Also, she will be available as a part of the free characters giveaway during the featured event of the Lantern Rite festival, "May Fortune Find You".
In the meantime, don't forget to check our dedicated Genshin Impact section, where you can find all the news, guides, and previews you desire, as well as our Genshin Impact Twitter account.
Featured image courtesy of miHoYo.