The MMO ARPG from Smilegate and Amazon Games, Lost Ark, has seen tremendous success with its launch in the West, hitting the 20 million player milestone quite easily. With the game's first big content update (since its Western release) unleashed on 10th March, featuring a new raid, bug fixes, story content, new island and more, there's a whole lot to love about Lost Ark right now, including a limited-time event called Arkesia Grand Prix.
During this event, players compete in teams of seven in a 7 vs 7 race around a course daily, transformed into a Naruni as they attempt to hinder the other team's progress, with the goal of eating cakes as they progress. 
In this guide, we outline how you can join the Lost Ark Arkesia Grand Prix event, the race times each day, the Naruni abilities and, of course, the shiny rewards players can acquire.
How to join Lost Ark Arkesia Grand Prix - Race times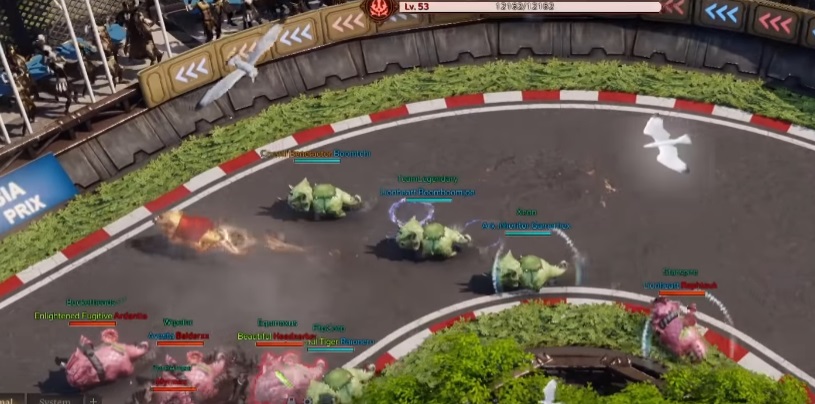 Following the March content update for Lost Ark, the Arkesia Grand Prix has arrived in all major cities in the game, except for Prideholme.
In terms of requirements, players must be level 50 to enter the Arkesia Grand Prix event. All you need to do to join in on the action is speak to an NPC named "Arkesia Grand Prix Manager" who is located in every major city. This NPC (look for the pink marker on the map) will grant the  "[Event][Daily] Go to the Arena!" and  "[Event][Daily] Go to the Arena!" and then "Off to the Races" daily quest.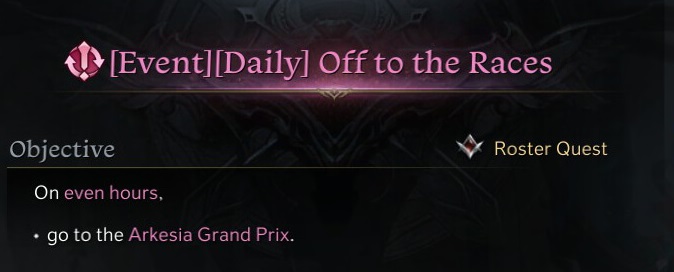 Keep in mind that this daily quest is roster bound, which means that even if you switch characters, you won't get to participate twice a day.
As for race times (server time) for the Lost Ark Arkesia Grand Prix event, it takes place every two hours (even hours) for example 14:00, then again at 16:00 and again at 18:00 throughout the day.
At those race times, an event teleporter for the Lost Ark Arkesia Grand Prix will open, and players will be teleported to a staging area before getting placed on the track.
Lost Ark Arkesia Grand Prix - All abilities & rewards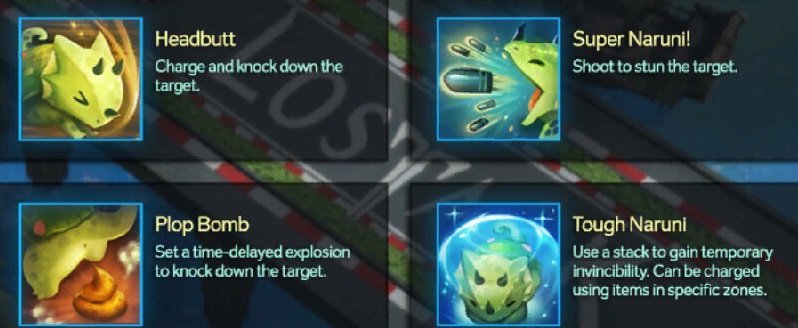 Once in the Lost Ark Arkesia Grand Prix, players will receive the following four abilities to hamper their fellow racers or protect themselves from attacks.
Check out the Lost Ark Arkesia Grand Prix abilities list below:
Headbutt - Charge and knock down the target.
Super Naruni! - Shoot to stun the target.
Plop Bomb - Set a time-delayed explosion to knock down the target.
Tough Naruni - Use a stack to gain temporary invisibility. Can be charged using items in specific zones.
Why would you want to take a break from the new raid and story to play this minigame? Well, except for the fun factor, there are also some rewards. Players will win coins from races to spend at the event shop (speak to the Arkesia Grand Prix Manager to access it) on various rewards.
Arkesia Grand Prix rewards list:
Engraving Recipe Chests.
Honing Materials.
An exclusive Naruni Hat
Other rewards.
Check out the gameplay video featuring this new Lost Ark event from YouTube channel Gamer Hex below.
So there you have it, everything you need to know about the Lost Ark Arkesia Grand Prix event. Remember, this is a limited-time event, which will end once the next update drops in April 2022. We expect the April 2022 update to drop somewhere between the 9th and 15th.
Featured image courtesy of Amazon Games.