Lost Ark's sailing mechanic allows players to easily travel between various locations within Arkesia. This makes exploration more immersive as it opens the world to discover quests, events and other endgame activities to finish and earn rewards.
The Brahms ship is a reward that you can earn by following a series of Una's Tasks when visiting Lopang Island. This guide explains where to find this island, how to unlock and complete the island's Una's Tasks to unlock this stunning ship.
How to get the Brahms ship in Lost Ark?
Players wanting to acquire this particular ship will need to complete the Lopang Inc. Una's Tasks, for which you'll receive the Brahms as a reward. Travel to Lopang Island, located south-east of the North Vern continent, where you must complete a set of Reputation Status quests found within the Una's Tasks panel.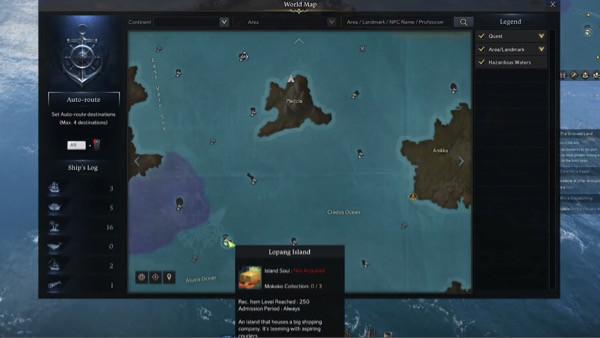 When arriving on Lopang Island, first complete an island quest to unlock the adjacent dailies Una's Tasks for the island. You can do this by answering some questions with the assistance of an NPC, Field Director Lassena, which are as follows:
Question: On which continent are the Windbringer Hills located? Answer: Arthetine
Question: Peyto borders on which sea? Answer: Sea of Gienah
Question: As a Lopang employee, who are you never allowed to fight? Answer: Customers
How to complete the Lopang Island Una's Tasks in Lost Ark?
Once you have answered the questions correctly, you can accept the Lopang Island Una's Tasks under the Reputation Status tab. These quests tasks you sailing to various locations to deliver shipping parts and equipment, which is relatively straightforward to complete.
Each Una's Tasks quest for Lopang Island will take some time as you need to earn reputation to unlock rewards within each tier. For example, the Brahms ship is a Tier 4 reward, requiring 100 Reputation Points, so you need to complete ten daily Lopang Island Una's Tasks to earn enough reputation.
You'll get 10 Reputation Points for each Una's Tasks done, which you can replay one quest multiple times to rack up Reputation Points and earn the Lopang Island Token. You can only do three Una's Tasks per character daily; however, this can be done faster using alternate characters or Una's Task tokens.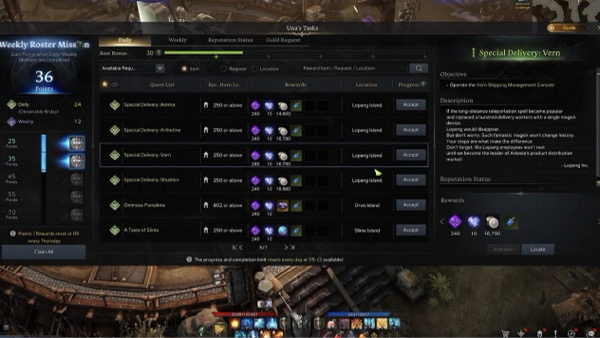 How to unlock the Brahms ship reward in Lost Ark?
Once you have gained 100 Reputation Points, navigate to Una's Tasks and under Reputation Status, you can claim your rewards, including the Melody of the Sea: Brahms quest item. Locate the item within your Inventory and read the letter to obtain the ship as a reward.
Players who own the ship before beginning Una's Tasks for Lopang Island will receive Pirate Coins instead as a reward. In addition, there are additional rewards to earn where you can receive Silver and Roster XP for every Lopang Island Una's Tasks.
The Brahms ship is worth adding to your collection as it looks elegant and has fairly average performance stats. Moreover, this ship is an essential acquisition due to its high Resistance stats, specifically against Siren Seas and Dead Waters, which can benefit you when grinding out the endgame content.
We like to thank the YouTube channel Legacy Gaming for the complete tutorial on how to get the Brahms ship and completing the Lopang Island Una's Tasks in Lost Ark.
Featured image courtesy of Smilegate / Amazon Games.