Lost Ark's Opportunity Island (otherwise referred to as Opportunity Isle in-game) is one of many Adventure Islands players can seek out to complete its quests and challenges to earn lucrative rewards. While islands feature the presence of an Island Boss to defeat before obtaining the rewards, Opportunity Island has a more relaxing cooperative quest that requires nothing but a boat and fishing rod.
One of the essential rewards you can earn from this co-op quest is the elusive island Token, an RNG drop. This guide explains where to find Opportunity Island, how to complete the co-op quest and get rewards in Lost Ark.
Where to find Opportunity Island in Lost Ark?
Opportunity Island is located northwest of Arthetine, between Tooki and Fugitive (or Runaways) Islands. Similarly, it's also an Adventure island, meaning it doesn't regularly spawn as it follows a sporadic schedule.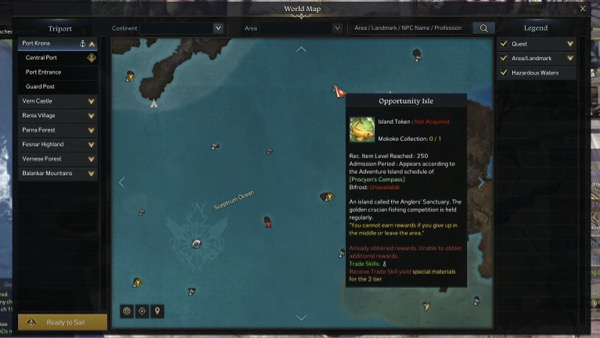 To check the availability of Opportunity Island and other Adventure Islands, navigate to Procyon's Compass below the game's mini-map and select the Adventure Islands category. From here, you can find all the times Opportunity Island is likely to spawn and set in-game notifications which alert you before the island spawns.
All Opportunity Island quests in Lost Ark
Once Opportunity Island has spawned, you can directly sail to the island to complete the co-op quest available. However, it's worth mentioning that before you start the island co-op quest, you need to meet a few requirements, including having an Item Level of 250 and reaching Level 50 and higher.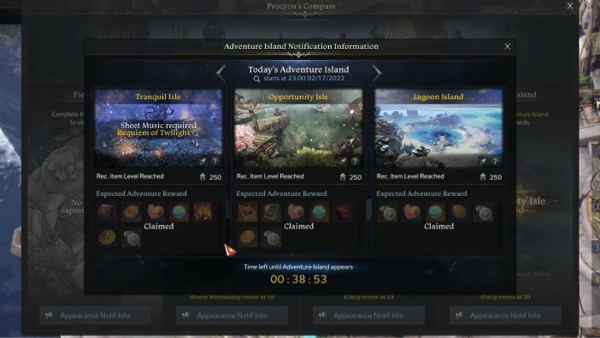 Once arriving on the island, speak to the first NPC marked with an exclamation point on your mini-map to gain the co-op questline, "To the World of Fishing". You will get a fishing membership created for you, which is needed to complete the co-op quest before hopping into a boat to the following location.
You'll then proceed to speak with another NPC, a caretaker, which will trigger the start of the co-op quest. The main objective of this quest is to catch as many Golden Crucian Carp at various locations marked on the mini-map.
This does require a total of 250 fish caught amongst all players participating for the quest to conclude. With the fish tallied, the results are placed on a leaderboard that ranks players based on the fish caught.
There are two more quests in this fishing questline to be completed and more rewards to collect. You can pick up "Adding Fun to Fishing" and "Reason for the Existence of this Fishing Spot" from the first fisherman NPC to continue your adventures on Opportunity Island.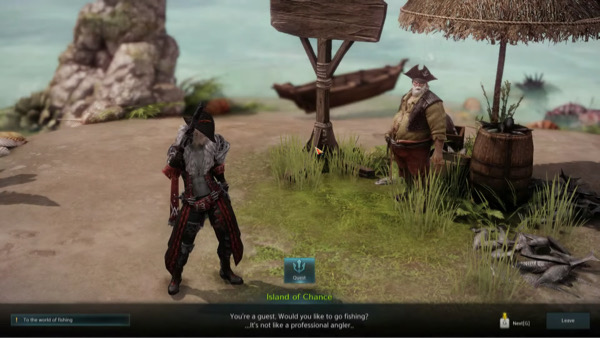 All Opportunity Island quest rewards in Lost Ark
Players will receive 600 Silver and the Angler's Pouch for participating and completing the co-op quest. As this quest is an RNG drop for the Island Token, you may need to return to the island to complete the co-op quest to receive an Angler's Pouch with an Island Token inside.
You can receive additional rewards based on your performance in the co-op quest. For example, if you're placed in the top four, they'll receive varying amounts of Silver determined by the amount of fish you had caught.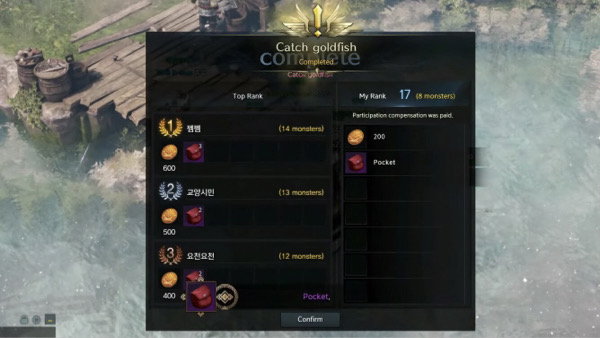 1st Place: 2,000 Silver
2nd Place: 1,800 Silver
3rd Place: 1,500 Silver
4th Place: 1,200 Silver
Furthermore, completing the fishing questline you've received from the first NPC will see you earn numerous rewards. There are two additional quests for this questline which reward you the following:
Adding Fun to Fishing:
x 2 Rare Engraving Recipe Selection Chest (Class-Exclusive)
x10,000 Silver
Reason for the Existence of this Fishing Spot:
+1 Courage
Rare Battle Engraving Recipe Selection Pouch x4
x15,000 Silver
There are Mokoko Seeds you can find on this island before you've completed all its Adventure activities before you set sail to the next island. In addition, you can exchange the Island Token for exclusive rewards when visiting Opher at The Lonely Island.
We like to thank the YouTube channel RaZzi for the complete tutorial on locating Opportunity Island, completing the co-op quest and fishing questlines and for rewards earned in Lost Ark.
Featured image courtesy of Smilegate / Amazon Games.