When we look at NFL players, we observe
la créme de la créme
of athletes all around the world, especially considering that only 1.6 per cent of the college players make it to the league.
Now as we already looked through some of the developer's favourite players there is also a group that often goes unnoticed despite performing week in and week out on the football field.
So, without further ado, let's take a deep dive into the list of players whose ratings were snubbed on the latest edition of the Madden franchise.
Top 5 Madden 22 snubbed players
Every team has their franchise player identified, as they are the ones that had shown both qualities on the field as well as intangibles that make them unique and irreplaceable.
Unfortunately, for those players, the way their own teams view them is not necessarily the popular opinion or at least EA Sport's opinion as they don't see their ratings benefited accordingly to their performance:
5. QB Joe Burrow - Cincinnati Bengals - 77 OVR
We start off this list by giving credit to someone we believe is going to be one of the quarterbacks of the future in the NFL.
Unluckily, Burrow saw his play being affected by injuries as his offensive line was atrocious and that led to him being pressured and knocked down every other snap.
Despite only playing 10 games he put up very respectable numbers as if we were to project them to a full season they would be very similar to Justin Herbert's output, which. coming at an 80 overall rating would be a fair synodal for a more fair rating for Burrow.
4. WR Justin Jefferson - Minnesota Vikings - 87 OVR
Another rookie makes the list but this time he played the full season in a formidable fashion, which should have granted him an even better rating for Madden 22.
The Minnesota Vikings' pass catcher had more yards than Devante Adams (Madden 99 Club Member), a better yard per reception and more touchdowns than DeAndre Hopkins (98 Overall) rounding up an amazing rookie season.
Despite the effort, the LSU alumni didn't even crack the nineties which seems like a punishment for being one of the youngsters of the league.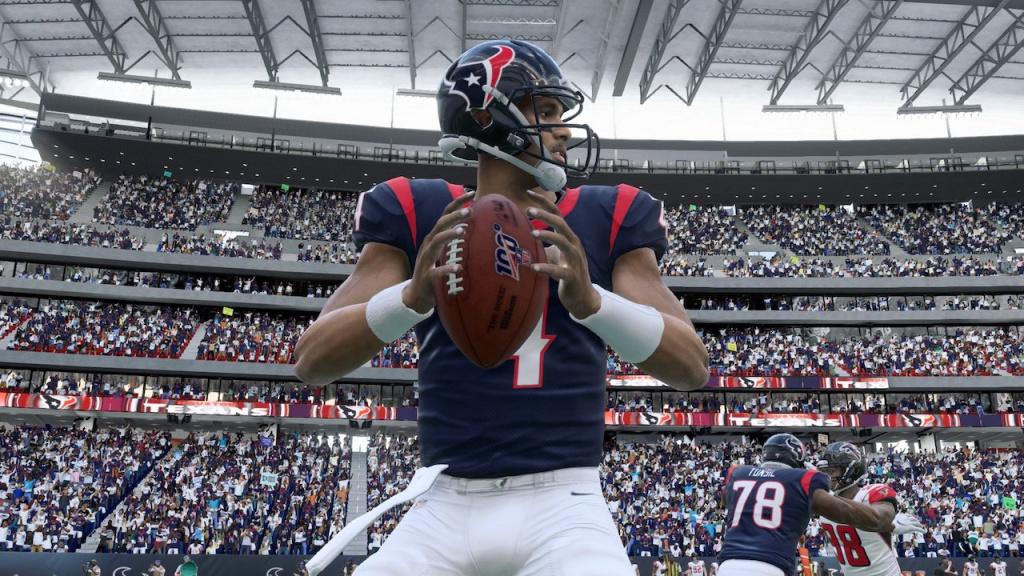 3. LOLB - Indianapolis Colts - 89 OVR
Spoiler alert, I may be a tad biased on this entry as I'm writing about one of my favourite players in the league, fortunately, the stats back me up.
The Maniac has become a living highlight reel as he has been a splash play machine since he was drafted in 2018.
He has the best tackle per game rate since he entered the league, more sacks (15), more forced fumbles (9) and more interceptions (7) than any other off-ball linebacker in the NFL in that span, but apparently being on a small market region takes a toll on a player's rating.
2. QB Deshaun Watson - Houston Texans - 90 OVR
This is what we believe is another case of a player's performance being overshadowed by off the field matters, in this case, is having the most popular team in the US as state-neighbours.
Watson became a one-man show last season as the Texans traded WR DeAndre Hopkins to Arizona and the way he responded on the field was marvellous.
He accounted for 82.8% of the team total yards on the season. To put that into context the closest persecutor was a Bills' Josh Allen at 75.7%. That type of dominance was not enough for him to crack the top five at the position which is ridiculous to us.
1.CB Xavien Howard - Miami Dolphins - 91 OVR
This is going to be a quick entry as Howard was one of our candidates for the Madden 99 Club, so here you have what we wrote back in early July:
"Great name for a great player. Xavien flourished to his potential to became the cornerstone of the Dolphins defence.
He allowed a ridiculous 0.68 yards of separation per target, meaning he stayed within a yard of his receiver on every snap.
Combine that with league best's on different categories such as passer rating allowed (51.4), passes defended (20) and interceptions (10) and you get a 99 lockdown machine."
If that is not enough of a show to be considered a top-five cornerback in the league, which he was not, we don't know what is.
Hopefully, as the season rolls, these players will continue to dazzle the league and their Madden rating will receive the proper adjustments.
Make sure to give a look at our dedicated section as we will bring you everything you need to know about every Madden release, news, MUT tips and more.