Professional
Rocket League
player Austin "AlphaKep" Kepner has been under scrutiny for  the past 24 hours after tweeting out a controversial prank.
Less than a week removed from Pride Month, the 23-year-old baited his almost 20 thousand followers in a now-deleted tweet that led to an also deleted TwitLonger. "I'm coming out…", the original post read.
The TwitLonger contained a "punchline" to the supposed "joke": "The child came out of my *ss from the other day. Just wanted to say it was a success! Thank you everyone! May god be with you", he concluded.
He is referencing his tweet from a day prior that read: "I'll be the first Male to have a child out my *ss. Mark my words."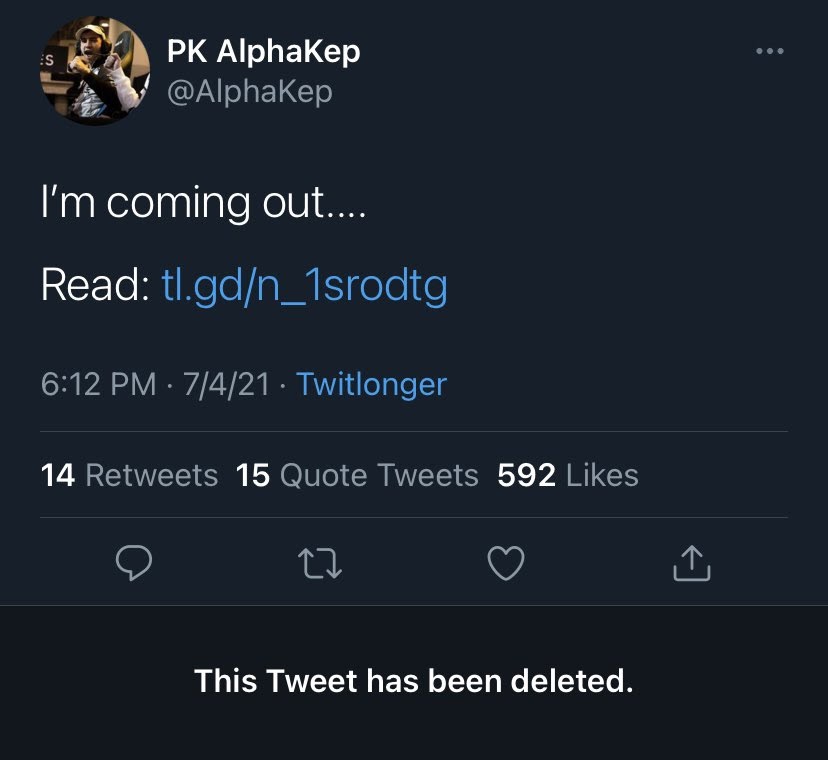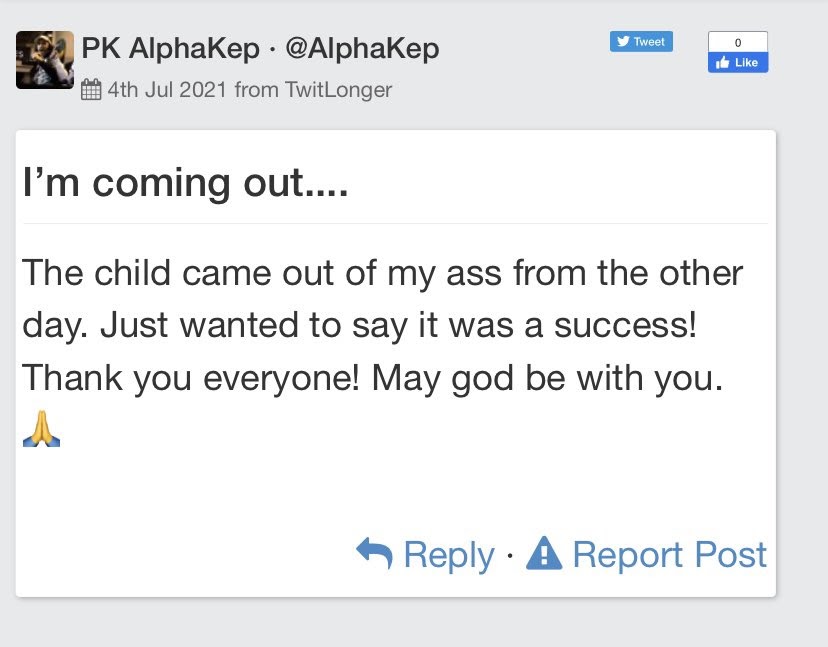 Whilst the tweet from 3rd July is harmless by itself, the community caught notice of Alpha's attempt to joke about coming out announcements as content creator Vix pointed out in a thread of their own.
"When you make a post baiting a serious and difficult topic (coming out) and use it as a springboard for a joke, you attract a certain group" the 18-year-old explained. "The kind of people who agree that it is socially acceptable to take the p*ss out of queer issues and likely have more intense and bigoted views."
"It's also not great for impressionable 12-year-olds to think it's okay to make fun of people coming out either", she concluded.
Alpha tweeted an apology within the hour that stated his "intent was never to offend anyone" and that he has "nothing against anyone nor ever will for their beliefs and such."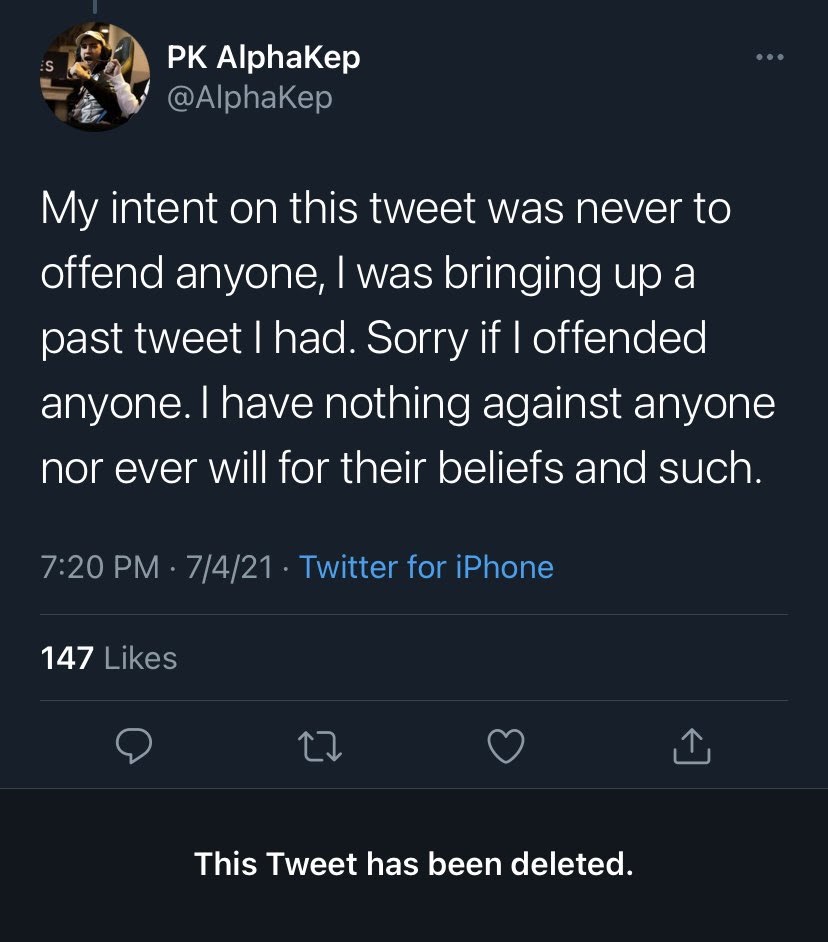 It goes beyond saying that both the original tweet and apology fell flat with the LGBTQI+ community, several of Alpha's followers and most witnesses. "One of the sh*ttiest attempts at an apology", said a user in one of the many disgruntled reactions to the situation.
A screenshot of an alleged response from FaZe Clan's Rocket League member, Austin "AYYJAYY" Aebi, telling AlphaKep off is circling the social media platform. "F*ck you!", the supposedly deleted reply from AYYJAYY read.
Other important car soccer personalities chimed in as former teammate and friend Cole "Astroh" Bowen defended Kep and Pulse Clan's own "Pethy" reacted on Twitter.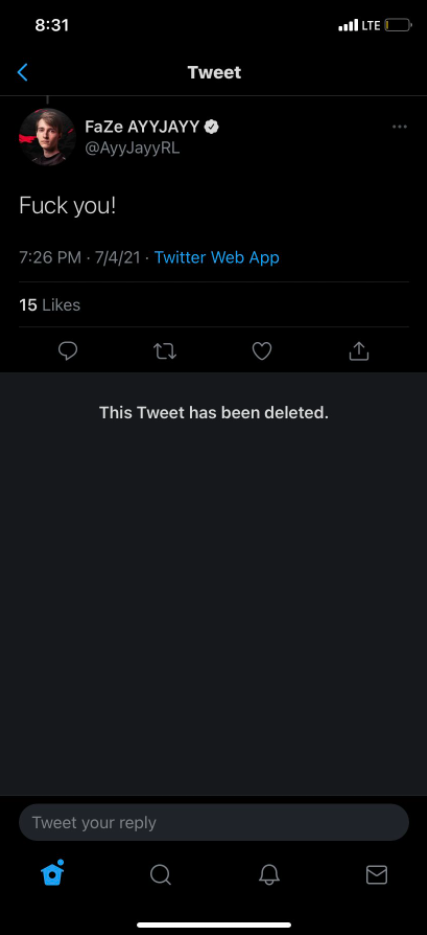 "If anyone is offended by this tweet they are a massive p*ssy", said Pethy about Alpha's deleted apology less than a month after fellow Pulse Clan member Gabriel "OSM" Sindri Benediktsson came out.
The Rocket League community has debated vastly on the topic as of late with the RLCS X Grand Finals forced into emote-only chat after a homophobic copypasta started to quickly spread sparked by the Pride Month cosmetics massive pushback; both instances during June alone.
Pittsburgh Knights, the North American organisation that recently signed AlphaKep, hasn't spoken on the matter at the time of writing. AlphaKep has been reached out for comment shortly after publication.
We'll keep you updated as the situation develops over at @33Boost on Twitter and through our dedicated Rocket League section.