Rocket League is going further with Ford's collaboration introducing their real-life model F-150 into the pitch. 
The announcement was made on 10th February ahead of the three remaining RLCS Season X Winter Majors which will now be sponsored by Ford.
In Rocket League-fashion, the trailer does not disappoint in a classic Super Bowl commercial-esque ad with the tough, manly-voiced narrator Ford knows and loves.
You can find the F-150 RLE (Rocket League Edition), along with many other Ford goodies, on the item shop from 20th to 28th February.
The full bundle will be priced at 1500 in-game credits or around US$12.
The full list of items from the Ford x Rocket League bundle is found below:
Ford F-150 RLE Chairman Decal
Ford F-150 RLE Body
Ford F-150 RLE SE Wheels
Ford F-150 RLE Engine Audio
Ford F-150 RLE Boost
Ford F-150 Player Banner
*Note: The items included in the bundle can only be equipped by the Ford F-150 RLE, and the Ford F-150 RLE cannot be customized with items from other licensed IP.
The sponsorship also opened up a once-in-a-lifetime opportunity, creating the Ford + Rocket League Freestyle Invitational event -- a competition featuring some of the best freestylers in the world.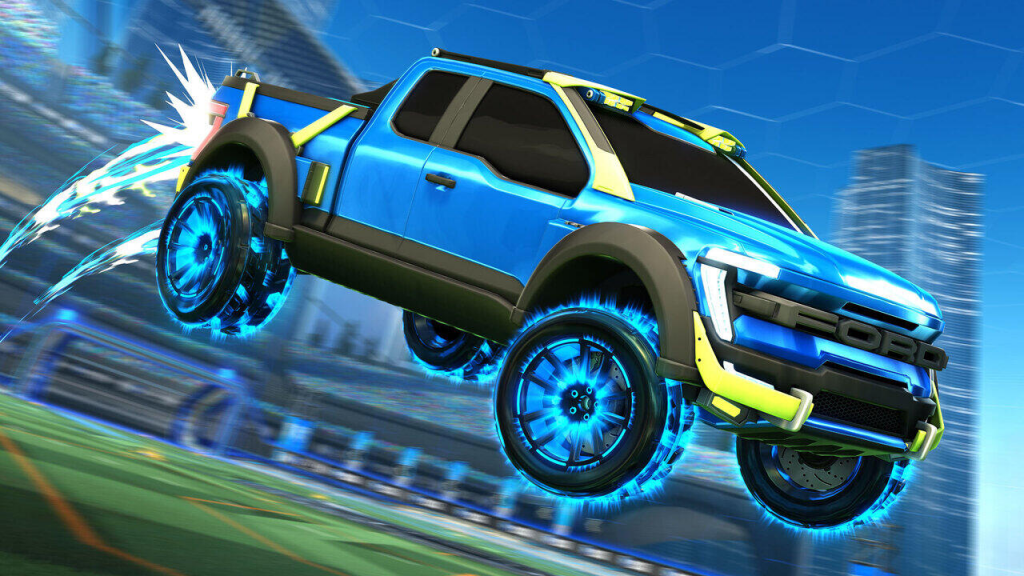 (Image: Psyonix)
The Ford + Rocket League Freestyle Invitational event will be streaming live on Rocket League's official Twitch channel and will be held across two days, 24th and 28th February and will include eight freestylers competing for a 2021 Ford F-150 truck -- y'know, like, the real thing. 
While judges and participants are yet to be announced, this event will lead up to the grand finale of the RLCS X Winter Split and Winter NA Major making it one of the most entertaining finishes of a split, so far.
This will be the second sponsored event Rocket League has hosted in the last two months with the most recent being the work done alongside the National Football League (NFL) for the Gridiron Games, hosted and played by Rocket League personalities, content creators and professional athletes.
With the NFL's addition of a Fan Pack and game mode and the Ford fiesta that's about to unfold in the next couple of weeks, Rocket League isn't stopping anytime soon showing they are not afraid -- not one bit, to work and bring their player base fresh-new content collaborating only with the top dogs.