Rocket League is at an all-time-high of players, recording a million users a day at the very least.
This has been, in great part, thanks to the help of Epic Games who bought the sports racing hybrid in 2019 and, as the first order of business, made the game free-to-play for everybody.
More players online, ultimately means the competitive landscape is also fiercer than ever with the sky-ceiling being pushed by the day -- if you compare the first RLCS to today's ranks, it looks like Diamond players going at it for big prize pools.
Of course, time is the major factor when it comes to getting better at a never-before-seen game like car soccer, so without further ado, here's how to climb through the ranks fast in Rocket League competitive 2v2 or 3v3.
1. Set a schedule to play -- start and end time or conditions
This is important for two reasons. One, you will be consistent with the grind, because one thing is for certain on the pitch is that the controller and the Octane forget who is wielding it if you walk away even if it's for a week.
(Picture: Psyonix)
It isn't just "like riding a bike", therefore setting up a starting time will be crucial to staying atop of your game and pushing beyond it. The underrated "call off" time is also key to knowing when to stop, not because you are not performing well, but because you are not taking each game as a learning experience.
2. Focus on the game at hand, not the win or loss streak
We can't deny it -- Rocket League is as much a mechanical game as it is mental. The weight of having to win "the next one" because you are white-hot and want to continue a winning streak or you are on a slump, trying to break the losing streak is not the mentality to approach a game whatsoever -- ever.
If you can't hear the first 3, 2, 1 countdown at the beginning of the game focusing on the kickoff instead of how good or bad the last game was, it might be time to exit Rocket League at least for an hour.
When you come back, you would've quit while you're ahead which is always great or stopped an even greater losing streak and can continue to learn from each challenge, read and game.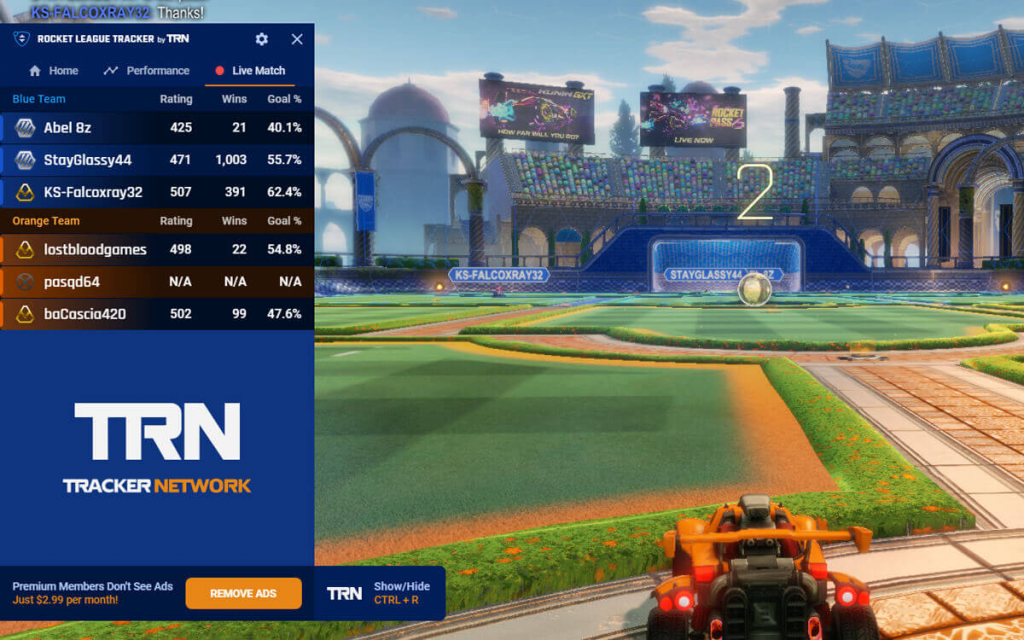 (Picture: Psyonix/TRN)
3. Find a reliable teammate
This one sounds like the meme where your solo-queuing teammate turns to complete dog poop after partying up, but you'll never know until you try. Whenever I run into a formidable partner, I party up and immediately warn of my exit "after one or two L's."
Nobody ever reacts in a wrong way and it takes off the pressure of both as long as we are cordial all the way through our party queued matches. If you befriend a reliable teammate, even better. Follow steps one and two with them so you queue with a purpose, not only to rank up.
4. Change playlists to avoid burnout
If you are grinding only one playlist, this step might be difficult for you, especially if you are transitioning from 2v2 to 3v3 where there is one more rotation to account for.
Even NRG's substitute and content creator Wyatt AKA "Musty" struggled with the shifting of team members, ultimately overcoming it and joining one of the most overpowered squads in professional Rocket League.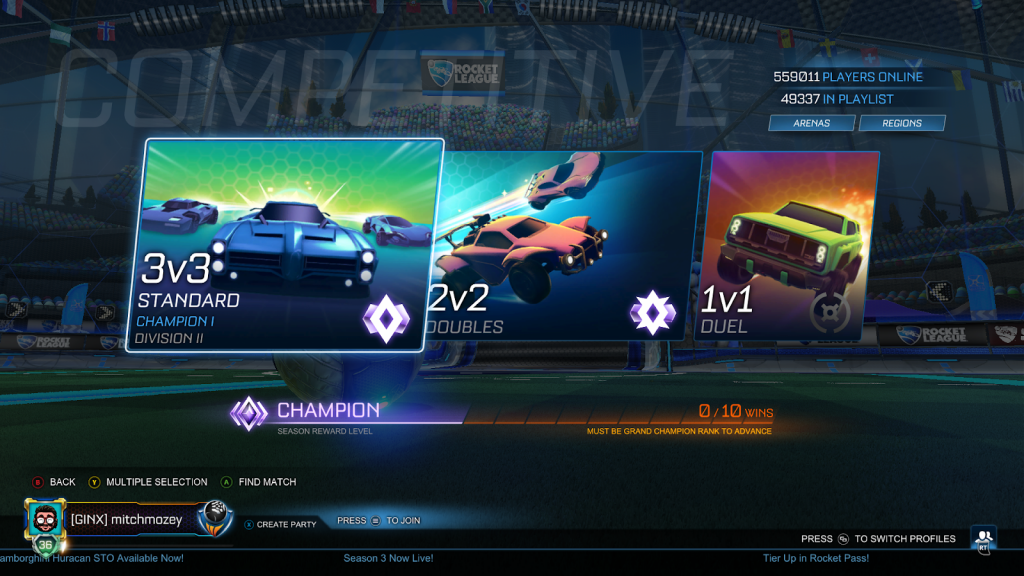 (Picture: Psyonix)
Changing back and forth in playlists is also good if you feel like you are entering a slump, like in step two. "Cancelling" the slump by changing the format you are ranking on will flip the switch and make you focus on the task at hand better instead of just trying to top the last game's performance.
5. Analyze your replays -- win or lose
Apparently, this tip doesn't go around as often as one would think, with rocketeers who hear it for the first time leaving baffled like we found the silver lining.
Save (and actually watch) as many of your games as possible -- win or lose. Here's a cliché for you but there's always room for improvement. Even if you Brazil'd the opponent with ease and you started trolling in the final minute, there are challenges you shouldn't have made, aerials that didn't go as planned and rotations that were missed but ultimately worked.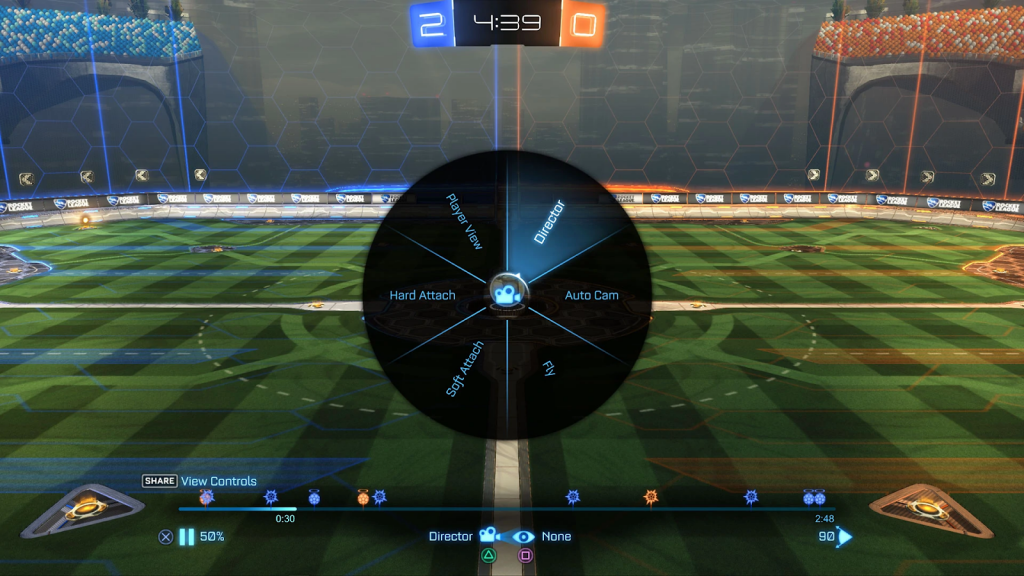 (Picture: Psyonix)
And FYI: just because a mistake worked, it doesn't mean it should be repeated. Get in the booth, review your gameplay from your teammate's perspective, that way it'll be easy to judge your mistakes rather than watching through your POV and justifying why you double-committed. Big brain coaching.
6. Play different game modes
This one may come as a surprise to many but Rocket League isn't only Soccar. It's also Hoops which is basketball, Rumble which is Soccar on cocaine and Dropshot which is Rocket League but different.
Of course, there are players who main these playlists but as someone who doesn't, these game modes just represent a chance to goof off with friends and try different things.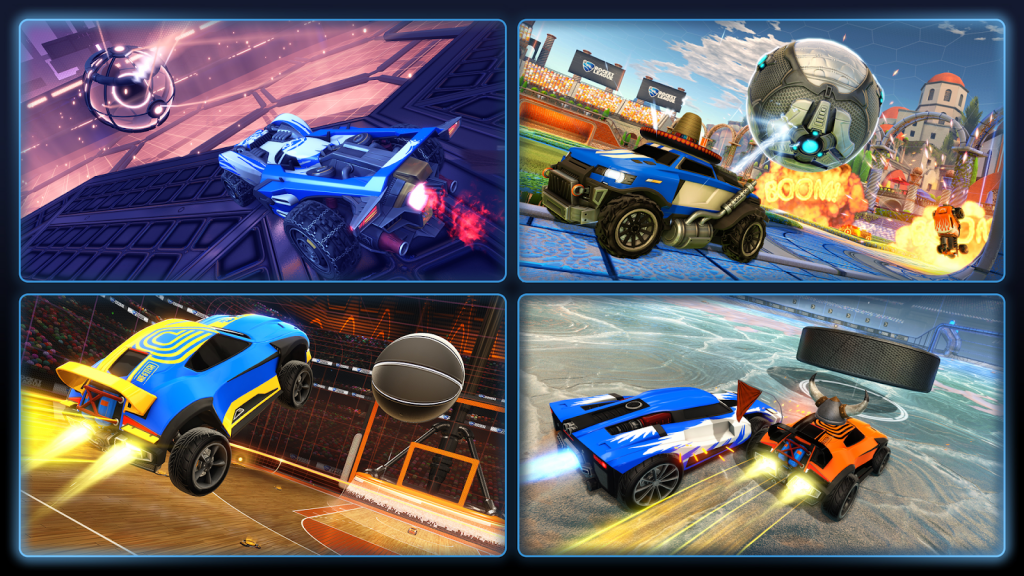 (Picture: Psyonix)
It really changes your perspective of how Rocket League can be played when you jump off weird walls, read 200 KPH redirects and need to score downwards instead of forwards into a hoop. 
Besides, it's fun! Might as well change it up when you feel that good ol' slump again. The long-term effects on your field vision and game sense will be extraordinary when you look back on how you used to feel the pitch.
7. Watch professional gameplay
Last but not least (and definitely my favourite) is watching professional Rocket League. Although the format is strictly 3v3 with a few show match exceptions for 1v1 and 2v2, the speed of gameplay is surreal.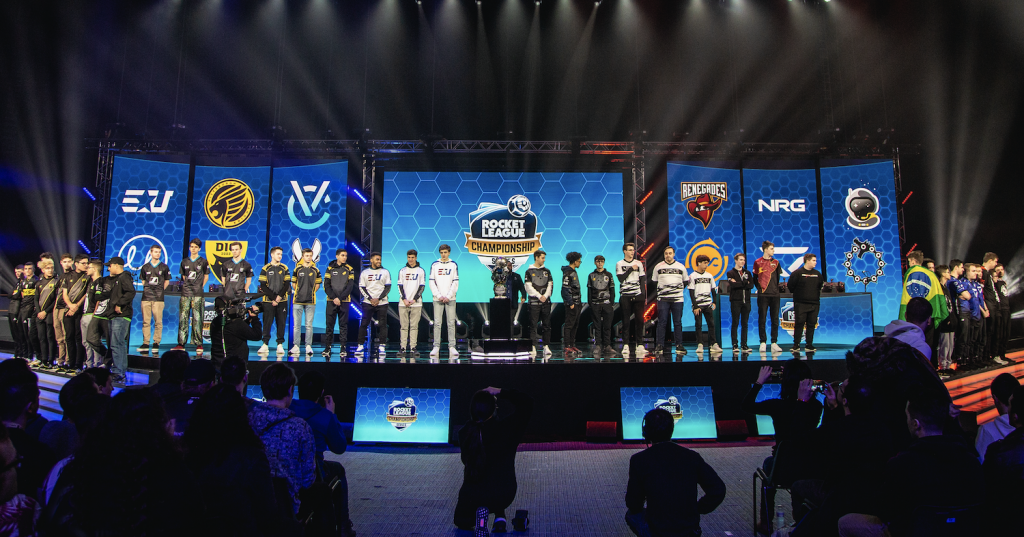 (Picture: Psyonix)
When you witness Rocket League at its highest competitive level, if you don't already, you'll realize that A, you aren't as good as you think you are and, B, those players did it with the same Rocket League you own, grind and are getting better at.
The sky's the limit, my friend, and if you are in the tiniest bit as dreamy as me, I always like to think I'm facing off against an eventual pro, because at one point even the four-time RLCS World Champion Pierre "Turbopolsa" Silfver was playing at Plat-level,
For more Rocket League content, make sure to follow our GINX TV portal @fastkickoff on Twitter where we are giving away a Lamborghini Bundle on 26th April 2021!