RLCS Season 9 is drawing to a close, we have declared the winners - yes, winners - because we have no World Championship to look forward to due to a little thing called coronavirus so we know only the best team in each region and not the world.
So that means the only thing left to settle is who will be in RLCS Season 10, and that means the Promotion Playoffs. 
The 8th and 9th placed teams form RLCS North America and Europe League Play will compete against the 2nd and 3rd placed teams from the second-tier Rival Series. 
It's a big deal for all eight teams involved. Players from RLCS teams might never make another appearance in the top-tier, and for those pushing for promotion, this could be the beginnings of a lucrative career in esports and a chance to regularly compete against the very best in the game.
It all happens this weekend - dreams will be made, journeys will end - it's the RLCS Season 9 Promotion Playoffs and here is everything you need to know.
RLCS Season 9 Promotion Playoffs - Predictions
North America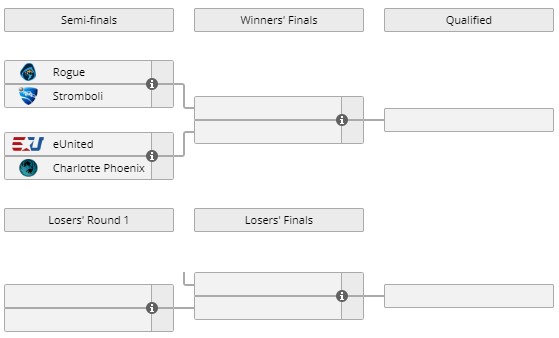 (Credit: Liquipedia)
The promotion playoffs weekend kicks with North America - with Rogue and eUnited fighting for their RLCS lives, while Charlotte Pheonix and Stromboli are the Rival Series sides looking to earn their spot in the top tier.
Rogue enter the tournament as favourites, they are in good form, recently topping the 8th Qualifier for the ASTRO tournament, and also getting to the final of the Spring Skirmish before being defeated by North America's No.2 team - Spacestation Gaming.
They look an altogether better side than the one that started RLCS Season 9, Wonder has found form and as a team, they just look solid in defence and attack. They should take the upper bracket qualification spot, first defeating Stromboli, and then eUnited.
Stromboli looked good in the Rival Series but this is a different ball-game, Stromboli boast an infamous "4-man roster" but the chopping and changing of their roster has only proven to make their results inconsistent - they will struggle to pick up the wins this weekend.
Charlotte Phoenix has been banging on the door of the RLCS for two seasons but they have a huge mental block when it comes to taking that next step. They missed out on direct qualification in the last week of the regular season and the weight of the "nearly men" tag might be too much to bear.
eUnited are a good side, who played poorly in the regular season. eUnited have always looked a close-knit squad and any suggestions that wantaway player Colby "hockser" James might not be giving it his all are misguided. This will be a game of nerve and in that sense, eUnited have the upper hand against Charlotte Pheonix.
The losers final will likely be a repeat of this match - with Charlotte Phoenix up against eUnited.  eUnited will know what they have to do and they are likely to do it, with Charlotte Phoenix have yet another bite of a cherry that looks set to allude them.
Qualified: Rogue, eUnited.
Europe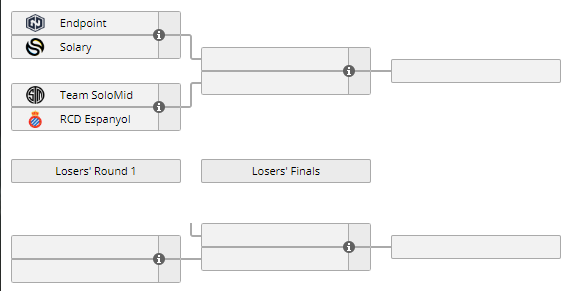 (Credit: Liquipedia)
Sunday's European action looks much more wide-open. Endpoint and Team SoloMid are our two RLCS teams, while RCD Espanyol and the newly-minted Solary are looking to take their place.
Let's start with TSM. Coming in 9th in the regular season, they won just two games - against the winless AS Monaco and a dead-rubber tie against FC Barcelona on the last weekend. You fear some players on this roster might never play another RLCS match, no matter the way these games go - with Remco "Remkoe" den Boer heavily hinting at retirement.
And make no mistake, these players are stalwarts of the RLCS and Remkoe is a former World Champion but changes to the roster need to be made. They will struggle in their opening game against Espanyol a team led by Samuel "Zamué" Cortés, who have impressed - not just in the Rival Series - but in Johnnyboi's European Invitational where they defeated RLCS sides Veloce Esports, Team Reciprocity and Endpoint to come in 3rd.
The other RLCS side - Endpoint - have a little more to cling on to when making a case for surviving. They finished 4th in The European Invitational and that sort of confidence boost is what they need after entering this Playoff with just two wins. There match against Solary will be a close one - the French side lost just two games during the Rival Series, and they were to the top 2 sides, and Kérian "Kérian" Candolfi they have a player for the big moment.
It will be a close match, but Endpoint has got more to show the RLCS and they should have enough to get by this Solary side - at least first time around.
Espanyol will face Endpoint in the winner's final with little to fear. They defeated them in the European Invitational and that experience will stand them in good stead. They will earn that promotion and it will be deserved.
That sets up another Endpoint and Solary match in the loser's final, it has the potential to be one of the highlight matches of the weekend - and this is one, this particular writer simply will not call.
Qualified: RCD Espanyol, Solary.
Schedule
RLCS Season 9 Promotion Playoffs NA: Saturday 11th April 12 pm PDT (7 pm UTC)
RLCS Season 9 Promotion Playoffs EU: Sunday 12th April 9 am PDT (4 pm UTC)
Format
Double Elimination
Teams placed 2nd and 3rd from the RLRS are matched with the 8th and 9th placed teams from the RLCS

Top two teams will qualify for RLCS Season 10
Bottom two teams will qualify for RLCS Season 10: RLRS
RLCS Season 9 Promotion Playoffs - How-To Watch
The Promotion Playoff tournaments will be streamed live on Twitch and YouTube.
The Twitch stream is embedded below for your convenience.