RLCS X is on the brink of its climax with the start of its third and final section, the Spring Split. 
And this Winter to Spring Split break in particular was overwhelmed with roster changes, to say the least. Orgs disbanded, orgs signed, players joined and players left -- especially in the old continent.
With over half of the revamped RLCS X points and prize pool off the table, this last split is surely make-or-break time for most teams.
Getting a Top 6 finish to qualify for the World Championship is the end goal, and with that in mind, here is everything you need to know before the start of the first European Spring Regional.
1. Top Blokes last pre-sponsored performance
The independent team formed of Jack "FlamE" Pearton, Andy "Kassio" Landais and Archie "archie" Pickthall is not talked about enough.
The number three team in Europe has become a hot topic around the region -- being in the spotlight since the start of the revamped RLCS X, Top Blokes have proven what we should've known all along: they are an S-tier team.
With 1861 RLCS points, currently qualified to the RLCS X World Championship and having approximate total earnings of ,856 since its late 2020 inception, the competitive Rocket League fan base always wondered and pondered about the time Top Blokes would be signed by an organisation to represent them.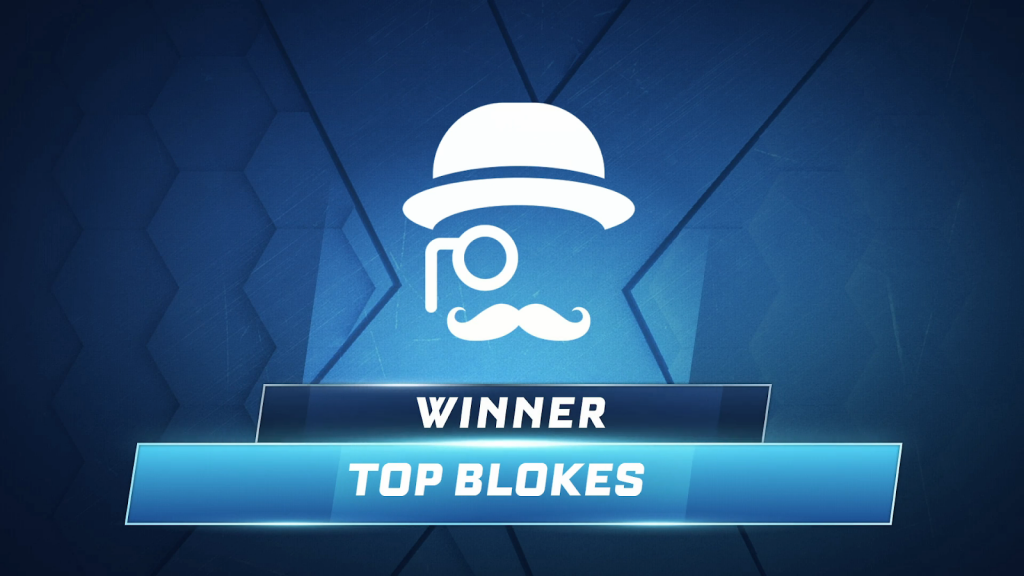 (Image: Psyonix)
Well, apparently the time will be never, at least according to the most recent report by Rocket League Esports' insider informer, ShiftRLE.
The report states that Top Blokes is set to announce their "future plans with a group of investors this week" instead of joining an organisation and abandoning their trademark name.
With the Spring Regional #1 starting Thursday 11th Match at 4 p.m. UTC, the announcement will most likely come after their run comes to an end, but one wonders if their high or low placement alters any investor plans.
Seems fishy not to announce such big news before any possible tormenting finishes.
Regardless, Top Blokes needs to hold on during the Spring Split to secure their Worlds spot and to enter the LAN event with the highest seeding possible -- without a format announced, high seeding never hurt nobody.
2. Is Bluey Galaxy Racer's answer?
Galaxy Racer has been plotting its European takeover since the end of the Winter Split and started taking action during the split break.
Releasing Dylan "eekso" Pickering and officially signing Dan "Bluey" Bluett, Galaxy Racer wants it all in the Spring Split. 
Holding 7th place in the region only 10 RLCS points out of World Championship qualification behind Guild Esports, the United Arab Emirates team is looking to lock down a LAN spot in the next few tournaments.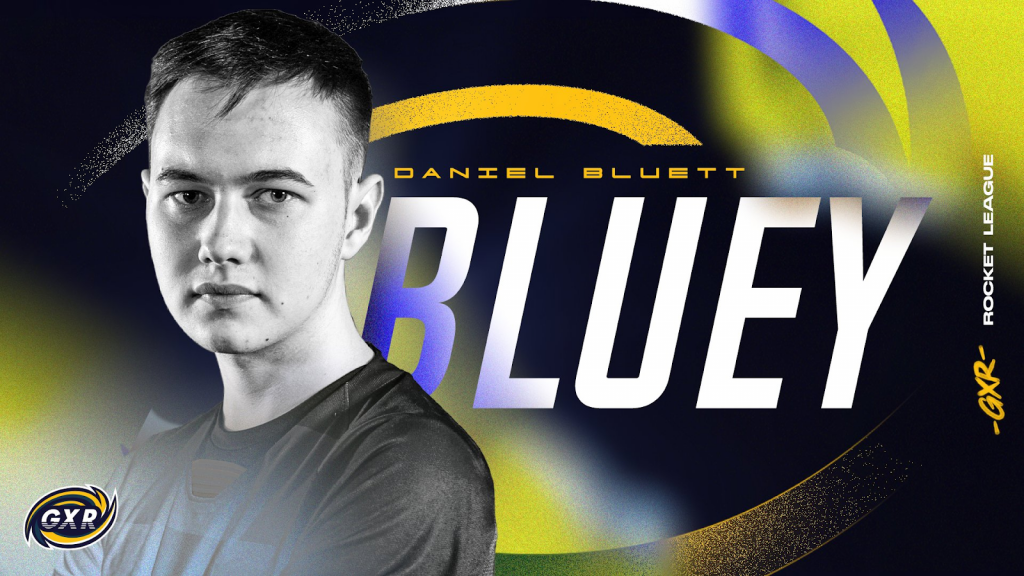 (Image: Galaxy Racer)
The question isn't if it's possible, but if Bluey was the right call. With excelling finishes in his long-lived professional Rocket League career and a list of big team names during his tenure, Bluey sure has the resumé.
But in the esports scene, we know that dream teams sometimes sound better on paper. We just hope Galaxy Racer does not pull itself out of the World Championship race because of ambition rather than consistency.
Especially with eekso not being the reason for their coming-short of the World Championship qualification as he, along with his new team Aether, will be playing in the EU Spring Regional #1.

3. Aether's the limit -- all new-Spring-rosters' time to shine
This brings us to our next talking point: old faces in new places. Eekso alongside Maurice "Yukeo" Weihs and Damian "Tox" Schäfer revived the 2017 team name, Aether and qualified easily going 9-1 in three series in a row.
The same goes for Godsmilla's team and 3 Musketeers, all squads being put together as leftovers from releases, departures and disbanding of teams during the Winter-Spring split break.
Godsmilla's team formed after Singularity released, you guessed it, Leon "Godsmilla" Mares and in Avengers-fashion gathered a team in a matter of hours after his departure.
The 3 Musketeers team also came together after Solary released their whole Rocket League roster and former teammates Kérian "Kérian" Candolfi and Clément "Yukiss" Pardonche decided to make a run for their money independently.
Any given tournament does not mean newcomers and 0-RLCS-point teams will make it to the World Championship, but that these old faces in new places can cause enough damage to put Top 6 teams in a tough spot, against the ropes or even knock them out of the competition.
The magic of RLCS is in the underdogs and we can't wait to watch it unfold.
4. Ex-Oxygen Esports Cinderella Story
Speaking of underdogs, there were some organisational moves we did not fully understand during the Winter-Spring Split break.
Oxygen Esports have already teased their comeback to the competitive Rocket League circuit, and with rumours regarding Solary acquiring Oxygen's old roster to represent their org, we are thinking maybe Solary bought out Oxygen's roster therefore they released them.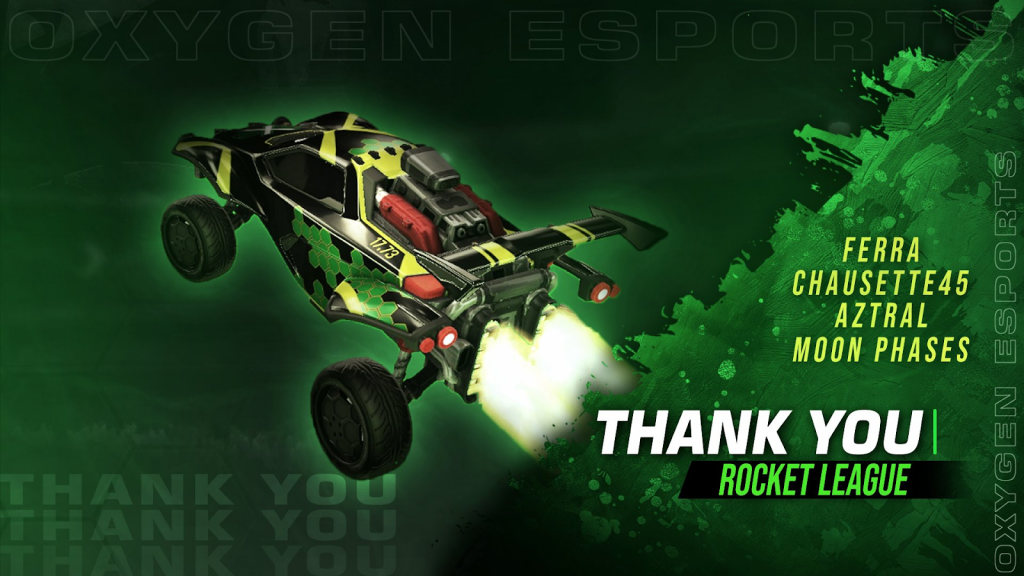 (Image: Psyonix)
But until Solary's announcement, the now-called Ex-Oxygen roster composed of Thibault "Chausette45" Grzesiak, Maello "AztraL" Ernst, team captain Victor "Ferra" Francal and coach Julie "Moon Phases" Combes has qualified to the RLCS X EU Spring Regional #1 without any issues whatsoever.
Keeping the same roster, the team will also keep their 1140 RLCS points and 10th RLCS X place even after being signed to another org, meaning they have a Cinderella story right in front of their bumpers.
If Ex-Oxygen manages to pull off a major upset during the Spring Split without any organisation backing them up or before Solary officially signs them, they would become fan-favourites in an instant. Power to the people and to independent RLCS teams.
5. No. 2 is the new No. 1 -- BDS locks down EU
It is no surprise Team BDS is not only the dark horse of the whole RLCS Season X, but the biggest hurdle anyone will ever have to jump over come World Championship time.
With 3458 RLCS points being the only team qualified to the World Championship still with four more tournaments to go, BDS has been everything this season -- diligent, dominant, destructive.
We are expecting something very similar across the Spring Split so the real question on everyone's minds right now is who will qualify to the World Championship as Europe's number two?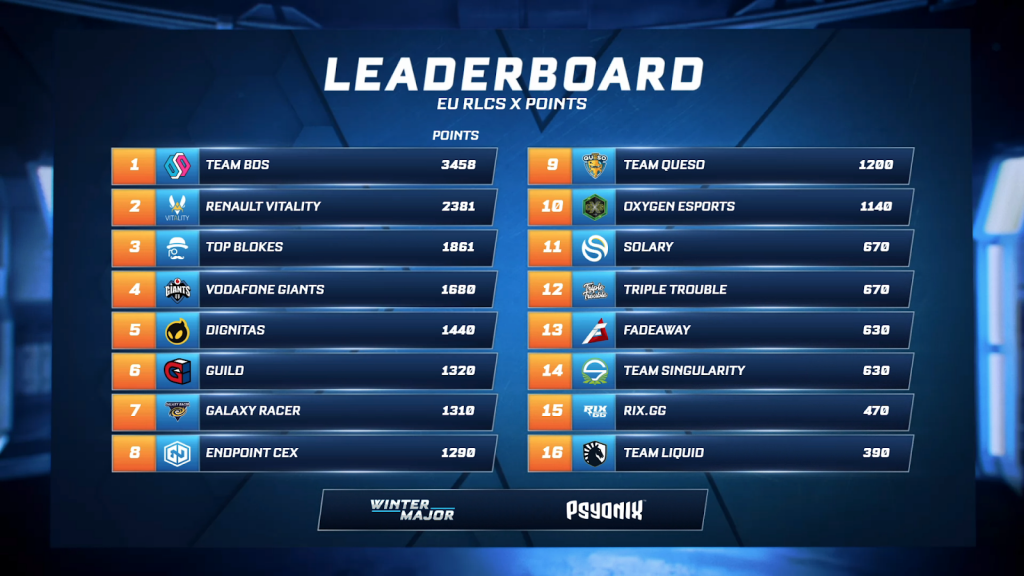 (Image: Psyonix)
While Renault Vitality holds a safe lead over Top Blokes, everyone in the Top 6 (even in the Top 10) are one great Spring Split away from climbing up the ladder and finding their place in the World Championship -- nay, the Top 2 in Europe.
If BDS came out of nowhere, so can the rest of the continent, right?
With many questions, make sure to catch the answers during the first EU RLCS X Spring Split Regional from 11th to 14th March at 8 a.m. PT on the respective Twitch channels.