Rocket League
Season 5 is bringing a lot of things to the table… most notably, intergalactic war and a new
Rocket Pass
. 
But if you look past the obvious and focus on the small changes to the core video game, you'll notice subtle and barely noticeable changes which are of huge importance to tryhards and highly competitive players like you and me.
Changes to the Tournament Rewards item pool, for example, don't get talked about enough even though it's one of the most global prizes for any rocketeers' troubles, so without further ado, here's everything we know about the Season 4 Rocket League cosmetic pool.
How Tournament Credits and Rewards work in Rocket League
After each tournament is played, the game will determine the amount of Tournament Tokens you will receive depending on the tournament rank, your placement and if your performance is in the top three from your Monday-to-Sunday week.
These tokens can later be redeemed for crates, called Tournament Cups, with different drop ratios, rarities and costs.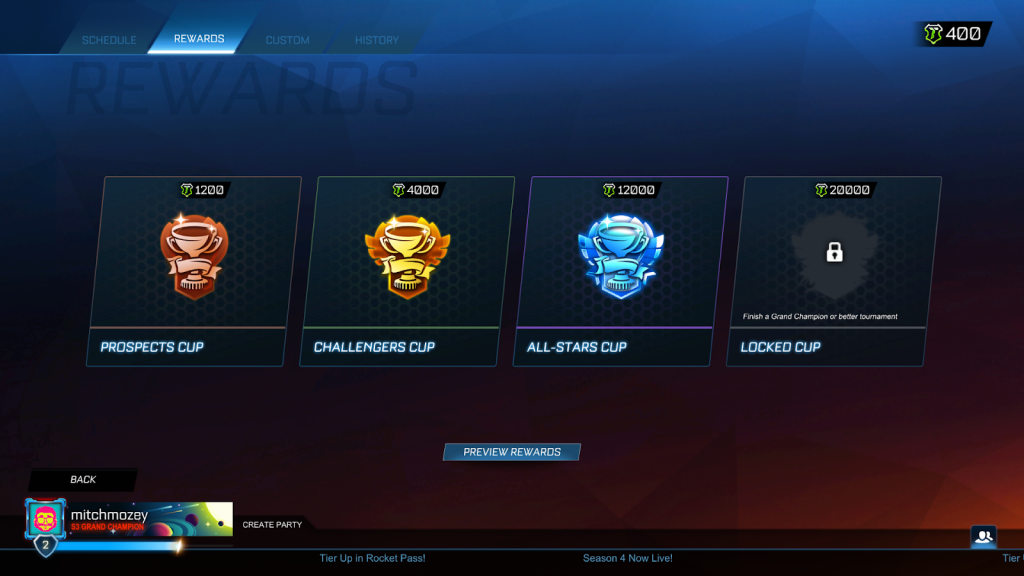 Even if the item that drops from the selected cup is not what you desired, you can always head to the Trade In screen under the Garage option in the Main Menu to trade in five items from a lower rarity for one cosmetic of the next higher one.
Rocket League Season 5 Tournament Rewards
The Rocket League Season 5 Tournament Rewards, expected to be called the Accolade V Series, aren't fully revealed but you can expect a range of around 20 cosmetics from Uncommon rarity all the way to Black Market.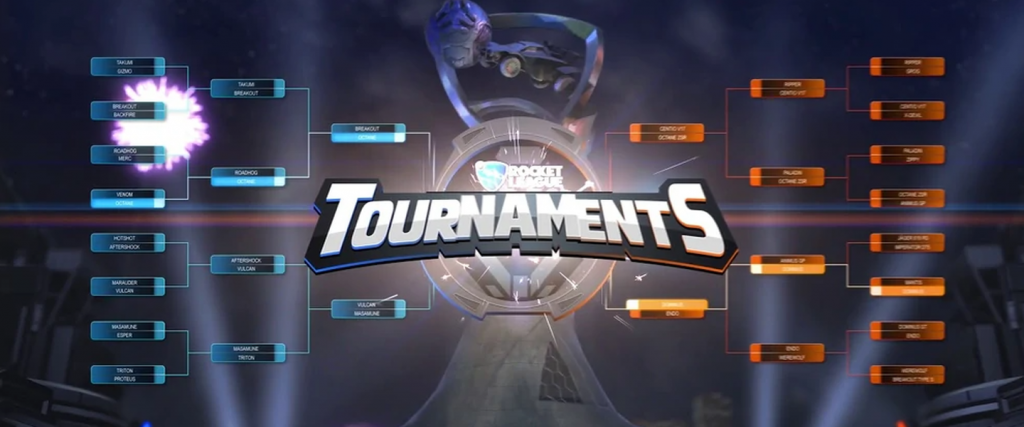 The unofficial yet popular strat amongst rocketeers is to always redeem for the Prospects Cup, the cheapest option offered, and trade up from there since it still offers the player a small percentage of pulling Imports, Exotics and even Black Markets, like the example above.
Make sure to register for as many scheduled tournaments throughout Rocket League Season 5 so you don't miss the campaign-exclusive rewards.
For more car soccer news, guides and giveaways, follow us at 33 Boost on Twitter and turn on notifications!
Featured image courtesy of Psyonix.